+ The Dead Poet + Lord Alfred Douglas
I dreamed of him last night, I saw his face
All radiant and unshadowed of distress,
And as of old, in music measureless,
I heard his golden voice and marked him trace
Under the common thing the hidden grace,
And conjure wonder out of emptiness,
Till mean things put on beauty like a dress
And all the world was an enchanted place.

And then methought outside a fast locked gate
I mourned the loss of unrecorded words,
Forgotten tales and mysteries half said,
Wonders that might have been articulate,
And voiceless thoughts like murdered singing birds.
And so I woke and knew that he was dead.

=======================
ไม่มีอะไรเขียนครับ เอากลอนที่ชอบมาลงดีกว่า
กลอนบทนี้ เขียนโดย Lord Alfred Douglas
นักเขียนชาวอังกฤษในปลายศตวรรษที่ 19

อ่านไปนึกถึงเพลงของ Suede เอิ้ก

ผมไม่แน่ใจว่าผมจะเรียนไรดี
ระหว่าง นิติ กับ นิเทศน์
ผมรู้ดีว่ามันโคดจะเป็นวิชาที่คนละขั้ว แต่ ผมชอบทั้งสองอย่าง - -''

สุดท้ายก็... รอให้เอนท์ ติดก่อนดีกว่า แล้วค่อยคิดอีกที...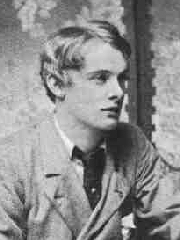 Create Date : 27 มกราคม 2548

36 comments

Last Update : 31 มกราคม 2548 17:48:07 น.
Counter : 769 Pageviews.



| | |
| --- | --- |
| โดย: [death of a party] 31 มกราคม 2548 17:53:25 น. | |



| | |
| --- | --- |
| โดย: ซินเด๋อฯ ขี้เกียจlog IP: 203.172.75.159 31 มกราคม 2548 21:22:40 น. | |



| | |
| --- | --- |
| โดย: Buzz IP: 203.172.55.227 14 เมษายน 2548 14:48:17 น. | |



| | |
| --- | --- |
| โดย: free ringtones IP: 202.44.126.6 6 พฤศจิกายน 2549 12:13:31 น. | |



| | |
| --- | --- |
| โดย: ringtones free IP: 202.44.126.6 6 พฤศจิกายน 2549 12:13:44 น. | |



| | |
| --- | --- |
| โดย: ringtones free IP: 202.44.126.6 6 พฤศจิกายน 2549 12:14:03 น. | |



| | |
| --- | --- |
| โดย: mnitbh5@lycos.com IP: 211.38.56.159 6 พฤศจิกายน 2549 12:14:23 น. | |



| | |
| --- | --- |
| โดย: bobovieri IP: 198.133.178.133 3 มกราคม 2550 0:56:41 น. | |



| | |
| --- | --- |
| โดย: fotoannunci IP: 221.143.253.30 28 มกราคม 2550 18:27:20 น. | |



| | |
| --- | --- |
| โดย: cingular ringtones IP: 218.152.166.175 1 กุมภาพันธ์ 2550 17:25:02 น. | |



| | |
| --- | --- |
| โดย: telefono celulari IP: 213.115.205.82 4 กุมภาพันธ์ 2550 19:31:24 น. | |



| | |
| --- | --- |
| โดย: wireless home IP: 61.144.122.45 6 กุมภาพันธ์ 2550 14:33:45 น. | |



| | |
| --- | --- |
| โดย: io vivo dove c e il mare IP: 58.157.26.92 13 กุมภาพันธ์ 2550 19:34:43 น. | |



| | |
| --- | --- |
| โดย: legge 104 del 1971 IP: 62.206.85.61 15 กุมภาพันธ์ 2550 7:04:12 น. | |



| | |
| --- | --- |
| โดย: legge 104 del 1971 IP: 218.204.249.28 15 กุมภาพันธ์ 2550 7:04:57 น. | |



| | |
| --- | --- |
| โดย: midi file sequenze da scaricare gratis IP: 65.83.25.189 17 กุมภาพันธ์ 2550 10:53:12 น. | |



| | |
| --- | --- |
| โดย: caribi o caribe IP: 61.142.80.104 19 กุมภาพันธ์ 2550 13:56:51 น. | |



| | |
| --- | --- |
| โดย: karaoke mp3 giorgia e poi IP: 221.155.190.189 20 กุมภาพันธ์ 2550 22:04:10 น. | |



| | |
| --- | --- |
| โดย: karaoke mp3 giorgia e poi IP: 221.155.190.189 20 กุมภาพันธ์ 2550 22:04:35 น. | |



| | |
| --- | --- |
| โดย: karaoke mp3 giorgia e poi IP: 217.26.172.82 20 กุมภาพันธ์ 2550 22:06:17 น. | |



| | |
| --- | --- |
| โดย: la pietra di IP: 218.204.249.28 23 กุมภาพันธ์ 2550 20:54:13 น. | |



| | |
| --- | --- |
| โดย: la pietra di IP: 59.162.216.234 23 กุมภาพันธ์ 2550 20:54:28 น. | |



| | |
| --- | --- |
| โดย: fax multifunzione lexmark IP: 218.204.249.28 23 กุมภาพันธ์ 2550 21:03:07 น. | |



| | |
| --- | --- |
| โดย: vacanze 20 agosto IP: 192.192.90.250 24 กุมภาพันธ์ 2550 14:02:46 น. | |



| | |
| --- | --- |
| โดย: rex lavabiancheria IP: 59.39.58.151 25 กุมภาพันธ์ 2550 12:01:05 น. | |



| | |
| --- | --- |
| โดย: mediatica srl padova IP: 85.28.133.145 25 กุมภาพันธ์ 2550 18:02:29 น. | |



| | |
| --- | --- |
| โดย: mediatica srl padova IP: 85.28.133.145 25 กุมภาพันธ์ 2550 18:03:04 น. | |



| | |
| --- | --- |
| โดย: mediatica srl padova IP: 85.28.133.145 25 กุมภาพันธ์ 2550 18:03:46 น. | |



| | |
| --- | --- |
| โดย: mediatica srl padova IP: 85.28.133.145 25 กุมภาพันธ์ 2550 18:04:37 น. | |



| | |
| --- | --- |
| โดย: pharmalife IP: 12.180.115.42 26 กุมภาพันธ์ 2550 19:59:31 น. | |



| | |
| --- | --- |
| โดย: pharmalife IP: 204.84.205.142 26 กุมภาพันธ์ 2550 20:00:04 น. | |



| | |
| --- | --- |
| โดย: diazepam online IP: 211.49.80.236 21 มีนาคม 2550 10:01:01 น. | |



| | |
| --- | --- |
| โดย: diazepam online IP: 211.49.80.236 21 มีนาคม 2550 10:01:24 น. | |



| | |
| --- | --- |
| โดย: diazepam online IP: 211.49.80.236 21 มีนาคม 2550 10:01:39 น. | |



| | |
| --- | --- |
| โดย: Chadwick IP: 200.44.219.36 20 มิถุนายน 2550 19:40:22 น. | |



| | |
| --- | --- |
| โดย: Gonzalo IP: 190.49.211.146 4 กรกฎาคม 2550 6:28:51 น. | |