Valentine's Day
The clod and the Pebble

"Love seeketh not itself to please,
Nor for itself hath any care,
But for another gives its ease,
And builds a heaven in hell's despair."

So sung a little clod of clay,
Trodden with the cattle's feet;
But a pebble of the brook
Warbled out these meters meet:

"Love seeketh only Self to please,
To bind another to its delight,
Joys in another's loss of ease,
And builds a hell in heaven's despite."

William Blake
ความรักของคุณเป็นแบบไหน clod or pebble
Happy Valentine's to All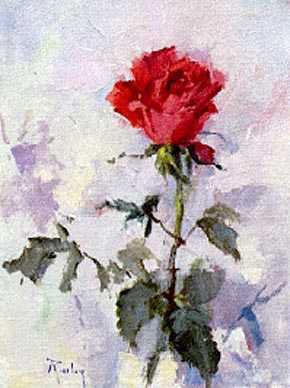 Create Date : 13 กุมภาพันธ์ 2551
Last Update : 14 กุมภาพันธ์ 2551 0:02:11 น.
Counter : 189 Pageviews.
ไบ ลิงกัว โพม
I had been building a sand castle,
Wanted to make it stable and high.
Every sand bead is like my love,
Gathered them and decorated with styles.

เฝ้าเพียรพยายามสร้างปราสาท
หมายใจให้ดูองอาจและผึ่งผาย
เติมรักล้นลงปนทุกเม็ดทราย
กอบเต็มฟายปั้นแต่งตามแรงจินต์

จนบัดนี้คืนผ่านวารวนเปลี่ยน
แรงลดล้าดุจเทียนใกล้มอดสิ้น
คงต้องพ่ายต่อคลื่นที่กลืนกิน
ปราสาทภินท์ธุลีทรายกระจายกระเจิง

Create Date : 06 กุมภาพันธ์ 2551
Last Update : 6 กุมภาพันธ์ 2551 1:53:47 น.
Counter : 174 Pageviews.
My first poem

My heart is burning
By a huge pile of fire.
Wonder what the fuel is
So I have to look back inside.

Exploring my heart
And it's a surprise to see
What caused me that such pain?
It's because of me!

Possessive posses all open mind,
Jealousy gives a big hand.
There's no free space I can find,
Envy joins there, very well as it can.

My pity heart …
It's not too bad to be alone.
Life is still ours
Believe me; we can live by our own.

Just learn to love,
Learn not to possess.
Just learn to stand alone,
And we, the vines, could have success.

Create Date : 04 กุมภาพันธ์ 2551
Last Update : 4 กุมภาพันธ์ 2551 1:06:59 น.
Counter : 164 Pageviews.
Location :
กรุงเทพฯ Thailand

[Profile ทั้งหมด]

ฝากข้อความหลังไมค์
Rss Feed


Smember


ผู้ติดตามบล็อก : 1 คน [?]