1
2
3
4
5
6
7
8
9
10
11
12
13
14
15
16
17
18
19
20
21
22
23
24
25
26
27
28
29
30
Bad eBay seller warning
Hello all shopper from eBay. I just want to blame this eBay seller.

Don't buy from The-PDA-KINGs-PDA-SHOP (rudyc818)

This shop sells PDA Phone and accessories. Although the high rank feedback from the buyer, I found a lot of negative feed back from the same case as me. They may change the way doing the business after they have enaugh reputation.


---


I live in Thailand and shop from eBay a lot. This guy is the worst seller I ever met.

They sell refurbished items, advertised as a NEW CONDITION and sell them as the new one. You may not know it has been used for a long time event you take a closer look to your item.

I bought Palm Treo 650 from them. The item description in eBay shown the item as a NEW condition but come without box. All of the accessories still in the plastic bag. So, I considered to buy it and finally I won the auction.

After I got the item, I found it is used. I am a Palm Treo fan and this Treo 650 is my 3rd Palm Treo unit in my hand. I also let my my broken Treo 680 to be compare so, it is very easy to identify.

I found the following condition with PDA Phone from The-PDA-KINGs-PDA-SHOP:

1. Big Scratched at Antenna (1mm in dept)
2. Replacement Outer Phone Shell (Bad quality plastic, Easier to scratch)
3. Replacement Stylus (Bad Quality)
4. Old Battery, a lot of scratch at contact plate.
5. Lot of scratch on keyboard.
6. Scratch on the screws, this indicate the item has been open for repair.

After I complained them and ask for refund some of my money. The following are the conversation between me and shop:


---


>Dear rudyc818,
>
>Excuse me....
>
>Your item is refurbished! It's not in the condition as you describe in item description.
>
>Replacement housing + Replacement Pen + Old Battery + Big Scratch on Antenna + Soft-fell Keypad (already use for a period of time)
>
>I previously used Palm Treo 650 for 2 units before and I also have a damaged one in my hand.
>
>I don't want to return the item to you because the shipment cost from here to you is double price from you to me.
>
>So, please refund me for $80 as a discount to the same price as the other Treo 650 units (Same condition) in eBay.
>
>Please selling wisely...
>
>Best Regards,
>Shopzguy
>

And I got a short answer from the shop...

>Very sorry but I will only replace it or provide $30 discount. thanks, Rudy


---


Replace is not my good option coz I live outside US. They also know that the item is not new because they bargain me for the discount.

I just want this not to happen to everyone. So I choose to blame him here rather than accept a pitty of money.

The following are the captured image from the auction....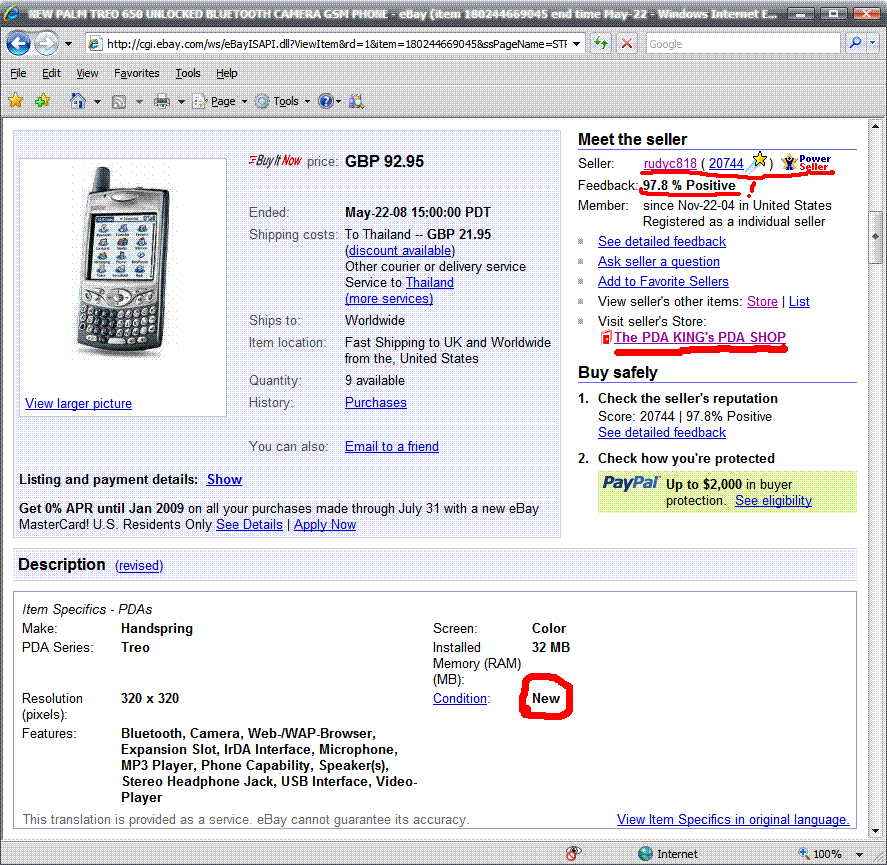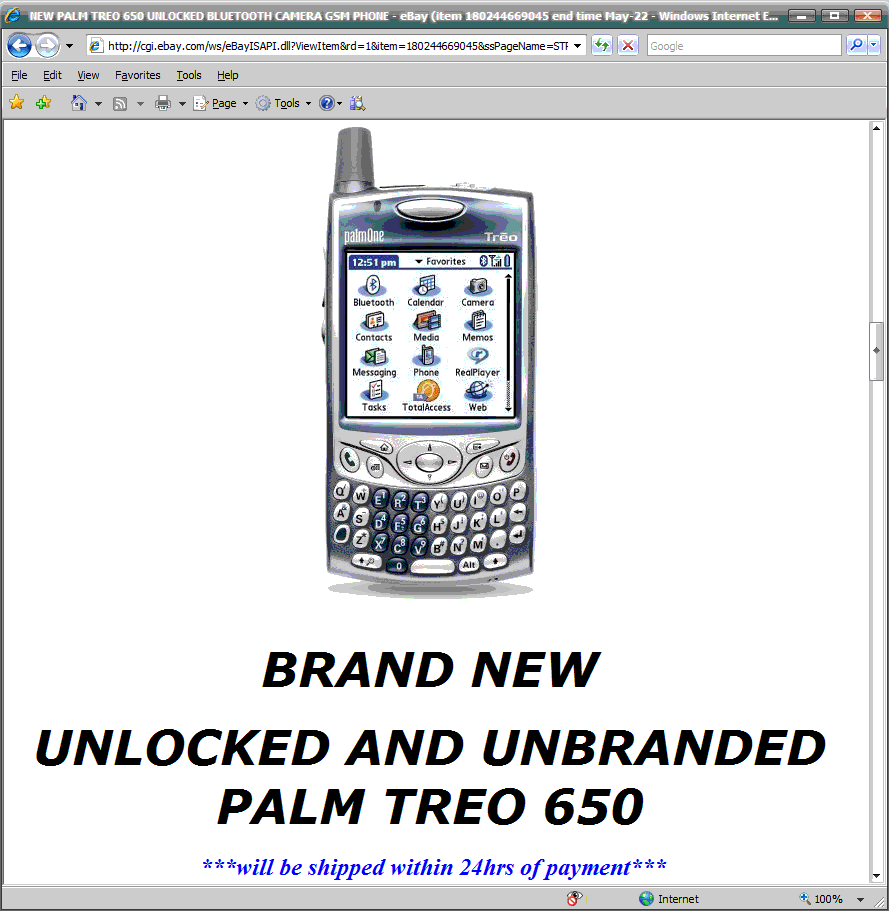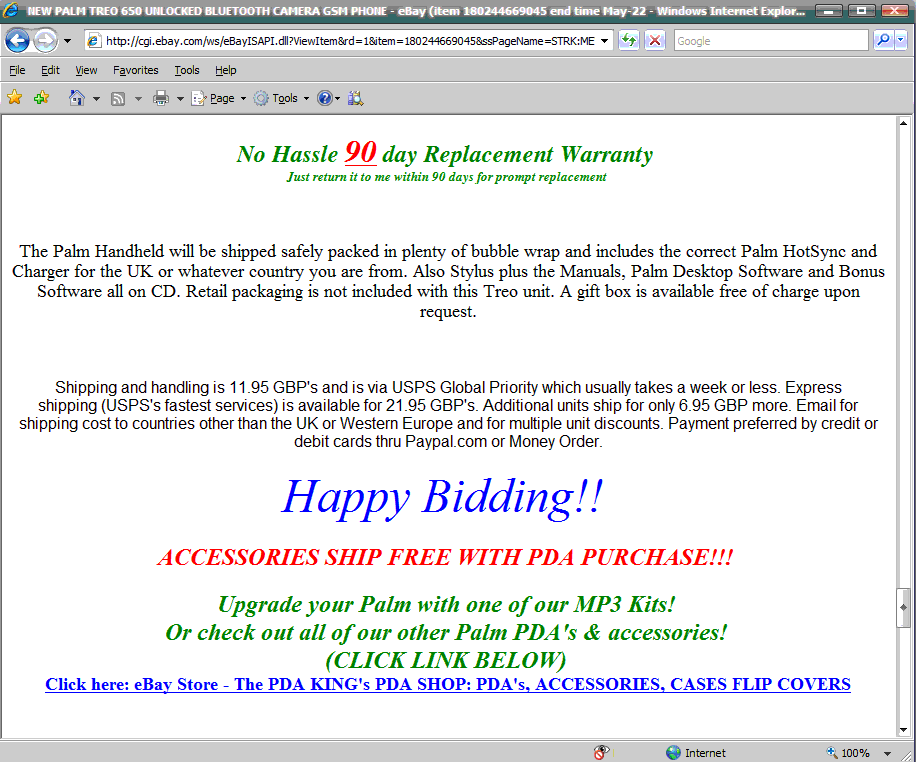 Create Date : 10 มิถุนายน 2551

0 comments

Last Update : 10 มิถุนายน 2551 11:03:21 น.
Counter : 279 Pageviews.