Knocking At Your Back Door




Knocking At Your Back Door-Blackmore/Glover/Gillan

Sweet Lucy was a dancer
But none of us would chance her
Because she was a Samurai
She made electric shadows
Beyond our fingertips
And none of us could reach that high
She came on like a teaser
I had to touch and please her
Enjoy a little paradise
The log was in my pocket
When Lucy met the Rocket
And she never knew the reason why

I can't deny it
With that smile on her face
It's not the kill
It's the thrill of the chase

Feel it coming
It's knocking at the door
You know it's no good running
It's not against the law
The point of no return
And now you know the score
And now you're learning
What's knockin' at your back door

Sweet Nancy was so fancy
To get into her pantry
Had to be the aristocracy
The members that she toyed with
At her city club
Were something in diplomacy
So we put her on the hit list
Of a common cunning linguist
A master of many tongues
And now she eases gently
From her Austin to her Bentley
Suddenly she feels so young..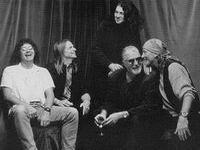 Create Date : 24 มีนาคม 2549
Last Update : 24 มีนาคม 2549 16:32:28 น.
0 comments
Counter : 304 Pageviews.
Location :
กรุงเทพ Thailand

[ดู Profile ทั้งหมด]

ฝากข้อความหลังไมค์
Rss Feed


Smember


ผู้ติดตามบล็อก : 1 คน [?]








Thanks for being my friend,

And understanding me,

For knowing what I'm going through,

And being here for me.

I know I can always count on you,

And I hope you know,

You can always count on me too,

Whatever you need I'm here for you,

Together we can make it through.

Even though we haven't known,

Each other that long,

We have become very close,

And are best friends now,

And I hope we always will be.

I'm so glad to have a great friend like you,

My world was falling apart,

Until the day I met you,

Then you turned my life around,

And now I no longer frown.

**********