Nightly Riverside Boat Trip Along The River Ping
๏~*G' day mates*~๏
๏~*Thai Version...Click here*~
after defensed my thesis in February 5th
I was busy with many stuffs such as corrected thesis again.
and the end of Feb I went to conference in Surin province.
in March 8-14 my Paul bear and his parent visited Chiangmai
after that I went to my best friend's wedding in Nong Khai
boo...hoo...I was a very busy girl at that time...
Now I'm back and I got a good news for your guys
I'm finished my master degree....Wooo....



Actually I should review Surin trip first but I thought
I deleted photos from that trip...too bad
that's why I should review Chiangmai Chaingrai trip first
Paul bear and his parent arrivaled in Chiangmai at noon
I picked them up at the airport


it was the firstime for Paul bear's parent to visit Chiangmai
I was a tourist guide hmm...good luck we weren't get lost



Paul bear flew from Australia to BKK
Mum and dad flew from Puket met him in BKK
before flew to Chaingmai at noon after we checked in
at "Chiangmai Plaza Hotle" we took some rest
cause mum and dad got up early in this morning
"Chingmai Plaza" is old hotel in Chiangmai
but inside is nice hotel especially their service
and their location that close to Night Bazar
most of their guests are Janpanese
that's why in that area has lot of Karaoke pubs
and many young Thai girls in front of all pubs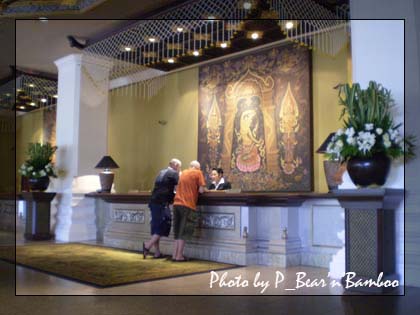 inside "Chiangmai Plaza Hotel"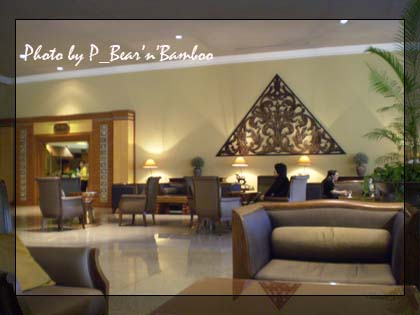 Lobby area look nice

before mum and dad came to Chiangmai
me and Paul bear talked about our plan many time
such as places and restaurant that we want to take them
for the first night we booked at dinner cruise
at Riverside pub and restaurant
everytime my Paul bear visit Chiangmai
we always have dinner here.We love their atmosphere
which close to Ping River, their foods and live band
dinner cruise leaves from their pier at 8.00 PM every night
After boarding the boat at 7.15 PM
we can choose from a wide variety of foods & drinks
from their regular restaurant menu
then lean back and enjoy the romantic surroundings
we were full before boat left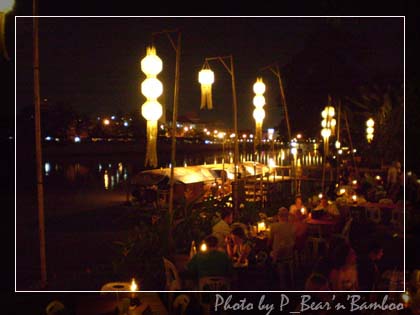 Atmostphere at Riverside Pub and Restaurant



Riverside Boat Trip



Mum and Dad enjoy choose their favorite food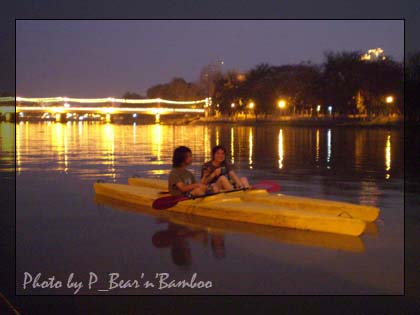 River Ping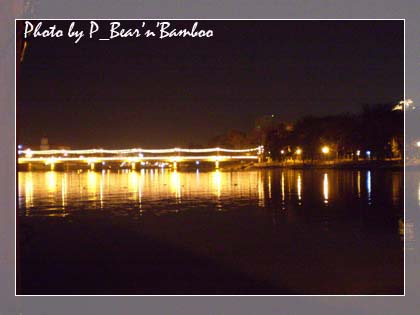 Nawarat Bridge

The dinner cruise took about 75 minute
from the restaurant to Warorote Market (flower market)
untill Maha Naga restaurant thenvturn back Nawarat bridge
untill Chedi Hotel and go back to Riverside restaurant
Boat charge 90 THB for adults and 45 THB for kids
after boat trip we walked at Night Bazar and back to our hotel
tomorrow we have plan to go to baan-tawai(The Village of Handicraft)
and Thanon khon dern (Sunday night market Street)

~~ To be continue ~~
Create Date : 29 มีนาคม 2551
Last Update : 16 สิงหาคม 2551 15:13:25 น.
1 comments
Counter : 294 Pageviews.
| | |
| --- | --- |
| โดย: BeachBum (ลืมล็อกอินค่ะ) IP: 58.111.252.115 วันที่: 30 มีนาคม 2551 เวลา:20:32:25 น. | |
Location :
Surfers Paradise Australia

[Profile ทั้งหมด]

ฝากข้อความหลังไมค์
Rss Feed
Smember
ผู้ติดตามบล็อก : 1 คน [?]













"Love"




An inspired from of




Giving, Love breathes




Life into the heart and




Brings "Grace" to the soul

















Gold CoAst AustRalia












ChiagMai ThailAnd












Be togetheR agiaN