Princess Sarah's Trip in Thailand
๏~*G'Day Mates*~๏
๏~*Thai Version...Click here*~
Longtime I didn't update my blog


after finished my master degree
I've been in Australia for 1 month
then back to start my teaching job
all are my reason why I didn't have time
to write my stories ...for a while

Teaching students is a new thing in my life
it's very hard job cause so manything to do
such as read many books and text books
then sumerized all of them make it easy as much as I can
after that prepare powerpoint presentation
I have to read it again before teaching...
seems easy?? but it's not..I can tell


if I have class at 8.00 a.m. I always get up at 4.00 a.m.
to prepare myself and all stuffs ...you know???
no matter what I have to work hard more and more
but I still love to do it...more and more either...
cause I get many good things back in my life...
especially loves and respect from my students

All of great things happen in my life
because of my man "Paul Bear" is the only one
who support me with his loves and care
he is believe in Karma and he done so many good Karmas
they will be back to his life...I believe that...



oh! well...I talk to much right


yeah yeah...cause I didn't write my diary for long time
that's why I have to many things to tell you guys
I've been in Australia for 1 month...
many things to share with you
but I want to share this trip with you first




My Paul bear and his daughter "Princess Sarah"
visited in Thailand 2 weeks ago...
Me and Paul bear asked "Princees Sarah"
to visit Thailand for 2 years since I know Paul bear
but she didn't want to visit at that time...


finally she made decission...that's good for all of us
because she will study nursing in October
we not sure when she study she will have time for us
and this time she had just only 10 days in Thailand
my man already manage her times to see many things
such as 2 days in BKK and 4 days in Northern Thailand
and 3 days in Phuket...we wish she will enjoy Thailand so much




"Princess Sarah" and why is "Princess"??
I do love to call her like that


cause she's a little princess who smile all the time
like father like daugther...both of them are same
as long as I spent a time with them
we always laughing, smiling and have a great time
except when I fight with my Paul bear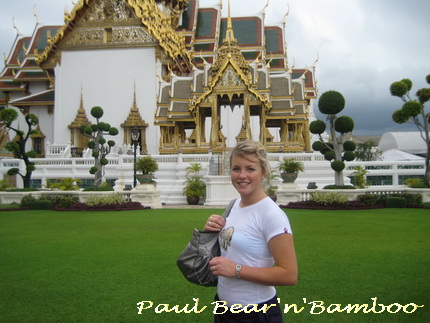 Although it just a first time I met "Princess Sarah"
but we talked and shared our thoughts
like we know each other for long time...
probably when I was in Australia
I did edit her videoes when she was young
Some time Princess act like a mature lady
but some time she act like a little kid...


kinda like me ... some time I act like an old lady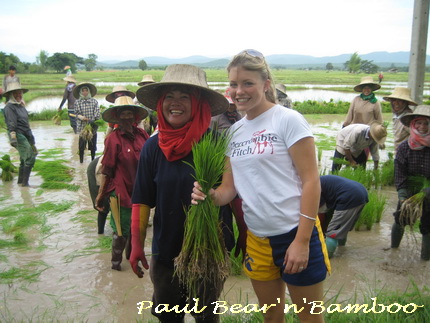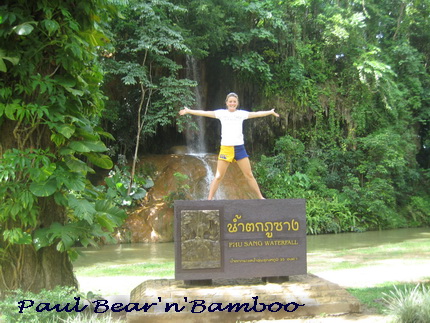 first day in Norther of Thailand
Paul bear and Princess visited my university
my students were nervous cause 2 Farangs in our class
but we had fun cause they asked Princess many questions
They had nice dinner with my family
and next day we went to Golden Triangle (Chiang Sean)
we took long way to there cause we wanted to see water fall
after checked in at Imperial Golden Triangle Hotel
we went to Mae Sai to shopping (Our favorite time)


after that head back to our hotel had some rest
before dinner at Thai restaurant in that area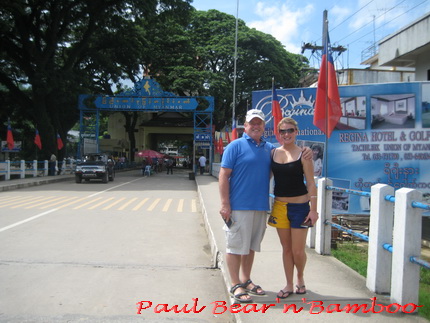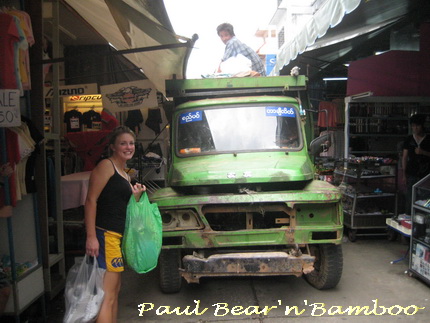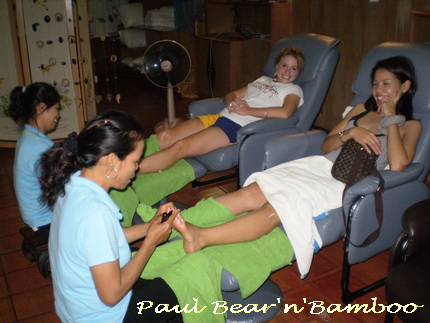 next day we did boat trip to little village in Laos
seems like Princess Sarah enjoyed it so much
cause she saw monkey and bear
but too bad in cage both of them are in cage...


it was a 3rd times for me a my Paul bear
but we still had a great time and happy
to do boat trip everytime we visit here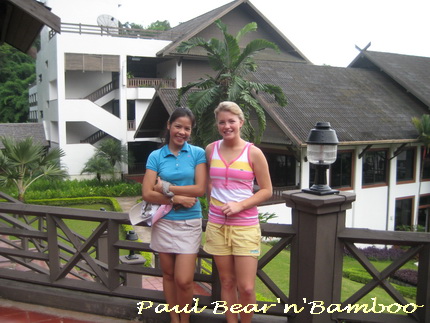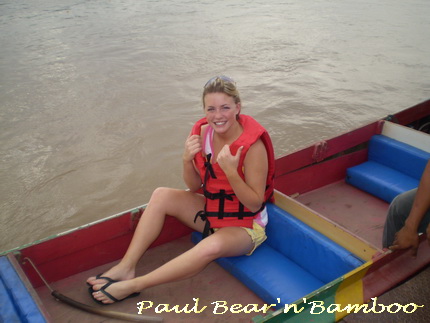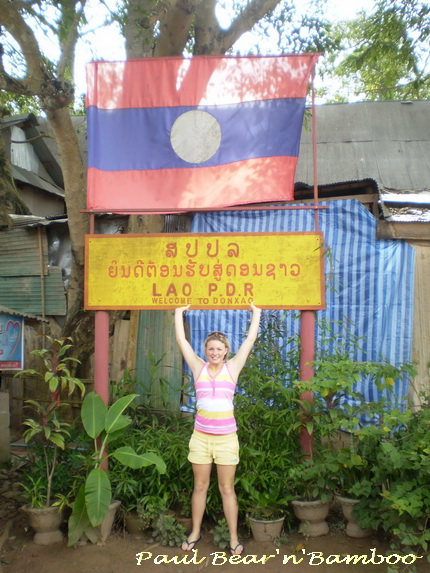 before we drove back to Chiang Mai
we stop Hall of opium and White temple in Chiang Rai
it was very long way back to Chiang mai...
but my Paul bear can do it.. he loves to drive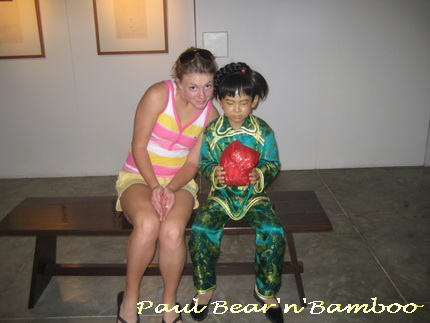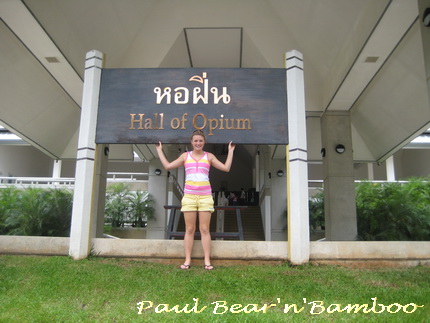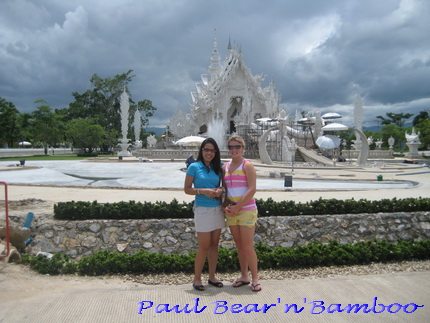 and the same day we went to run with Hash
it was a good run...and after run
I was so tired...and drunk cause 2 cans of beer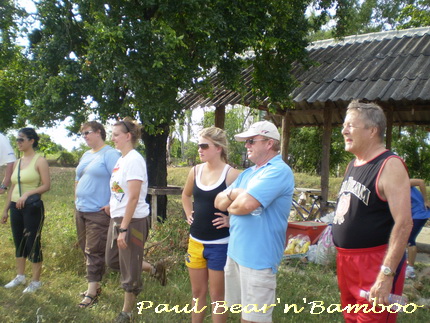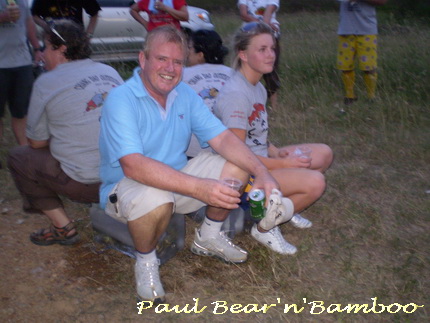 next day we went to rafting at Kang Keud
it's 10 kms rafting Princess Sarah wanted to try it
I did rafting one time in Nan province but it was long time ago
but rafting with Princess Sarah and my Paul bear
it was fun...I love it so much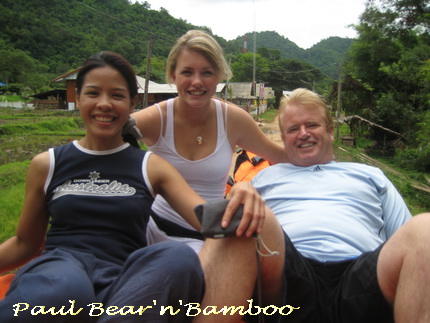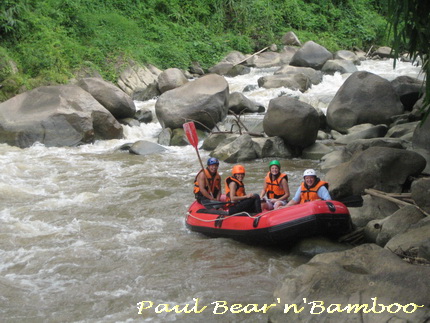 in the evening we went to Sunday market
but it was rain...after rain stop
we start shopping again


cause tomorrow morning
Princess will leave Chiang Mai...boo hoo...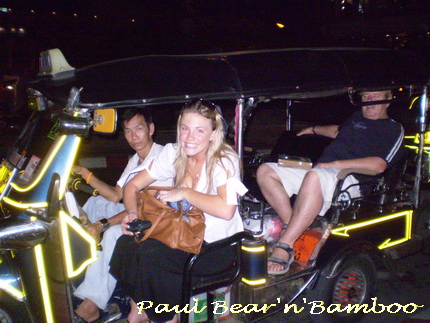 Next day Princess Sarah and my Paul bear
went to Phuket...and I took bus back to Phayao
...boo...hoo...


I had a great time with them...although just 4 nights
but I getting to know Princess Sarah better
...now I understand....
why Paul bear loves her so much
because she is a great kid...
she can be friend and daugther at the same time
Now Princess is growing up...as my nephews
I can't replace her mother but I can be her best friend
I will waiting to see her sucessful...
when she is a nurse Sarah
...at that time...
my Paul bear and me will be happy so much



~~ She is a special kid ~~



Song Title : Anyone Else But You
Artis : The Moldy Peaches
Alabum Title : Ost. Juno




Create Date : 25 กรกฎาคม 2551
Last Update : 16 สิงหาคม 2551 15:12:35 น.
7 comments
Counter : 276 Pageviews.
| | |
| --- | --- |
| โดย: พลังชีวิต วันที่: 26 กรกฎาคม 2551 เวลา:20:06:47 น. | |
| | |
| --- | --- |
| โดย: พลังชีวิต วันที่: 30 กรกฎาคม 2551 เวลา:10:49:14 น. | |
| | |
| --- | --- |
| โดย: mai (maistyle ) วันที่: 3 สิงหาคม 2551 เวลา:16:10:38 น. | |
| | |
| --- | --- |
| โดย: ratko วันที่: 18 ตุลาคม 2554 เวลา:12:32:16 น. | |
| | |
| --- | --- |
| โดย: SoulSiSz* วันที่: 19 ตุลาคม 2554 เวลา:14:34:40 น. | |
| | |
| --- | --- |
| โดย: SenGoKu วันที่: 20 ตุลาคม 2554 เวลา:13:59:47 น. | |
| | |
| --- | --- |
| โดย: dannyloa วันที่: 9 พฤศจิกายน 2554 เวลา:2:38:09 น. | |
Location :
Surfers Paradise Australia

[Profile ทั้งหมด]

ฝากข้อความหลังไมค์
Rss Feed
Smember
ผู้ติดตามบล็อก : 1 คน [?]













"Love"




An inspired from of




Giving, Love breathes




Life into the heart and




Brings "Grace" to the soul

















Gold CoAst AustRalia












ChiagMai ThailAnd












Be togetheR agiaN