Karen Ruammit Village in Chiang Rai
๏~*G'Day Mates*~
๏~*Thai Version...Click here*~
Today I have time to review an old trip in March
Do you remember mum&dad were here


and we went to Chiang Rai
hope it's not too old for you guys



We went to Chiang Rai in next morning
Mum&Dad never been there...
here was the car we drove to Chiang Rai




it's normal thing to do when you visit Chiang Rai
you must pass white beautiful Temple (Wat Rung Khun)
and it was the first place we must stop
it is good pic of mun&Dad...cute couple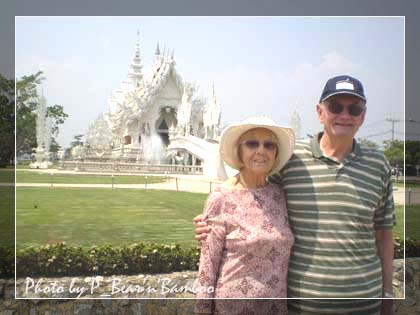 After that we straight to Ruammit Village
I never been there either..seems interesting
actually we can drive car to the village
but we like to take boat...it's more fun
to do different things when you travelling
first of all we've to find a pier to the village
a bit hard to find Chiang Rai pier.I did ask local people
but seems like no one knows about it
at last we paid for motorcycle taxi took us there



Me&Paul Bear done many boat trip.We love it
seems like mum&dad love to tried boat trip too
now everybody ready to go...Let's go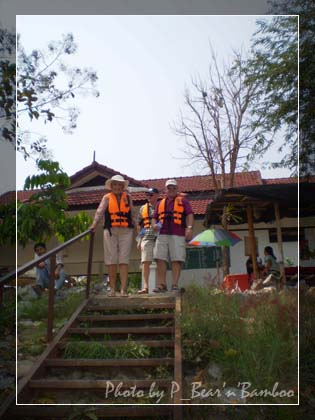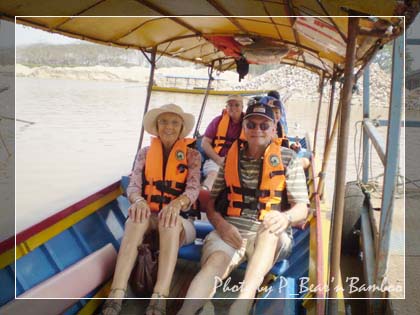 A long the Kok River
The boat passes "Chiang Rai beach"
I don't understand why..coz it's not a beach
we saw many local peple and Thai tourists
wave their hands to us...it was fun



It took about 30-40 mins to the village
"Ruammit" was a tiny river village with very little exposure
to the outside world.it's an old village with a tradition
of elephant training, forestry, and hunting
we saw many tourists riding the elephant in the river
It was a nice senerio coz we didn't see it everyday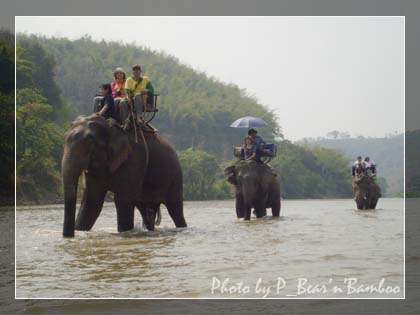 People who live in Ruammit are pure Karen
and retains the Karen flavor and traditions
in this otherwise Thai, Ahha, Lisu and Lahu area.
Ruammit has become one of the major
tourist attractions on the Mae Kok River.
Coz it is a favorite place stop to ride elephant




it was a first time for dad to ride the elephant
you guy can see monkey sat next to him...



It was a long way from Chiang Mai to Chiang Rai
and Boat trip to Ruammit village
all of us 're so hungry...


we went to "Phu Chai Sai" Mountain Resort




after late lunch and rest for a while
we straight to our Lovely hotel
in Chiang Sean "Imperial Golden triangle"

~~ To Be Continue ~~
Create Date : 16 สิงหาคม 2551
Last Update : 31 สิงหาคม 2551 13:14:22 น.
11 comments
Counter : 593 Pageviews.
| | |
| --- | --- |
| โดย: mai (maistyle ) วันที่: 18 สิงหาคม 2551 เวลา:9:02:19 น. | |
| | |
| --- | --- |
| โดย: chankoos วันที่: 11 กันยายน 2554 เวลา:22:07:21 น. | |
| | |
| --- | --- |
| โดย: spordo01 วันที่: 15 กันยายน 2554 เวลา:20:52:48 น. | |
| | |
| --- | --- |
| โดย: Qa วันที่: 18 กันยายน 2554 เวลา:14:37:37 น. | |
| | |
| --- | --- |
| โดย: aomzon (aomzon ) วันที่: 21 กันยายน 2554 เวลา:12:25:42 น. | |
| | |
| --- | --- |
| โดย: ratko วันที่: 28 กันยายน 2554 เวลา:14:12:23 น. | |
| | |
| --- | --- |
| โดย: healtyboy01 วันที่: 30 กันยายน 2554 เวลา:15:53:13 น. | |
| | |
| --- | --- |
| โดย: a_nango วันที่: 30 กันยายน 2554 เวลา:23:24:33 น. | |
| | |
| --- | --- |
| โดย: SenGoKu วันที่: 21 ตุลาคม 2554 เวลา:10:54:51 น. | |
| | |
| --- | --- |
| โดย: dannyloa วันที่: 10 พฤศจิกายน 2554 เวลา:12:55:07 น. | |
| | |
| --- | --- |
| โดย: peter125 (steven1064 ) วันที่: 2 มกราคม 2555 เวลา:13:08:06 น. | |
Location :
Surfers Paradise Australia

[Profile ทั้งหมด]

ฝากข้อความหลังไมค์
Rss Feed
Smember
ผู้ติดตามบล็อก : 1 คน [?]













"Love"




An inspired from of




Giving, Love breathes




Life into the heart and




Brings "Grace" to the soul

















Gold CoAst AustRalia












ChiagMai ThailAnd












Be togetheR agiaN