December Trip II : Phuket and Phang Nga
๏~*G' day mates*~๏
๏~*Thai Version...Click here*~
Seems like I have to change the day for defense my thesis
that's too bad...I don't have answer from graduate school yet
it should be February 5 I guess now it's time to wait and wait



The second day we got up at 9.00 am
and did nothing cause in this morning
we had plan to go to Phang Nga
my Paul bear wanted to see monkeies
at Suwankuha temple in Phang Nga province
I've been there 3 years ago with my friends
I had such a great time with my friends
in 5 star resort which will grand open in January 2005
but all gone after Tsunami hit provinces in Anaman Sea
that was a sad story cause many people die in that time



Before we went to Phang Nga we had nice lunch
at Naithon beach in Phuket...it was amazing
cause not busy and not many tourists in this beach
I like it and hope when I come back next time
it still private and quite like this...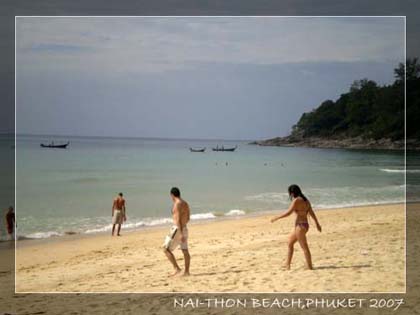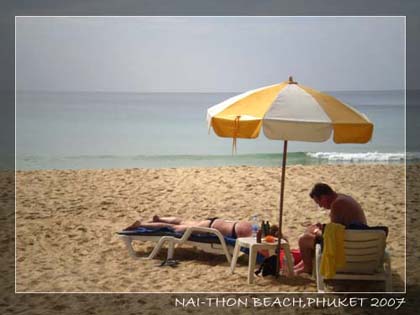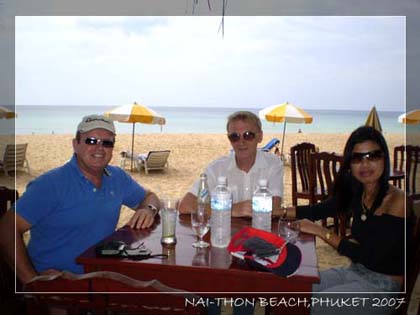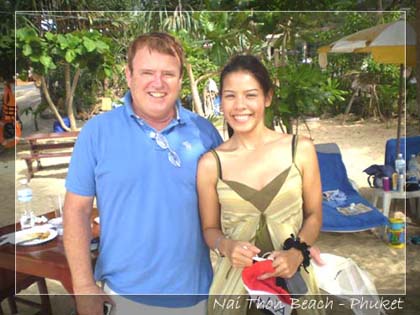 Not too far we arrivaled in Suwankuha temple
many tourists here now this temple is a tourist attraction
not same 3 years ago...now seems busy and dirty
cause many tourist want to feed the monkeies
me and my Paul bear bought a peanuts for them
cause monkeies in monkeey training school(chiangmai)
love peanut and rambutan more than banana
and it was work here..they follow us everywhere
Me and paul bear did hide bags of peanut in pocket
it was funny when we feed them some monkey greedy
they keep food in their cheeks and still looking for food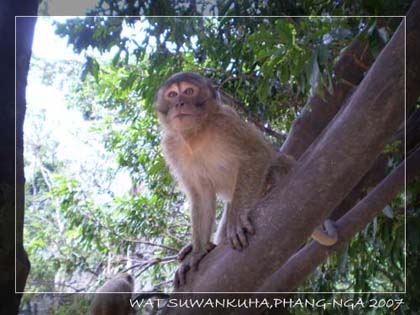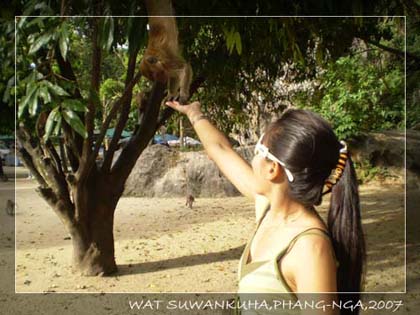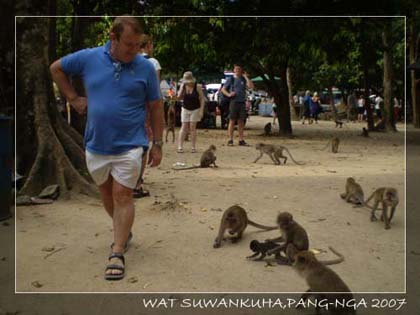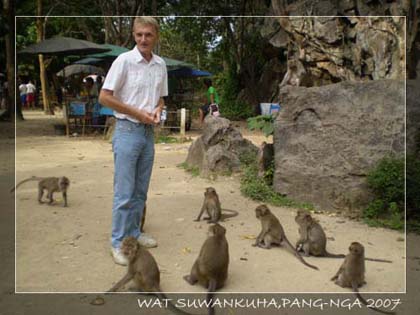 but nobody feed the dog that's why she ate banana



after that we walked in to the cave
we saw a couple of the Buddha statues
many beautiful stalagmites and stalacites
many tourists walked and not watch their step
I saw some statagmites broke...
some tourists wrote their name in the cave


I felt sad about it...not too long
Thailand is not beautiful anymore...too bad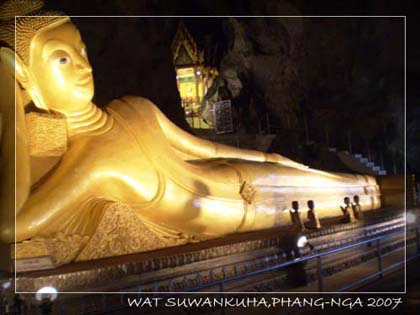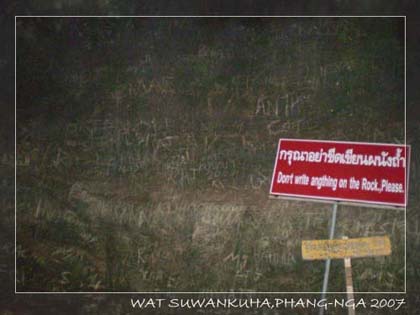 My Thesis topic is about Tourism
after I saw many tourist attractions
in Phuket ,Karbi and Phang Nga
make me realized about many things
Do I still want many tourits visit my hometown


something will be change if it famous??
it's major problem in my mind all the time

hmm..serious hun? don't get boring ok


follow us we still have many days to go
~~ To be Continue~~
Create Date : 16 มกราคม 2551
Last Update : 16 สิงหาคม 2551 15:16:00 น.
14 comments
Counter : 412 Pageviews.
| | |
| --- | --- |
| โดย: BeachBum วันที่: 17 มกราคม 2551 เวลา:14:59:52 น. | |
| | |
| --- | --- |
| โดย: wanwitcha วันที่: 21 มกราคม 2551 เวลา:14:20:34 น. | |
| | |
| --- | --- |
| โดย: ความเจ็บปวด วันที่: 21 มกราคม 2551 เวลา:22:20:31 น. | |
| | |
| --- | --- |
| โดย: littlegem วันที่: 22 มกราคม 2551 เวลา:0:29:24 น. | |
| | |
| --- | --- |
| โดย: mai (maistyle ) วันที่: 30 มกราคม 2551 เวลา:22:37:45 น. | |
| | |
| --- | --- |
| โดย: cera (เหมือนดอกไม้ ) วันที่: 6 กุมภาพันธ์ 2551 เวลา:17:36:35 น. | |
| | |
| --- | --- |
| โดย: mai (maistyle ) วันที่: 19 กุมภาพันธ์ 2551 เวลา:22:25:01 น. | |
| | |
| --- | --- |
| โดย: chalermkvm วันที่: 3 พฤศจิกายน 2554 เวลา:21:00:47 น. | |
| | |
| --- | --- |
| โดย: thip056 วันที่: 7 พฤศจิกายน 2554 เวลา:12:41:07 น. | |
| | |
| --- | --- |
| โดย: thip056 วันที่: 7 พฤศจิกายน 2554 เวลา:12:41:41 น. | |
| | |
| --- | --- |
| โดย: thip056 วันที่: 7 พฤศจิกายน 2554 เวลา:12:42:19 น. | |
| | |
| --- | --- |
| โดย: birdfriday วันที่: 9 พฤศจิกายน 2554 เวลา:9:02:40 น. | |
| | |
| --- | --- |
| โดย: thip056 วันที่: 13 พฤศจิกายน 2554 เวลา:22:08:00 น. | |
Location :
Surfers Paradise Australia

[Profile ทั้งหมด]

ฝากข้อความหลังไมค์
Rss Feed
Smember
ผู้ติดตามบล็อก : 1 คน [?]













"Love"




An inspired from of




Giving, Love breathes




Life into the heart and




Brings "Grace" to the soul

















Gold CoAst AustRalia












ChiagMai ThailAnd












Be togetheR agiaN