Miu Miu Basket Tote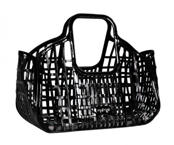 I'd like to begin by saying that I generally try to make an
effort to appreciate innovation, even when it might lack in functionality. If
no one attempts innovation in the first place, then we never have any new
concepts for designers to eventually incorporate into bags that we can use in
our everyday lives. Which is why I like the Miu Miu
Basket Tote, at least in theory, if not in practice.
I think the uses for this bag, as it is, are fairly low. It
would be an awfully chic grocery tote, should you need to run around the corner
to grab a few things to make dinner. It might also make a decent pool tote, if
you folded up your towel in the bottom to prevent your iPod headphones from
dangling out. Miu Miu usually errs on the safe side with
their bags so its nice to see them do something a bit different, but they fall
short on practicality here. This bag would have been both innovative and
functional if they had included some sort of soft leather lining inside - maybe
in a cream or light grey, for maximum contrast. I would have left the lining
loose instead of sticking it to the frame throughout the bag, which would leave
the cage effect intact. That way, not only is the idea intact, but the bag is
highly usable too. Miu Miu is halfway there, and I
kind of like the idea so far. Buy through Bluefly
for $660.
Create Date : 27 กรกฎาคม 2552
Last Update : 30 สิงหาคม 2552 21:42:54 น.
0 comments
Counter : 341 Pageviews.