หาข้อมูลจะไปเรียนต่อtasmaniaกับsydney
Where You'd Ruther Be......................................................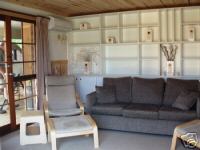 Purchase this voucher for two nights (week day or weekend) and you will soon find yourself relaxing in the peaceful holiday inlet of Hadspen, just 10 minutes from the city centre of Launceston Tasmania. All this for less than $98 per night per couple- and it's 5 star!!! Total relaxation, seclusion and privacy are assured.

Our 5 Where You'd Ruther Be Luxury Units are just minutes from Launceston Airport (much closer than if you were staying in the city). They are also conveniently located 100m from Metro bus stop.

Your 5 star, self contained room is full of discreet features such as:

Queen bedroom with...

- visco ensemble, doona, latex pillows
- electric blanket
- remote TV / DVD
- large display alarm clock / CD / radio
- hanging valet
- welcome chocolate



Ensuite with...

- spa & double shower

- overhead shower
- steam sauna
- body jets
- seat in shower
- mirror, TV, speaker phone & radio in shower
- full length mirror
- plenty of robe hooks
- hair blow dryer
- washing machine

Comfortable sofa in lounge

- modern lounge chairs & foot stools
- remote TV / DVD
- sound system with MP3 slot & CD-RW replay
- reverse cycle air conditioner
- computer work space & calculator
- local phone + dial up jack
- umbrella

Fully equipped kitchen...

- full sized fridge
- microwave
- wand mixer
- electric "banquet" frypan
- toaster & kettle
- coffee plunger
- tea pot
- cheese knives & board
- steam iron & ironing board


Balcony...

- intimate full sun deck
- loads of fun outdoor furniture
- parking
- level access
- clothes line


What more do you want from your luxury holiday in Tasmania? Maybe extra nights? Or extra people? Well that is no problem!

We have several other accommodation options to suit twin share and families. Please note that the only the Honeymoon Villa as per this auction has a spa, however, each other Cottage, Villa or Hideout includes other above standard features which compensate for the spa! Each of our luxurious accommodation options is different and designed to give you, your family and friends the most relaxing, comfortable and affordable stay away from home.

ALL OF OUR ACCOMMODATION OPTIONS ARE JUST $185 FOR TWO NIGHTS PER COUPLE/SINGLE. Each extra person including children who require their own bed are charged at the low rate of only $25 per person per night.

Give us a call on 0408 144 579 for additional nights at fantastic reduced prices. A 7 night stay in any of our accommodation options is only $560 per couple/single. We are very flexible with our bookings, so please give us a call to secure your accommodation in this beautiful country area - you can use your nights weekdays or weekends.

We have absolutely no black out periods, so you can buy this voucher and use it all year round, subject to availability of course. There is also no expiry day, so it makes a great gift if you know someone visiting the area. To check current availability email us at relax@whereyoudrutherbe.com.au or phone 0408 144 579 - we'd love to hear from you. If the dates you are after are not available for the spa unit, we will do our very best to accommodate you in any of our other beautiful accommodation options at the same low price.

Many local attractions including:



1 - 5 minutes drive

Historic Homestead "Entally House" Estate

Hadspen township : where you will find

Grocery store
Post Office
Newsagency
Service station
Hair salon
Take away
Riverside picnic area
Caravan Park - Cosy Cabins


Carrick Mill Inn, Olde world tavern with magnificent meals & internal water wheel.

Copper & Metal Art Gallery - Carrick

Country Club Casino

Richardsons Harley Davidson Motor Cycles & Museum



Prospect Shopping Centre :

Woolworths
Chickenfeed liquidation store
Post Office
news agency
butchery
bakery
video store
hair dresser
florist
Charcoal Chicken
Service Station
Coffee Shop
Ice creamery
Travel Agent
Gift Shop
Dry-cleaning agency
Shoe Repair


Agfest - May

5 - 10 minutes drive

Launceston Silverdome

Launceston General Hospital

Launceston Swimming Centre

Olde Tudor Shopping Village

Finney Funerals & Cemetery


Hungry Jacks

Cheesecake Shop

Glen Dhu Treasure Island Caravan Park

Meadow Mews Shopping Centre Kings Meadows

Mc Donalds
Supermarkets
Pizza Hut
KFC
Domino's Pizza


10 - 20 minutes drive

Launceston CBD

Launceston Airport

Penny Royal World & Gunpowder Mill

Queen Victoria Museum and Art Gallery

Inveresk Museum & Art Gallery

Yacht Club

Tamar Cruises

Olde Launceston Seaport Complex

Waverly Woollen Mills

Aurora Stadium

National Automobile Museum

Boags Brewery

Maritime College

University of Tasmania

Planetarium



Launceston Cataract Gorge & Cliff Grounds :

chairlift
peacocks
swinging bridge
look outs
tea rooms & restaurant
gardens
free swimming pool

เว็บอื่นๆ

Pure Tasmania
Accommodation Specials Available Your Source for Tourist Information
//www.PureTasmania.com.au


Tasmania Accommodation
Find the accommodation to suit your needs. Great Rates. Book it Now!
//www.bookitnow.com.au/Tasmania


Tasmanian Cradle Mountain
Stay in a lodge, high on Tasmania's Cradle Mt. Cosy cabins & fine food.
//www.cradlemountainlodge.com.au


Tasmania
Destination Info, Maps, Weather, Accommodation, Tours, Attractions.
//www.totaltravel.com

เว็บสภาพอากาศ
//www.bom.gov.au/weather/tas/
สถาบัน
//www.tafe.tas.edu.au/courses/index.htm
หลักสูตร information
//www.tafe.tas.edu.au/pdfs/Student%20Information.pdf
หาบ้านเช่า

//www.realestate.com.au/realestate/tas/rental+properties/houses

เช่ารถซื้อรถ
//www.locostautorent.com/
//www.tassiecars.com.au/

//www.adpost.com/au/tasmania/car
carsforsale.classifieds1000.com/Tasmania
//www.autoline.com.au/

ที่พักแบบ homestay
//www.1bbweb.com/australia/tasmania/find.html
//web.mac.com/cjlucerne/HomeStay/Welcome!.html


sydney
//www.formumandme.com/article.php?a=372
//sydney.citysearch.com.au/
A. Avis Rent A Car - //www.avis.com.au - +61 2 9241 1281 - เพิ่มเติม

B. Budget Rent-A-Car - //www.budget.com.au - +61 2 9578 1000 - เพิ่มเติม

C. Dollar Rent A Car - //www.dollar.com - +61 2 9955 3970 - เพิ่มเติม

D. Budget Rent-A-Car - //www.budget.com.au - +61 2 9339 8888 - เพิ่มเติม

E. rent-a-home.com.au - //www.rent-a-home.com.au - +61 2 9319 0888 - เพิ่มเติม

F. Avis Rent a Car - //www.avis.com.au - +61 2 9716 7052 - เพิ่มเติม

G. Hawk Rent A Car - //www.hawkrentacar.com.au - +61 2 9360 5499 - เพิ่มเติม

H. Ben's Rent-a-Centre - //www.bens.com.au - +61 2 9663 1660 - เพิ่มเติม

I. Ascot Rent A Car - //www.caltex.com.au - +61 2 9888 3743 - เพิ่มเติม

J. Avis Rent A Car - //www.avis.com.au - +61 2 9809 7577 - เพิ่มเติม
ห้องเช่า ซิดนีย์
//sydney.gumtree.com.au/f-Unit-House-Real-Estate-W0QQCatIdZ9296

//www.domain.com.au/

//sabbaticalhomes.com/Home_Exchange_Listings.aspx?city=Sydney&location=australia&country=AU

//capebreton.kijiji.ca/f-housing-room-rental-roommates-W0QQCatIdZ36

Create Date : 13 กันยายน 2551

0 comments

Last Update : 14 กันยายน 2551 2:14:00 น.
Counter : 1137 Pageviews.