1
2
3
4
5
6
7
8
9
10
11
12
13
14
15
16
17
18
19
20
21
22
23
24
25
26
27
28
29
30
Brazil national football team
//en.wikipedia.org/wiki/Brazil_national_football_team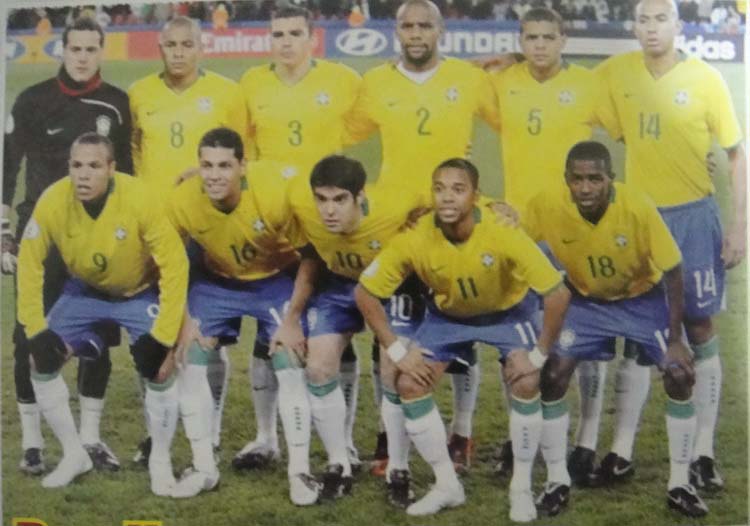 The Brazil national football team represents Brazil in international Association football and is controlled by the Brazilian Football Confederation. They are the reigning South American champions, successfully defending their title in the 2007 Copa América. Brazil are also the current holders of the FIFA Confederations Cup after managing to repeat as winners of the competition in the 2009 edition of said tournament.

Brazil is the most successful national football team in the history of the World Cup, with five championships. They are also the most successful team in the FIFA Confederations Cup with three titles. Brazil, along with Argentina, are the only teams to win a World Cup outside their continental zone and the Verde-Amarela is the only team to have won the championship in four different continents; once in Europe (1958 Sweden), once in South America (1962 Chile), twice in North America (1970 Mexico and 1994 USA) and once in Asia (2002 S. Korea-Japan). A common quip about football is: "Os ingleses o inventaram, os brasileiros o aperfeiçoaram" ("The English invented it, the Brazilians perfected it")[5][6]. Currently ranked first by FIFA, Brazil is consistently considered the strongest football nation in the world, and has also been marked as one of the most competitive teams of each decade since the 1960s. Brazil is the only national team to have played in every World Cup.

Create Date : 14 มิถุนายน 2553

8 comments

Last Update : 23 กรกฎาคม 2554 13:55:55 น.
Counter : 760 Pageviews.



| | |
| --- | --- |
| โดย: brazilian football confederation IP: 41.155.16.212, 41.155.16.212 20 ตุลาคม 2553 19:57:40 น. | |



| | |
| --- | --- |
| โดย: brazilian football confederation IP: 41.155.16.212, 41.155.16.212 20 ตุลาคม 2553 19:59:57 น. | |



| | |
| --- | --- |
| โดย: brasil lover IP: 125.27.206.123 4 ธันวาคม 2553 14:56:14 น. | |



| | |
| --- | --- |
| โดย: register (sbobet ) 25 สิงหาคม 2554 3:26:35 น. | |



| | |
| --- | --- |
| โดย: register (sbobet ) 27 สิงหาคม 2554 5:18:20 น. | |



| | |
| --- | --- |
| โดย: aomzon (aomzon ) 14 ตุลาคม 2554 12:39:47 น. | |
Location :


[ดู Profile ทั้งหมด]

ฝากข้อความหลังไมค์
Rss Feed


Smember


ผู้ติดตามบล็อก : 1 คน [?]