Ashes of time <Much pain we gain>
Chaptor 1:The flag is still, no wind blows,it's the heart of man that's in tumult.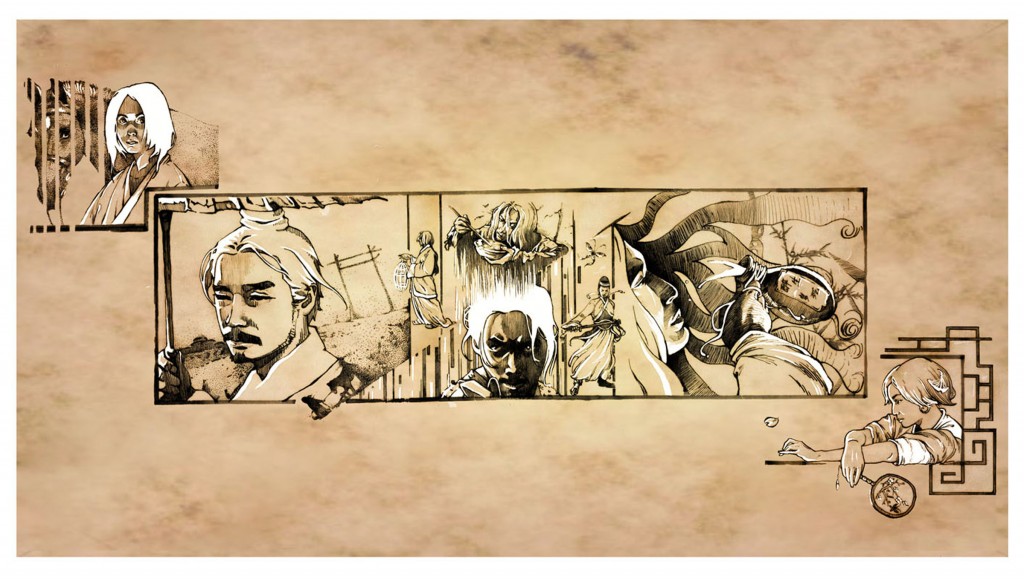 Our heart has been controlled by ourselves , no cause from outside at all.
The fights between Malicious west and Devil east,No vindictiveness, only just seeking for hospitality.Sea and sand mean calmness.
This movie has been described by Malicious west's sight,Why does everyone call him this name? From Yinyong's novel,He came from the West and be expert for toxin.
Chaptor 2:How good if we can forget the past and everyday would be a new beginning.
After Malicious west went out of his hometown, he stayed at his house among desert.6th month of every year,his closed friend "Devil east" will meet him and especially for this year , he took "Happy-go-lucky"wine with him.
"it will take out your memory in the past if you drink it" ,Devil east said
After Devil east drank it, he lost his memory.he forgot his closed friend or even his old friend "unnamed man"
He stared at the cage and feel familiar with it because the cage is the one of his painful past.
Chaptor 3: I wait for you all along because of your word.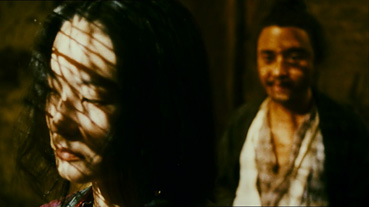 Muyongyang :This character ,We guess that Wongkawai have got inspired from 獨孤求敗 or Defeat seeking loner.
Muyongyang met Malicious west for hiring him to kill Devil east, but Why did she hate him? Because her sister is been cheated by him.
The drop of chopsticks is unfortunate.Devil east has promised with Muyong , will marry with her sister if she has.but finally he has broken the promise.Later that day, Muyong-Yin and Muyong-Yang has been saperated. Yang just want to protect Yin for her pain,Yin just want to go out of capture from Yang.
The division between Yin and Yang is Defense Machanism.one part cannot accept painful memory and try to keep it in deep mind So Yin was born from this reason.Yang would like to kill Devil east for stopping remembrance about him,Yin would like to kill Yang who obstruct amour between her and Devil east. The both don't accept existence of each other.
Yin always take "Cage" with her , the cage is symbol of NO-FREEDOM.The shadow of cage which is on her face and Malicious west ,was shown that both still be stuck at painful past and couldn't pass it till now.
One day,Yin has leaved  her cage and hidden herself in Malicious west's room, morrow Yang asked Malicious west about her , she couldn't find her anywhere and after Yang drunk ,she lost herself and became to the first daughter of Murong clan.she explained all of her feeling to Malicious west openly.With drunkenness ,she thought that Malicious west is Devil east So she asked him "Who do you love?" "isn't you? Malicious replied to her
Malicious west talked with himself that the love is came from mouth of ourselves is so difficult to say, but if we pretend to be others , is easier.
When both was fulfilled from Love, they accepted existence of each other,The reflex of mountain on water is Yang that will be merged with Yin,Yang and Yin is one.couldn't separate and live forever.Everything in the would should be balance from Yin-Yang , couldn't lose one thing.Black 'en White,Solid 'en Liquid ,Soil 'en Water,Male ' en Female,Hot 'en Cold etc..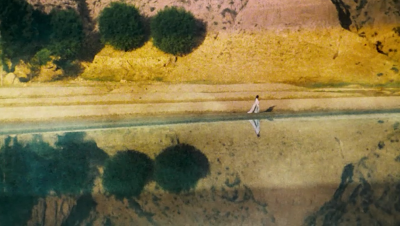 Chaptor 4:I will wait here until I will meet someone would help me.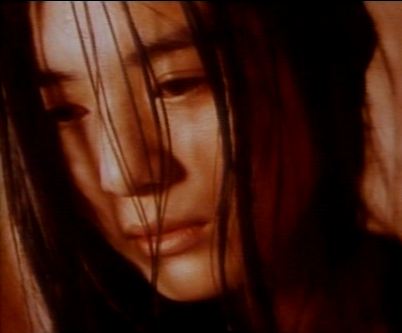 The girl with egg basket and donkey. She requested Malicious west for revenge who killed her brother.Malicious who is selfish and greedy ,rejected her. He cannot change his life with egg and donkey.
She is symbol for testing human being's mind ,who deserve rewards(Egg and Donkey).Egg or Donkey seems to be worthless for most of people. But if some can see "worth" on it , it will be changed to be value thing and will gain lot of property from those worthless thing.
The most important thing which everyone need is happiness.everyone can change everything if they can get happiness ,Happiness 's meaning is not same for each people , it may be money,power,Love,acceptance,Achievement etc…
Chaptor 5:I would like to see peach blossom before I will be blind.
Devil east and Unnamed man had been drunk together , Devil east questioned to Unnamed man "we have ever known each other before?" "We are closed friend but not for now" unnamed man said,
Unnamed man has ever promised with himself that he will kill his friend if he meet him again, but finally he hasn't done it because his eyesight almost be blind.
How different between Wine and water, Wine will make you warmer but water will make you cooler.it may be the best way for unnamed man to drink water instead of Wine for this time.
He just want enough money to back his howntown and see peach blossom before his eye will be blind.he asked Malicious west for the job.he waited for several days and Today it came,he must fighted with thieves,before he went, he leaved one message "Please tell Devil east that one woman wait for him" finally he died from this fights,he has seen Peach Blossom at the end but not is at his hometown, it is from his thoughtfulness.Always Peach blossom bloom, not only on the ground but also is in our heart when we has happiness.
Chaptor 6:Because I know that you'd never risk your life for the price of egg, That is different between us.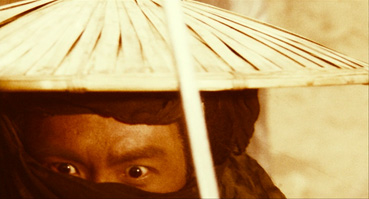 Northern beggar, he accepted agreement that Malicious west will be agency and seek job for him.
He counted his money carefully, He may go soon . Malicious west though,
One day,he went out to revenge for woman with egg, Why could he change his life with only 1 egg?i will hate  myself if I reject her.i've lost my real self,I don't want to be like you.Northern beggar replied,
the result is win although he was cut his forefinger.finally he can keep his real self,that night he dreamed about him and his wife has been together , morrow he said good bye to Malicious west for seeking new things forwards.but this time is different , he took his wife with him for long journey.
The day that they went,rain came,I have thought about my past.
Chaptor 7:I have ever thought that I am winner, but I saw loser on mirror.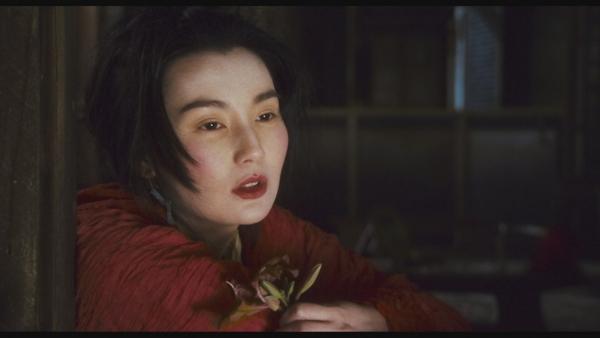 Never smile ,Never say,I don't understand what he want. I have ever paid all thing to him but I also think that should be stopped and don't treat much ,sister-in-law said,
Whom did she mention? Her son or her ex-bf(Malicious west) She love him much but she chose to marry with his elder brother because she never heard "Love" from his mouth.she don't want to be follower anymore so I had decided.
But for LOVE is not competition , No winner,No loser , no need to avoid  pain on it.it may have only happiness or pain will be good experience for next love.don't fear rejection from others until you choose to reject others first.it is way to safe our self but you won't be able to face with truth, still live with idealism.
When torch falled,our love would end up.
2 years later, Malicious west got news from his hometown that his brother's wife died then he drank Happy-go-lucky wine ,just for forget everything , but it's Joke.he still remember everything and still continue his business.
He moved back to his hometown soon, before moving , he dreamed about his ex-gf  and the picture showed he sat beside of pool then looked at river and he saw his past that he rided horse and his ex-gf ran after.
A long time ago seeing mountain, I'd always wonder what lay behind it but I don't want to know now. We always seek the desired life and try to find it out ,we forgot worth things that is close and most value for us, but when we aware on it, it is too late.We can get new things from future life but those new things still is not old things , we cannot recall it anymore…….
           "How wonderful if we would be back to the past"
Create Date : 20 มิถุนายน 2557

0 comments

Last Update : 20 มิถุนายน 2557 0:38:31 น.
Counter : 1352 Pageviews.