Other Brand
เพิ่งได้ของเล่นมาใหม่ไปบิดมาจากอีเบย์ นั่งนับวันรอ แล้วรออีกเมื่อไหร่ของจะมา จะเมล์ไปทวงก็กระไรอยู่ ก็ นะ เพิ่งได้ของเมื่อวันศุกร์เปิดออกมา อยากจะกรี๊ดออกมาดังๆๆๆๆๆๆๆๆๆๆๆๆๆ สวยย ๆๆถูกใจ โคตร ไหนๆๆมาลองหน่อยสิ เริ่ดมากๆๆๆ ดูจาก รูปล่ะกันเด้อ ว่าสวยป่ะ ( 24 สี คุ้มมาก)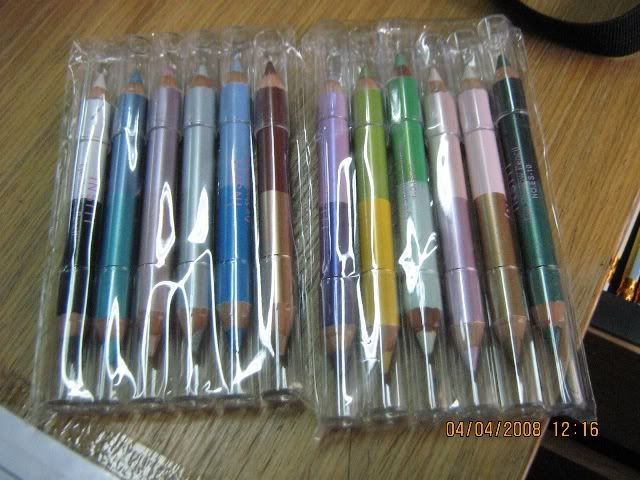 ให้คะแนน ความแรดดังนี้ 7/10
ลองทาแล้ว วุ้นเขียนยากจริงๆ ใครที่ไม่ชำนาญ eye shadow ครีม แบบดินสอ ไม่ขอแนะนะนำค่ะเขียนยากมากก สำหรับมือสมัครเล่น ไม่คุ้มกับเงินที่สงทุนอ่ะ แต่ลองที่แขน ก็เขียนง่ายดี แต่พอเอามาเขียนบนหนังตา ดันออกมาทุเรศ เอาว่ะ ซื้อมาแล้วก็ค่อยเรียนรู้กัน อ๋อๆๆ เราลองเขียนแล้ว อายง่ะ ไม่เอารูปมาลงดีกว่า เขิลลล
อันนี้บิดมาก่อนอันข้างบน ได้มา 36 สี ก่อนจะบิดก็นั่งลุ้นว่าจะไหวไหม คุ้มป่ะ 36 สีจะเอามาทำไรได้บ้าง สุดท้ายก็บิดเล่น แล้วได้มาสะงั้น ได้ของมาก็ลอง เป็นพิกเม้นท์ผสมกับแป้ง ฯลฯ ส่วนใหญ่จะเป็นพิกเม้นเกี่ยวกับตา สีก็จะซ้ำๆกัน ไม่โดน เท่าไหร่ วันก่อนลองทา โห วิ้งกระจาย แง่มๆๆๆๆๆๆๆๆๆๆๆๆๆๆ สุดแสนเสียดายตัง แจกน้องที่ทำงานคนละสี
จริงๆๆแล้วเจ้าพิกเม้นก็ใช้ไม่ยากนะเออ แต่เราเป้นคนขี้เกียจล้างมือ อ่ะ ก็อย่างที่เราๆๆท่าน รู้ ว่า ก่อนจะใช้ ให้เอาสีมาขยี้บนแขน เพื่อไม่ให้มันฟุ้ง ถ้าเอาแปรง แตะพิกเม้น แล้วไปปาด บนหนังตา จะทำให้ผงมันตกลง ดูแล้วเละเทอะ ต้องมานั่งเช็ดแล้ว ทาใหม่เสียเวลาง่ะ เอาคะแนนไป 6/10 ล่ะกัน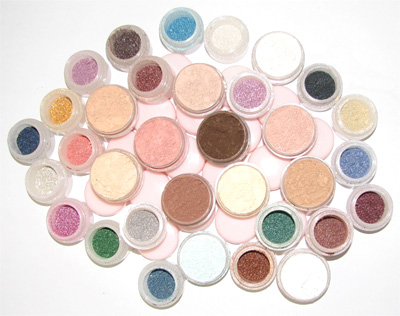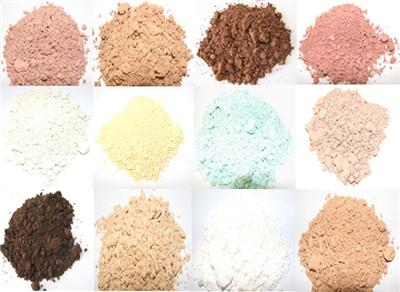 36 Pieces Set
Bare Makeup Minerals
RRP: GBP349
The 36 pieces set includes:
Bronzer: shimmering bronzer, adding a touch of radiance with the complexion enhancers. (1 tsp)
Medium foundation: It has a SPF of 15 for sunscreen, giving skin a natural luminosity which is suitable for medium skin with pink undertones. (1 tsp)
Light foundation: made of pure minerals and has a SPF of 15 for sunscreen, our neutral light foundation has a smooth and silky texture, giving your skin a natural and healthy glow. It is suitable for light to medium skin with yellow undertone. (1 tsp)
Tan foundation: made of pure minerals, has a SPF of 15 for sunscreen and is suitable for medium golden skin with golden undertones. (1 tsp)
Bisque multi-task concealer /foundation: concealer to provides excellent coverage for skin imperfections and conceal the acne, scars, birthmark and sun damage etc, and further uniform color. It has a SPF of 15 for sunscreen. (1 tsp)
Perfection powder:
It provides you with silky skin and offers seamless coverage that hides minor imperfections. (1 tsp)
Coffee-bean eye liner:
our bare minerals eye liner shadow is made of pure crushed minerals from the earth. It can be used dry for a soft effect or wet for a more dramatic look. (1 tsp)
Finishing veil: It provides a sheer matte finish and make your face smoother. Our finishing Veil gently absorbs oil and minimizes the appearance of fine lines and pores. (1 tsp)
Green corrector: It counteracts redness from rosacea, acne, scars and so on. (1 tsp)
Yellow corrector: It is suit for yellow skin tones and makes your skin seemed healthier. (1 tsp)
Scarlet blush: has a SPF of 15 for sunscreen, creating a soft, radiant glow. (1 tsp)
Truffle eyeshadow: A silky, luxurious feel, and makes your eyes bright and piercing. (1 tsp)
Naked eyeshadow: A frosted soft ivory white (1/4 tsp)
Pastel blue eyeshadow: Pale, pastel blue with shimmering blue/violet pearl (1/4 tsp)
Sparkle brown eyeshadow: Super high frost copper flecks (1/4 tsp)
Frozen white eyeshadow: High frosted white pigment with blue duochrome (1/4 tsp)
Violet eyeshadow: Rich violet with pink reflects pearl (1/4 tsp)
Teal eyeshadow: Medium shimmering blue/green with golden pearl (1/4 tsp)
Dark brown eyeshadow: Shimmering chocolate copper bronze (1/4 tsp)
Bright peach eyeshadow: Soft bright golden peach (1/4 tsp)
Golden olive eyeshadow: High frosted green/gold (1/4 tsp)
Silver blue eyeshadow: Cool soft blue with silver pear (1/4 tsp)
Tan eyeshadow: Muted bronzed pinky brown (1/4 tsp)
Rose eyeshadow: High frosted rose with copper sparkle (1/4 tsp)
Golden yellow eyeshadow: Light airy yellow gold (1/4 tsp)
Reddish brown eyeshadow: Deep brown with frosted green/blue reflection (1/4 tsp)
Pink purple eyeshadow: Magenta fused with red/yellow pearl and purple/blue pearl (1/4 tsp)
Smokey blue eyeshadow: Smokey olive green with gold pearl (1/4 tsp)
Taupe fusion eyeshadow: Slightly smoky taupe-plum fusion (1/4 tsp)
Ivory white eyeshadow: Very pale ivory shimmer with opalescent pearl (1/4 tsp)
Copper eyeshadow: High frosted tarnished/gold (1/4 tsp)
Smokey black eyeshadow: Deep smoke grey with silver, gold and white pearl (1/4 tsp)
Bright pink eyeshadow: Bright fuchsia-pink (1/4 tsp)
2 × free samples: latest colors from our eyeshadow/blush/foundation/eyeliner collections
A printed instruction sheet: teach you how to use the bare makeup minerals
Why use bare makeup minerals?
• The advent of bare makeup minerals is a revolution in the field of cosmetics and changes worldwide women's life greatly. It can enhance skin cells' ability to retain moisture and make dry skin become shiny with youthful luster.
• Mineral composition is also an element to improve the dynamic. It favored the adoption of vitamin of skin and help vitamin in the skin to replenish nutrient effectively. After using the bare mineral cosmetics, dry and haggard skin will be repaired obviously and immediately.
• Bare mineral cosmetics can prevent skin drying and becoming rough effectively, modifying the appearance of fine lines, wrinkles, blotches as well as modifying natural color. Using the bare makeup minerals will make your skin full of vitality!
• Bare mineral foundations have a SPF of 15 for sunscreen and protect your skin from damage caused by the Sun.
• All colors are selected carefully and nearly conclude the most popular colors at present. The colors can be mixed at will to create more colors you want.
Free TextEditor
Create Date : 20 มีนาคม 2553
Last Update : 20 มีนาคม 2553 23:41:42 น.
0 comments
Counter : 329 Pageviews.