Lychee Frozen Yogurt ( ลิ้นจี่ไอศครีม )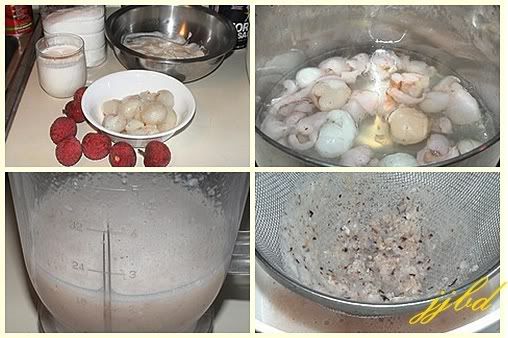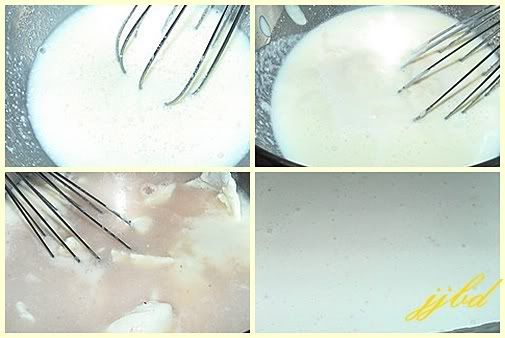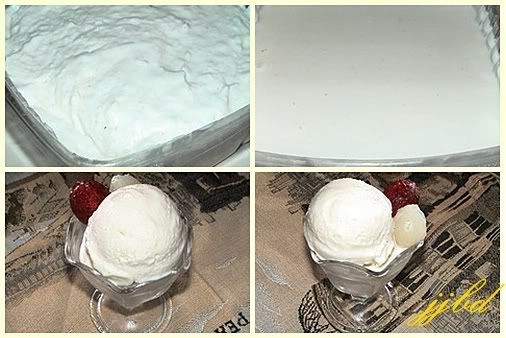 เขาบอกว่า....ถ้าผมหงอกก่อนวัยกินอาหารช่วยได้ เมื่อคุณมีเส้นผมบางส่วนที่หงอกขาวทั้งๆ ที่อายุยังไม่มากนัก คุณแก้ไขด้วยการย้อมสีผมซึ่งจะ ช่วยได้ดีพอควร แต่ก็ต้องย้อมกันเป็นประจำตลอดไปแน่นอน อาหารบางอย่างมีคุณสมบัติช่วยบำรุงเส้นผม เล็บมือ และผิวของคนเราอย่างได้ผล เส้นผมหงอกนั้นเป็นเพราะขาดทองแดง กรดโฟลิก กรดแพนโทเทนิก และพาบา คุณสามารถแก้ไขเส้นผมที่หงอกขาวให้กลับมาดำสนิทดังเดิมได้ด้วยการรับประทานโยเกิร์ต ตับ และยีสต์ โดยมีข้อแม้ว่าจะต้องรับประทานปริมาณมากๆ ทุกมื้อและทุกๆ วันอย่างสม่ำเสมอ

ลิ้นจี่ไอศครีม

ส่วนผสม
ลิ้นจี่ 18 ออลซ์
นมสด 3/4 ถ้วย
โยเกิร์ต 4 ถวย
น้ำตาล 1/3 ถ้วย
กลิ่นวนิลา 1 ช้อนชา

วิธ๊ทำ
1. นำลิ้นจี่ปอกเลือกแกะเม็ดออกแล้ว+ น้ำตาล 1/4 ถ้วย ใส่หม้อขึ้นตั้งไฟกลางนาน 2 นาที หรือจนน้ำตาลละลาย พักให้เย็น แล้วนำไปปั่นให้ละเอียด กรองเอากากออก พักไว้
2. ผสมน้ำตาลกับนมเข้าด้วยกัน คนให้น้ำตาลละลาย แล้วใส่โยเกิร์ต,ลิ้นจี่ปั่น, วนิลาลงไปผสม คนให้เข้ากัน
3. นำเข้าเครื่องปั่น ปั่นให้ขึ้นฟู แล้วเทใส่พิมพ์ จากนั้นแช่ช่องแข็ง ( ถ้าไม่มีเครื่องปั่น ก็ให้เอาเข้าช่องฟรีส แล้วเอาออกมาแคะๆ แล้วปั่นด้วย มิกเซ่อร์มือถือ หรือใช่ช้อนขูดแล้วกลับเอาไปแช่ช่องฟรีส อีก ทำแบบนี้ 3 ครั้ง ก็จะได้ไอศครีมเหมือนกัน แต่เนื้อจะไม่เนียนเท่า )

Lychee Frozen Yogurt

1 1/2 cups plain whole-milk yogurt
3/4 cup granulated sugar
3 cups fresh Lychee
2 tsp lemon juice

Instructions

1. Combine the yogurt, sugar, and Lychee in a blender until the mixture is smooth.

2.Strain the mixture through a strainer and then stir in the lemon juice.

3. Chill the base in the refrigerator for at least 1 hour, then churn it according to the instructions in Base.

4. Serve immediately or harden in the freezer.

How to Churn Your Ice Cream

Once you've made your ice cream base, you need to churn it with an ice cream maker. Though all ice cream machines operate on the same basic principles, they're built slightly differently, so read the manufacturer's instructions carefully before using your machine. The following are basic guidelines for operating an ice cream maker.

Set up your ice cream machine on a flat surface, away from any heat sources that might interfere with the freezing of your base.
Remove your chilled base from the refrigerator and pour it into the machine. Turn on the machine (note that some machines instruct you to turn the machine on before pouring in your base). You may find it helpful to place your chilled base in the freezer for 5 minutes to get it extra cold prior to churning.

Churn the ice cream for 20–30 minutes, checking it at the 15-minute mark to monitor its thickness. When the ice cream mounts high on the blade of your machine's dasher, it has reached its peak thickness. With ice and rock salt machines and freezer-insert machines, your ice cream will reach peak thickness between the 20- and 30-minute marks, after which point the ice or liquid coolant will begin to melt and your ice cream will start to melt too. Watch your ice cream carefully to catch the proper endpoint.

If you'll be adding mix-in ingredients, such as chocolate chips, nuts, candy, or fruit pieces, add them when your ice cream has just reached its peak thickness. Most motorized ice cream makers have openings on the top that allow you to add mix-ins while the machine is still running. Turn off the machine right after the mix-ins are incorporated.

Using a plastic spatula or a wooden spoon, scoop the ice cream out of the machine and transfer it into your preferred storage container, working quickly to minimize melting. Put the container in your freezer to allow it to harden. Do not use a metal spoon to remove the ice cream from your machine, as you might damage the walls of the freezing canister. If you prefer soft ice cream, serve it immediately.


Create Date : 11 มิถุนายน 2551

6 comments

Last Update : 27 ธันวาคม 2551 15:17:10 น.
Counter : 3262 Pageviews.