"......: Quote Of The Day - Aug-10-2017 :: Dealing With Game Player(s) :......"
Date : Aug 10, 2017
---

---
She gave me this pearl necklace and seemed want me to keep as secret(she called me to a room and said to me "this's just between you and me and then she gave me this necklace), but I let my husband know that she gave me this anyway. Since we don't trust someone anymore, then we don't want to have or keep anything from the person because we never know what's kind of games the person is playing with us. So we brought this necklace to donate at Goodwill, to do merit so that goodwill can make money from this necklace to help other lives.(Actually I wanted to return this necklace to her but my husband just asked me to not do that because it seems, it would be the insulting to her if I return the necklace back to her, so the best solution for this situation is the donation, donate this necklace and do merit, which it would be good for both of us. I don't want to keep this necklace and so we brought the necklace to donate, to do merit.) 
I still thankful that she gave me this necklace but because since I've seen what's going on from times by times, then I just feel that I can't trust this person(too much playing game, hard to deal with and hard to feel the sincere from), so I just don't want to deal with her anymore. Which I made this clear with my husband that I don't want to deal with this person anymore. I just want to live peacefully in life, don't want to play any game with anyone or hurting anyone and I'm not good with hurting people anyway. I'm a straight forward person and I'm not good with playing game with people and don't like to play game with people anyway. I like being straightforward, if I have some doubtful with something or some situation then lets talk and made it clear and then move on. To me, since I was facing the depression, the suffering from the situation of Twin Flame Reunion(Twin Flame Separation) and I learned that life is not certain, we never know what will happen in our life. So we should appreciate the rest(times) of our life that we have and enjoy each day of life that we're living. Don't waste our time to deal with the dramatic person, game player(s). Just living peace our life with the ones we love and love us, if someone want to hurt us, then just stay away from the person. Also, since I'm able to bring myself back from the suffering with the situation of the Twin Flame Reunion and be able to handle with heartache, heavy chest symptom that I'm living with for seven years already now, I'm able to be strong enough because of my husband try to help me and always stand by me and support me, he never judge me with what I have gone through(he had seen the whole situation that I have gone through, how suffering I was.), just try to understand me and help me be able to heal myself from the suffering and becomes the same me again. I have dream, have hope, have goals in my life again, be strong for my daughter again because of my daughter and my husband. So, I don't want to deal with any difficult or silly situation anymore, I just want to have the good times and good memories with the ones who love me and I love them...(my daughter and my husband are the main reason to make me be strong in life here right now.)
So please give me a break lady(people), leave me alone and just let me living peaceful with my daughter and my husband. My daughter doesn't have anyone else here, she only has her father and her mother here, so please stop bothering us or try to destroy our bond...leave us alone please. The world is messed up enough now, why people want to hurt each other more and more...why we don't just living peaceful in life and be positive and be nice to each other, create good things for future of our own children in our own family, and help others if we could(for the good and peaceful future of next generation).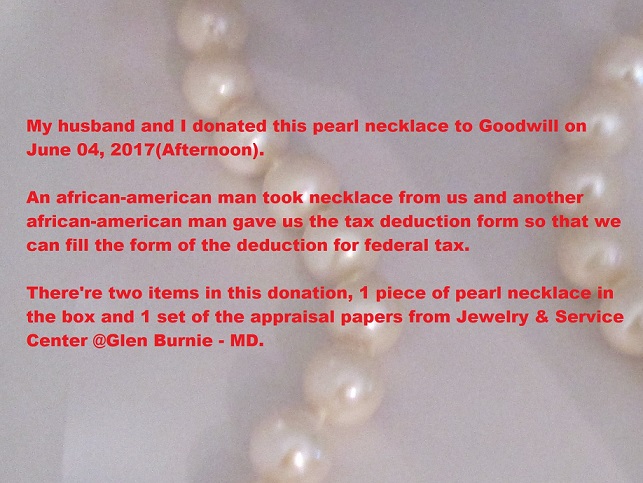 "We donated necklace to Goodwill, we gave the necklace to two men who work in the donation area at Goodwill, Columbia - MD."
---
Thank you bloggang.com for having space for me so that I can say something in my side, I don't have anyone else here except my husband and my daughter that I'm living for. So if something happen with me sometime, at least the truth of my side is here, in my blog.
Create Date : 10 สิงหาคม 2560
Last Update : 28 ธันวาคม 2560 9:53:12 น.
0 comments
Counter : 584 Pageviews.