Technical Data อัลฟ่า ซู๊ดดดด

Technical Data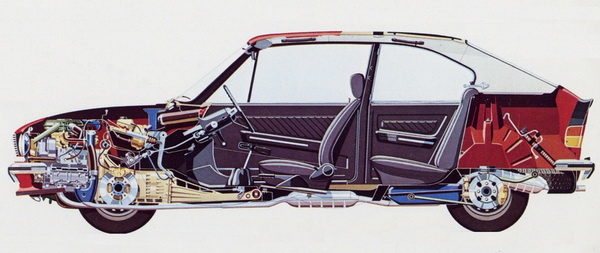 Engine and Transmission



Liquid-cooled four cylinder Boxer-engine (horizontaly opposed). One piece cast iron engine block / crankcase. Three-bearing steel crankshaft in steel backed tin alloy bearings. Light alloy cylinder heads. One overhead camshaft per row (driven by one toothed belt each). Two valves per cylinder. Directly operarting on oil bath cups. Stellite faced exhauset valves. Hydraulic tappets (for Sprint 1.7 QV / 1.7 IE QV only). Lubrification: wet sump pressure and splash, full flow replaceable cartridge. Oil capacity 4,5 litres (incl. filter charge). Water radiator; electrically driven, thermostatically controlled fan, mechanical, belt-driven pump.
Carburation: (depending on version) vertical single-barrel carburettor, one or two twin-choke downdraft carburettors or Bosch LE 3.1 Jetronic (Sprint 1.7 IE QV only). Firing order 1 - 3 - 2 - 4. Since 1980 the Ti and Sprint-versions are sold with a breakerless ignition.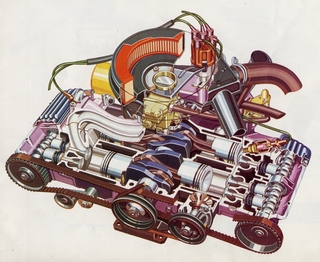 Five different capacities:





Capacity Bore Stroke




1186 ccm 80 mm 59 mm
1286 ccm 80 mm 64 mm
1351 ccm 80 mm 67.20 mm
1490 ccm 84 mm 67.20 mm
1712 ccm 87 mm 72 mm



Four- or five-speed gearbox. Case made of aluminium. Forward gears with Porsche-type synchromesh. Manual floor gear lever, Hypoid bevel pinion type differential. Self adjusting, hydraulically operated single dry plate clutch. Diaphragm spring.




Suspension


Front:

Independent Mc Pherson struts with vetical (double acting) telescopic hydraulic shock absorbers and heliocoidal springs. Lower wishbone with stabiliser bar.



till 1985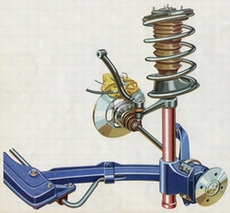 Since 1985



Rear:

Rigid rear axle located longitudinally by Watts linkage and transversely by Panhard rod. Hydraulic telescopic shock absorbers and heliocoidal springs. Till 1985: rear axle made of pressed stell. Since 1985: tube-type rear axle.



Till 1985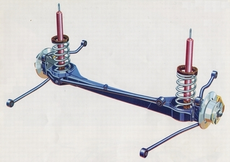 Since 1985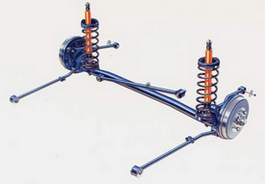 Steering:

Rack-and-Pinion with a ratio of 18,27:1. 3,25 turns lock to lock. Two-piece column connected by universal joint, with flexible mountings on rack. Turning circle between kerbs 5,60, 11,20 between walls.

Brakes: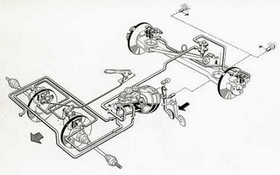 Dual circuit brake system (since 1973 with servo assitance). Two indepentdent brake circuits, one for the front brakes, one for the rear brakes. A Brake pressure limiter (bias valve) for the rear wheels avoids locked wheels at the rear when braking hard.

With the change to the floorplan of the Alfa 33, the Sprint also receives the 33's brake X-circuit brake system: one circuit brakes the left front wheel and the right rear wheel, the other brakes the right front wheel and the left rear wheel.

Till 1985: inboardly mounted front disc brakes with a diametre of 258 mm. Rear disc brakes with a diametre of 233 mm. Independent hand brake working on common front caliper pads.
Since 1985: outboardly mounted front disc brakes. Rear drums. Independet hand brake working on the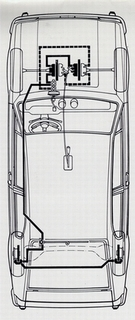 Body
//www.bloggang.com/data/goeng/picture/1227549916.bmp width='450' height='197' border=0>Monocoque steel body. The front engine mounting and the front lower suspension links are connected with a cross-member which is screwed to the front rails with four screws.

Versions: two-door saloon (Alfasud ti), four-door saloon, three-door hatchback, five-door hatchback, three-door estate, three-door coupé (Alfasud Sprint / Sprint).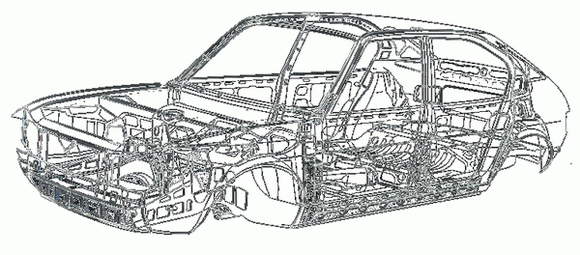 Create Date : 25 พฤศจิกายน 2551
Last Update : 25 พฤศจิกายน 2551 1:10:16 น.
0 comments
Counter : 380 Pageviews.