Embolism
Embolism
Than you are World Champion and than suddenly you are almost died and lying inthe hospital……… Last week I was very sick, I getting little bit better day byday, but I still feel weak, rest and sleep a lot…….Ok I will try to tell allwhat happened till now…..at Saturday 20th November I did get up, showered andafter I wanted to get dressed, trainings suit because I had to go to Germanyfor a match for my club there…..I sat on the edge of the bed, my wife came backhome with our dog, both came upstairs, I pet my dog and from that moment I losta couple of minutes, don't knowing what happened .... my wife said I wassupposed to be out of the world, even probably no more heartbeat, she did CPRand did mouth to mouth .... then I sat back after the few minutes on the edgeof the bed, the sweat ran down everywhere and I did get no breath. My wife hadalready called the ambulance, the emergency service, 911 (in our country 112 )they were very fast present ........ then direct to the hospital .... at theemergency treatment they inserted several needles, for example infusion and putmany patch for electrodes on me for more research possibilities ... etc. .. ..then a scan, a film was made from my heart .... all good with my heart, nothingwrong .... than a scan of my lungs……there it was not good at all…..they couldsee there a pulmonary embolism ..... and what a big one it was, there were morethan 20 blood clot ,this in both lungs ...... they said to me later that 99 of100 people had not survived. I have to be very lucky to be a top athlete, alsothat I have a to big heart, a sport heart, my left muscle of my heart was 3times more developed than normal, through this my heart have been so strong andwas be able to go on pumping my blood with all these clots...... with this manyblood clot I had to go to IC (intensive care), I have been laying there 3 days,with many cables on me, etc. .. this is all bad to sleep .... but they were notsure about my life, so I had to be at IC and had to have all this on me ....then after 3 days to the normal care ..... In total I did stayed than 15 daysin the hospital .... ..... OK where it comes from .... that will be difficultto find out…... There are normal three things where is can come from .... oneis with inheritance, this was not the case ....... 2nd one is with blooddiseases, this was not the case, they checked my blood from A till Z, they didthis 3 times, nothing wrong with my blood, it is even super healthy ..... and along flight, or stay long in the same position……… and yes .... I had a longflight from Korea, but why this flight and not another of the all flights I hadthis year already .......this remains a mystery ..... The doctor and I haveboth the same theory…….top athletes makes in their body more damage like otherpeople .... especially at, with tissue and arteries, with this happening, thiscan provide then lightly blood clot(s) ...... so than also can have possiblemore easy an embolism ……….by all the little problems the last few months, sinceMay, I already had, was after all showing the signs that something like thiscould happen, but nobody thinks of this ... the last flight out of Korea couldjust had been then only the last drop that it was too much and than it just hashappened ...... what to do about it now, how to go on ... well, yes I 'm athome, am still alive (yes weed is not so easy to destroy hahahahahahaa) ... Ineed 1st of all a lot of rest, have to take tablets for blood dilution,probably for at least 6 months, in the beginning I must now also takeinjections as extra for blood dilution, maybe 2 weeks or even longer, thisinjections till some values of my blood level (2 times) has been 2,5 ......this year no more table tennis for me, I will only rest than in January I willstart again slowly and hope I will and can be fit again when the league at theend of January is starting .... and I am assuming that this will work well andI can do it like this ....international start in middle of March again, hope tobe than more fit at that time, to go 100% for it and that I can qualify nextyear for the Paralympics in 2012 at London. We will see all…….support meall................

_____________________________________________________________________________
South-Korea Table tennis world championship. the Netherlands team won goldmedal in team
in the final Gerben, Ronald and Tonnie did play against France. they won 3-0and That's mean GOLD MEDAL....THE TABLE TENNIS'S WOLRD CHAMPION.
World Championships 2010, Gwangju Korea. The championships were from 25thocotber till the 3rd november. Our team and me go already at 15th october toSeoul Korea to acclimatize and do some extra training. At 25th we fly toGwangju, at 26th we had the openings ceremony and at the 27th it started thetournement. The open, after 2 wins, i come at last 32 against number 3 seededKarabec from Czech republic, i loose 3 times 11-9, so i loose 3-0. I am out inopen than....the single, several groups, i had a group of 3, together with aNorwegian and Croatian. i win both match and go to 1/8 finale. I play thereagainst Cieslar from Czech republic, i win 3-2. Than 1/4 final, i had to playXiao Li Liu from China, i play very good, but he was better, i loose 3-1. 2Chinese were in the final, the one i loose win silver. Than team after 2 wins,we come in the final.....against France, we play a very good final and leavethe France no change, we win 3-0.....so we and me are WORLD CHAMPION......forme, i have now all 3 tittle, European, Paralympic and World champion....GREAT.




NEW car NEW sponsor
1st thanks to the federation for the car, VW Golf , it was a good car. Now wemake a new contract with a private sponsor for a car. The new private sponsorfor the car is Autobedrijf Oolbekkink BV from Zwolle. We get a new MINI. Thecar is beautiful, have nice writing for sponsoring. See for yourself at the 2photos. We thank already in advance Oolbekkink.


Create Date : 08 กรกฎาคม 2555
Last Update : 8 กรกฎาคม 2555 21:25:54 น.
Counter : 344 Pageviews.
Internetional records
Create Date : 08 กรกฎาคม 2555
Last Update : 8 กรกฎาคม 2555 22:57:15 น.
Counter : 475 Pageviews.
Dissen

Michie & Tonnie

Double match in the weekend. We play some more matches at the beginning of this season, because I will be away for 4 weeks for my World Championships in October in Korea. So we had this weekend 2 matches. At Saturday we did play against TSV Venne in Venne. TSV Venne was a team who did go up to our class last season. So for us the duty to make 2 points there. For myself it was not such a good day. I had already a little injury at my knee at my prostheses leg. This did hurt and annoy a lot during the play and I could not play my own good level. In the double it was already clear for me that it would be a hard day for me to play. Our doubles were same as last week, Frank/Lutz as double 1, Janis and me as double 2 and Anton/Michie double 3. Frank/Lutz and Anton/Michie win both easy with 3-0. Janis and me play against the opponents double 1, 2 defensive players, hard to play and for me extra difficult. It was a hard match but we win 3-2. So we lead 3-0. Than Anton against Klaus Hellman, it were all close set but Anton win 3-1. Than me against Michael Kuhn, he play clever and let me walk a lot, just put the ball on the table and I could not make the pressure I would like and I am used to do through my injury, I did loose 3-1. So we lead 4-1. Than the middle pair….Frank against Fritz Titgemeyer, some close sets but Frank win easy against defensive players as most of the time, 3-1 for Frank. Lutz against Daniel Decker, Lutz play easy and win 3-0. So 6-1 for us. Than the lower pair….Michie against another youngster, Oliver Tupker, I think 13 years old, he did play impressive, but Michie was the better and win 3-1. Than Janis against Alexander Dermer, Janis play good and win very easy 3-0….So we lead 8-1. Than the 1st pair again, me against Klaus, but as I already expected it not go well through my little injury, I have to say also that I normally also not had won against Klaus, I never did till now, not even a set…so extra difficult, I loose than also 3-0…than Anton make the finish against Michael, he win 3-1 and so we win 9-2….a very good victory for our team. At Sunday we had to play at home against TUS Celle 2. Last year the number 4 in this league. We win 1 time 9-3 at home and loos at there how with 9-5. So an open match. There was a surprise, the called us that they not wanted to come, because they had to play with 3 substitute players, through injuries and illness. So we had a walk over, we win 9-0. Easy points for us. So we have now 6-0 points and a playing difference of +20, that is pretty impressive. Now we can go to TV Hude at 25th September and play there free out. TV Hude is expected to be the number 1 team in our league, they suppose to become champion….so we will see if we can make there 1 point or even 2…..It will be a good match, for us if we want to play for the 1st places in this league also an important match, so everybody who wants to support us you are welcome and come with us to Hude……


Create Date : 05 พฤศจิกายน 2553
Last Update : 5 พฤศจิกายน 2553 17:13:47 น.
Counter : 207 Pageviews.
Profile
Profile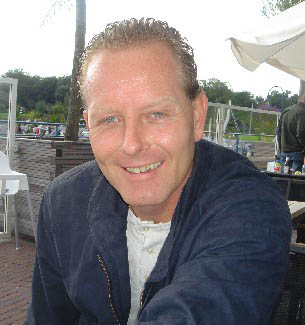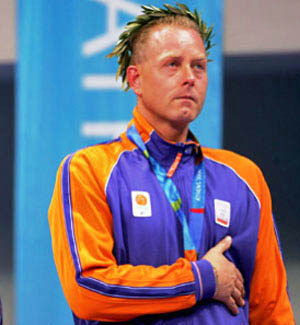 left:from Maduradam november,2007
right:from Paralympic Atane 2004

Name : H.A.J. Heijnen
Birthday : 3 june 1967
Hight : 198 Cm.
Weight : 90 Kg.
Career : Policeman,professional table tennis Sportman for the Netherlands
Status : Married
Country : Netherlands
Sport : Table tennis
Table tennis Club : TSG Dissen , Germany







Create Date : 20 กันยายน 2552
Last Update : 8 กรกฎาคม 2555 22:59:44 น.
Counter : 282 Pageviews.
more info.


Tournament in Taipei, Taipei, still had no training again, I went to this tournament with my wife, Youi.She will be my coach. We combine this travel also with a family visit in Thailand. In Open class I lost in 1st round. In single in won in group 2 matches and lost a little bit unlucky against the Russian ( my later team partner) with score 3-2, but I was 2nd in group and went on to next round. In the ¼ final, I lost against Norway. He was better that day. Than in team we beat India and Japan, lost Malaysia and combination Norway/Finland, we became 3rd place with this performance, I did play with the Russian player, Yuri Nozdrounov. So we won bronze medal.

Now I start my training to prepare for the WC, we train 4 days a week, full time, this for 3 weeks, than we go to Slovenia for a trainings stage for 10 days. After more training in our Olympic centre in Papendal, early to Korea to prepare there and than play the WC there in Korea, Gwanju from 23 October till 4 November. Main goal is to win there a medal and get nomination for the Paralympics in London 2012. Also start also the league in Germany for my club, our 1st match will be at 3rd September.


This vdo just a part from the excited match on 19 sep 2009 in Dissen.







Sunday 13th September the competition started for my team and me. We had to play against BW Langforden at 14.00. We go all together with a mini bus after we meet at a parking place. It was a nice comfortable travel. After arrived, did warm-up, practice and the greeting talks the match could start. It will become what i expected a hard match with 2 teams who are equally strong. We start good and we won 2 of the 3 doubles, Lutz/Janis won with 3-2 and Frank and me won 3-1, Guido/Wolfgang loose 3-1, so we lead 2-1. My team mate who is the 1st pair, Frank loose against the opponents number 1 with 3-0. I could win 3-0 against the opponents number 2, so we lead again, now with 3-2. Our middle pair, Guido and Lutz play not good today, maybe little nervous about the new class we play in, it looked that they play with like as the Germans say...."Eisenarm". They both loose there matches, Guido with 3-1 and Lutz with 3-2, it was unexpected, so we down now 4-3. Our lower pair Janis and Wolfgang, Janis win with 3-1 and Wolfgang loose with 3-0, so we down at 5-4. Now the match of the number 1s in the team, i did play good and win relative easy with 3-0, i did expected it would be more hard to win, but he did not get my service and had problem with my short pimples. So it is 5-5 again. Unexpected that Frank loose also his 2nd match with 3-2 and Guido also with 3-2. So we down 7-5. Lutz play again not good and come down with 2-0, but he bend the match and still win with 3-2, so it is now down 7-6 and we still in the race to win or make a draw. Janis loose with 3-0, so we down 8-6 and only possible for us to make a draw and get 1 point for the competition from this match. Wolfgang win his last match, like a thriller, with 3-2. So a last double have to decide if we can make the draw in this match. Frank and me play good the 1st 2 sets, but the opponents play better and win these 2 sets a little lucky.....3rd set we had no change anymore so we loose 3-0. So we loose the match with 9-7 and have no points. Little bit disappointed for us, but if you look the whole match than the opponents from BW Langforden deserve to win with there team, because they were better today than us. As i already say in my other report with little bad luck it go down to fight for stay in this class and it was already this today........so we are warned and have to make points and play better all together as a team. Next week against SW Oldenburg at home at 17.30 at Saturday .........we hope at many and good support at this match from our fans.....so people all come and support us so that we are going to keep at least 1 point or even better the 2 points for us.

------------------------------------------------------------------------------------------------------------




So finally holidays are over......5 weeks almost no table tennis........my wife and me were 4 weeks in Asia.....we did family visit in Thailand.....little bit work in Thailand.....paperwork stuff........go to the province to meet grandpa.....few days with the kids of the sisters out......than 1 week to Bali and a few more days in Bangkok......today 1st day at work again after almost 3 months....it was nice to work again....so now start also training again, 30 July is the 1st one again, it will be at Dissen, Germany at my new club, we will have also few friendships matches to warm-up for the season.....the 1st match in the competition will be at 13-09 against BW Langforden, it will be a hard competition, many strong teams, we try to be in the middle field of this league.....and if a little bit lucky than we can be up with the best teams and when a little bit bad luck than we can be also more down and can come in danger to go down out of the class.....but i have confident in my new team and me that we will be more up than down in this league. The season, competition will take a hole year....so we will see....international there is also some big tournaments coming up.......IMPORTANT ones.....to qualify for the World Championships ( WC ) next year 2010, they will be in Korea. The tournaments are in October in Madrid, Spain and in November in Buenos Aires, Argentina and Brasilia, Brazil.....reports will follow later.........so to everybody who still have holidays.....ENJOY.....and good health to everybody who read our blog.

--------------------------------------------------------------------------------------------------------------------------


EUROPEAN TT CHAMPIONSHIPS 2009
GENOVA - ITALY, June 3-14 , 2009
look here for the result for this tournament
GENOVA 2009





13/06/2009 Final match class 9 start 14.45 in Genova, Netherlands against Ukraine . Ukraine won 3-2.

12/06/2009 Nederlands team against Croatia and won easy again 3-0

11/06/2009 Tonnie Gerben and Ronald play in team against Denmark at 16.30 . They win very easy 3-0

8/06/2009 Tonnie Heijnen start to play his match at 11.15 against Thomas Satre from Norway. Tonnie win his match 3-1 very close .In 1/8 match stat 18.00 play against Yury Nozdrunov from Russia Tonnie down 2-0 then he come back in the match 2-2 in the 5th set Tonnie leading 7-3 . time out from Russia .. the game start again after timeout the Runssian come back and leading 8-7 ,unbelievable then the game finish with 11-9 for the Russian .That the last match for tonnie in the single in EK.





7/06/2009 Start play single in Genova 2009 TT European champion. Tonnie in 4th pool with 4 countries Czech ,Turkey, Norway and Netherlands . First match Netherlands against Turkey Tonnie win Ferit Atabey 3-1 .The 2nd match against Czech, Jaroslav Cieslar, Tonnie win 3-2. 2 man from this pool will go to next 1/8 final .

4 June was begin Table tennis European championship 2009 in Italy. Tonnie play in open .He can do the best in last 32 with bad draw . first round he's play against Greece from Class 6 . He won 3-0. 2nd Tonnie against class 10 from France and Tonnie win 3-2 . 3rd round he have to play again class 10 from Russia and he loose 1-3 . Today still have many match in open class.

------------------------------------------------------------------------------------------------------------------



Single, i am in a group of 4 players, 2 go to next round. 1st match is against Croatia, i win 3-0, than 2nd match against Brasil, he was 2nd seeded in my group, i was 1st seeded. I play perfect and win 3-0, he had only, 4, 2 and 2 points in the sets. 3rd and last match against Turkey, surprising that he win also both his matches, strange player with long pimples ( attack ), but i win with 3-1. So 1st in group. I am in 1/4 final. Unfortunally become the 2nd seeded player ( i was 4 seeded in our class ) of our class 2nd in his group and i get him now in 1/4 final, he is from Hungary, we hqave always close match, this time also, but i loose with 3-2, all the 3 sets i loose was above the 10 points, it was a little unlucky, but this happens also many times in sport, but it is ok, i was in 1/4 final.

Team.....1st round ( it is direct KO ), it is 1/8 final, we ( i play with Ronald Vijverberg) play against Croatia, we win 3-0, all 3 match was 3-0. In 1/4 against Italy, 1 player both side topspin and the other strange pimple player. We win again with 3-0, but now were all 3 matches 3-2 for us. In 1/2 we play combination Finland/Norway, strong team, changes are 50/50. It become a beautifull match, also a very long match, it was even a marthonmatch,it take over 3 hours ( normal it is finish in upmost 2 hours ), we win with 3-2, all 5 mthces were like a thriller, all was 3-2 and with minimum difference of points. So the final, we play against Hungry, the were the better tem today, but we had only short rest after our 1/2 final and they had 3 hours ( the beat Brasil very fast and easy with 3-0, i think within 45 minutes ). Again they were just better todsy as us, we loose 3-1, so we had silver medal. This medal turn out to be important, because it give me and Ronald another year fully support with the A-status we can keep now till February 2011.


Back from Jordan 2009 tournament with 2 silvers and 1 GOLD .
That's a perfect tournament for Tonnie . he did play in open and almost get gold medal . he's do his best silver for open is very good because in this tournament Tonnie is number 5th . In single class 9 he should get gold medal ,but take to much risk with his serve it's turn to be bad 4 mistake serve in 1 set . In team, Tonnie and Ronald win gold medal . The last match play against Spain . They won 3-1 .

Create Date : 20 กันยายน 2552
Last Update : 5 พฤศจิกายน 2553 17:12:19 น.
Counter : 357 Pageviews.
Location :
Barger-Oosterveld,Emmen,Drenthe Netherlands

[Profile ทั้งหมด]

ฝากข้อความหลังไมค์
Rss Feed


Smember


ผู้ติดตามบล็อก : 3 คน [?]