SPECTRUM • A Comumunicative Course in English • New Edition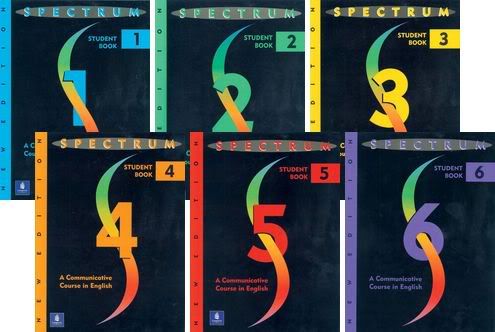 Spectrum: A Communicative Course in English, by Diane Warshawksy and Sandra Costinett (Donald R.H. Byrd, Project Director), is a complete six-level, four skills course for adult and young adult learners of English. Spectrum features a unique "natural" approach to language learning: Rich language input is provided in authentic conversations accompanied by receptive activities that help students absorb new functions, structures, and vocabulary. Real-life language tasks offer both focused practice and opportunities for natural interaction, promoting both fluency and accuracy. Students progress from the beginning to the advanced level as they follow a comprehensive and carefully graded syllabus.
Spectrum also features:
• Thematically based lessons
• Comprehensive coverage of all four skills
• Listening activities in both the Student Book and Workbook
• An audio program with authentic-sounding conversations, telephone messages, public announcements, and broadcasts
• A complete testing package
English | PDF, MP3 128k (Audio Cassettes) | 2.26 GB
Original Post:
//www.langacademy.net/vb/showthread.php?t=12762
Create Date : 27 กันยายน 2554
Last Update : 27 กันยายน 2554 8:40:56 น.
1 comments
Counter : 3961 Pageviews.