Conversation Confidence 8CDs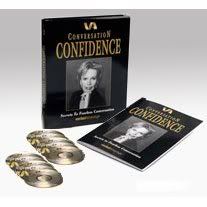 Do you know how to make a great first impression? Whether you're talking to a business associate... on the phone... or at a party, Leil Lowndes shows you how to exhibit great speaking skills. Always entertaining and informative, she explains the secret of small talk and communication skills - and how to go beyond it into deeper conversation. You'll discover how to establish rapport with anyone, how to work a party like a politician works a convention hall floor, how to know if you're making a good impression, or how to revive a faltering conversation.
Here is a sampling of the skills you'll acquire just by listening to these exciting and entertaining audio compact discs:
* Make an unforgettable first impression.
* Captivate anyone, anytime, anyplace.
* The secret of small talk.
* Transition from small talk to deeper talk.
* Sound like an insider in any crowd.
* Mega rewards for mega listening.
* Work a party like a politician works a room.
* Let your body do the talking.
* Reach out and touch everybody...by phone.
* The power of pizzazz in your conversation.
* The power of praise.
* The folly of flattery.
* Different strokes for different folks.
* Play conversation hardball...and WIN!
* Advanced rapport establishing techniques.
* Talk with tigers and don't get eaten alive!
With Conversation Confidence, you'll never feel like an outsider again
Create Date : 26 สิงหาคม 2554
Last Update : 26 สิงหาคม 2554 14:30:50 น.
1 comments
Counter : 954 Pageviews.
| | |
| --- | --- |
| โดย: Cheap Louis Vuitton sunglasses IP: 94.23.252.21 วันที่: 3 สิงหาคม 2557 เวลา:23:20:19 น. | |
| | |
| --- | --- |
| | surrogate |

Location :
ชลบุรี Thailand

[Profile ทั้งหมด]

ฝากข้อความหลังไมค์
Rss Feed


Smember


ผู้ติดตามบล็อก : 9 คน [?]







169 H, Married, 1 kid