Basic English Usage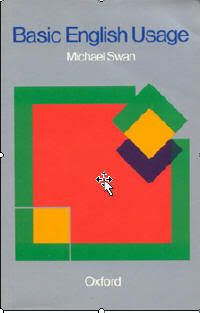 Manual has a pretty unassuming cover, but it absolutely does not mean anything. Inside, everything is much more interesting ... Let's open the book?
Because it is more grammatical benefit level does not matter. The structure of the tutorial is rather unusual - grammar in the content are in alphabetical order, but in general, we have everything - and the time and modality, and collocations , and more. This is standard.Surprising feed. That's what this book is different from the serious Grammar references , full of clever arguments and terminology. Swan organizes grammar easier - in pictures. Yes, exactly! After all, the most difficult sections, which are always present difficulties, illustrated by funny pictures, and even so some rule you forget, these funny little men will be hard to forget! :) Though if you remember the wording for this book, forget the rules you are unlikely to succeed - everything is so structured and systematic way that you probably do not need the other directories in the initial stage of training.
All in all , better to see once than hear a hundred times, so I suggest you download this guide in electronic form directly from our file archive / corrected admin /
I myself an opportunity to buy this book did not have, but if I see - always purchased. And you are strongly recommended. And funny you study, because it is waiting for you to studies, together with Basic English Usage !
File size: 8.16mb.
File type: Pdf
Original Post:
//englishtips.org/1136306940-basic_english_usage.html
Create Date : 21 กันยายน 2554
Last Update : 21 กันยายน 2554 9:45:38 น.
2 comments
Counter : 668 Pageviews.