Healthy Breakfast for Your Dog

พอดีไปเจอมาค่ะ มีสาระดีเลยเอามาเผื่อเพื่อนๆค่ะ //video.about.com/dogs/Healthy-Breakfast-for-Your-Dog.htm#t



เนื้อหาจากวิดีโอค่ะ
Healthy Breakfast for Your Dog
Hi, I'm Christie Shaver and I am the Healthy Pet Gourment, founder of The Healthy Pet Gourmet, for About.com Home. Today, I'm going to show you how to make a bugs-away breakfast for your pets.

It's a simple meal that you can make to help keep fleas and other pests away from your pets during the summer.
Healthy Dog Breakfast Ingredients
To make a bugs-away breakfast, you can use the same ingredients you might use to make a morning omelet:
3 cups boiled potatoes
3 hard-boiled eggs
2 tablespoons tomato sauce (make sure there are no onions)
1 clove garlic
2 tablespoons sardines
a few leaves of parsley
1/2 cup chicken stock
To make chicken stock, I boiled some chickens, and the water that is left over is what I have here. You can also buy a chicken stock at your local grocery store; just make sure that it does not contain any onions.
Add Vitamin and Mineral Supplements
If you're going to make this more than an occasional meal for your pet, you do need to add vitamin and mineral supplements to make sure the diet is complete.

Today for my dog hunter, we're going to be adding a multivitamin, a vegetable source vegetable calcium supplement, and vitamin C from dried cranberries.

Now, I like to use powder form or liquid because they are more easily digestible than the ordinary tablet vitamins that pets can sometimes take.

In order to make sure your pet is getting the right amount of vitamins and minerals, contact your veterinarian or someone like myself.
Combine the Eggs and Potatoes
I'm going to start by adding our hard-boiled eggs. I'm just going to chop them up.

So once we have the eggs chopped up pretty well, you're going to want to add your boiled potatoes. You'll want to leave those skins on; the skins do have a lot of vitamins in them that we are going to want our dogs to have.
Benefits of Potatoes
A lot of people think that if their dog is suffering from diarrhea or other stomach problems, they should give them rice. But I am here to tell you that potatoes are a much better way to go.

Potatoes bind much better in the stomach and will make the stool firmer than rice does, which is so easily digestible.
Make the Parsley Water
This is about all the parsley you're going to need. I've just pulled off a small amount from the bunch that I had and made sure to wash it.

So we're going to add this 1/2 cup of chicken stock to our parsley to make what we will call a parsley water that we can put over the top of the rest of the meal. And this will give it a nice smooth texture.

Some people call it parsley water, but you can call it whatever you like. All that matters is that we are able to really combine it and consolidate it really well.
Benefits of Parsley
Now, you may be wondering why we're adding parsley to a diet for a dog, and I'll tell you it's because of the eggs. Now, eggs may be the most digestible of all proteins that our pets can eat, but just like for you and me, they can sometimes cause gas.

So the parsley is going to help your pet prevent that, and it will also add a lot of vitamins to your dog's diet to help keep their immune system at its peak.
Combine the Other Ingredients
All right, so that looks pretty good. Now, you're going to want to just grab one clove of garlic. Garlic is the reason this diet is so great to prevent fleas. They really don't like it.

So now we're going to blend that up back with our parsley. I am also going to add the 2 tablespoons of tomato sauce that is onion-free.

And I'm also going to go ahead and add the sardines. The reason they are so great is the Omega 3s and 6s that are in here really help keep your dog's skin and coat in the best condition.
Add the Supplements
So now that you've combined all the ingredients in the blender, you're ready to pour it over our mixture in the bowl. You are going to mix that thoroughly.

Now you can stop here if you already have your pet on a great vitamin and supplement regimen.

But like I said, to make this meal complete for my dog hunter today, I am going to be adding vitamin mineral supplement, calcium supplement, and vitamin C from cranberry.
Serve Your Dog the Breakfast
This meal has about 730 calories, which is great for a dog that weighs about 30 pounds. My dog hunter only weighs about 15 pounds, so I'm not going to give her the full portion today.

Thanks for watching. To learn more, visit us on the Web at homegarden.about.com.


Create Date : 01 มกราคม 2551
Last Update : 1 มกราคม 2551 0:22:21 น.
Counter : 278 Pageviews.
หายไปนานเลย ขอแวะมาเสนอหน้าหน่อยนะค่ะ
วันนี้วันดีส่งท้ายปีเก่า เลยเอารูปพลูจังมาให้เพื่อนๆดูกัน เพราะว่าช่วงนี้งานมากเลยไม่ได้มาอัพเดต เรื่องนู๋พลูให้ฟังกัน ก็ดูรูปไปพลางๆก่อนนะค่ะ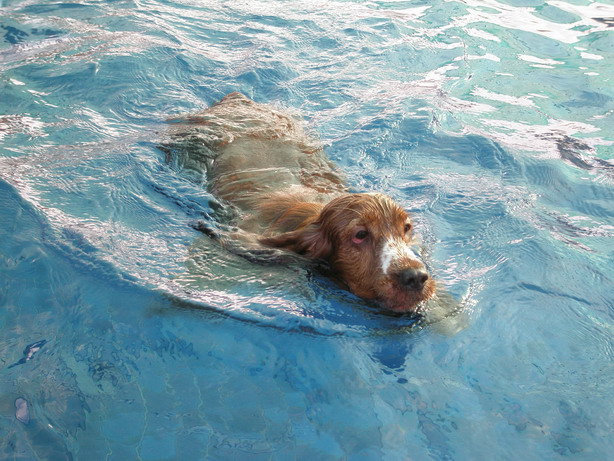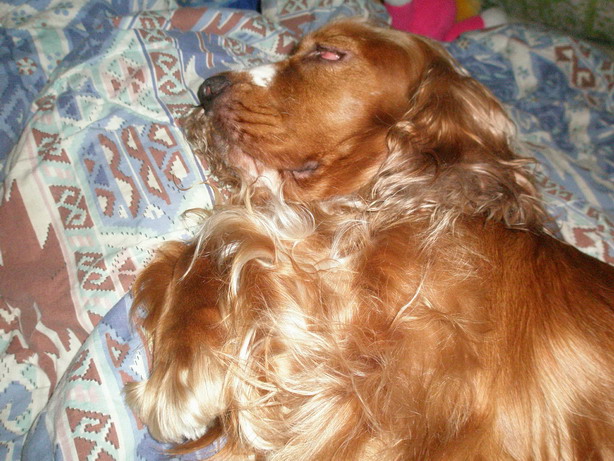 รูปสุดท้ายหมดแรงค่ะ ภาพคราวนี้ไปเที่ยวกับทางค็อกเกอร์เลิฟเวอร์คลับค่า..สระว่ายน้ำบาววาวแถวๆคลอง 3 ปทุมธานีค่ะ

Create Date : 31 ธันวาคม 2550
Last Update : 31 ธันวาคม 2550 11:09:15 น.
Counter : 617 Pageviews.
ช่วยด้วยค่ะ โอโบ หายค่ะ
ใครพบเห็นช่วยติดต่อกลับด่วนนะค่ะ ขอบคุณล่วงหน้าค่ะ


รูปข้างบนเบอร์ติดต่อผิดค่ะ เปลี่ยนเป็นรูปข้างล่างนะค่ะ

Create Date : 14 สิงหาคม 2550
Last Update : 15 สิงหาคม 2550 18:30:40 น.
Counter : 216 Pageviews.
มาสร้าง e-dog's society กันเถอะ
เนื่องจากหลายๆท่านได้เลี้ยงสุนัขไว้เป็นเพื่อน บ้างครั้งไม่สะดวกต่อการ ค้นหาข้อมูลเกี่ยวกับเด็กๆของตัวเอง จึงอยากสร้างชุมชนคนรักสุนัขขึ้น เพื่อแลกเปลี่ยนข้อมูลข่าวสาร และได้เปิดโลกในการรู้จักน้องหมามากยิ่งขึ้น น้องหมาเราจะได้มีเพื่อนบ้าง แม้จะห่างไกลแต่เราก็สามารถมาเจอกัน ณ.ชุมชนนี้ได้ และสำหรับเจ้าของ ผู้เลี้ยงจะได้มีประสบการณ์ที่ดีต่อการที่ได้รู้จักเรื่องราวของน้องหมาตัวอื่นๆบ้าง เหนื่อยมาทั้งทีจากการทำงาน คงจะดีไม่น้อยถ้าได้ถ่ายทอดเรื่องราวต่างๆผ่านน้องหมา มาร่วมกันสร้างสรรค์ e-dog's society กันนะค่ะ ที่เว็บ //www.pluzazz.com ที่เว็บบอร์ด...ไว้เจอกันนะค่ะ

Create Date : 17 มิถุนายน 2550
Last Update : 17 มิถุนายน 2550 16:18:49 น.
Counter : 208 Pageviews.
Location :
นครสวรรค์ Thailand

[Profile ทั้งหมด]

ฝากข้อความหลังไมค์
Rss Feed

ผู้ติดตามบล็อก : 1 คน [?]







ยินดีที่ได้รู้จักกะทุกๆคนนะค่ะ ใครชอบน้องหมาก็ไปแวะเยี่ยมเยียมกันได้ที่ http://www.pluzazz.com นะค่ะ (^_^)
ปล.ตอนนี้เว็บปิดปรับปรุงชั่วคราวนะค่ะ 30 ธค.2550