The day Apolline understood who Nadal is...

Apolline จาก online tennis magazine ของฝรั่งเศสที่ชื่อว่า Grandchelem ได้เขียนบทความเกี่ยวกับราฟาได้อย่างน่าสนใจ โพสต์ไว้เมื่อวันที่ 10 กรกฎาคม 2007 ลองอ่านดูค่ะ!

อ่านต้นฉบับภาษาฝรั่งเศส คลิ๊กที่นี่
ขอขอบคุณ Moondancer จาก VB.com ที่แปลจากภาษาฝรั่งเศสมาเป็นอังกฤษให้พวกเราได้อ่านกัน ขอบคุณมากค่ะ


The day Apolline understood who Nadal is...


…and it happened exactly one year after Wilander himself understood it, which urges one to be modest. By the way, it reminds us of an anecdote. In the beginning of Wimbledon 2005, we asked the Swede who could beat Federer in London and Mats replied without hesitating "Nadal". Little detail: the Spaniard was just beaten in the first round against Müller from Luxemburg. Mats, you're still far ahead of us.

Apolline understood all that much later, one year ago to be exact. She send a private text to her personal mailing list and she doesn't mind sharing it today. She will change a couple of things here and there because everything keeps on changing in tennis, but basically, it's her first historic attempt to try and understand the particular genius in Nadal. As a side note, she announces an essay on the "nadalian esthetics" to be published in the summer, because also on this issue, we think that by listening to this people whisperer during several points in the finals of Wimbledon and Roland Garros, we understood that there's something about his lasso of a forehand of the Spaniard that visibly moves the spectators, the tv viewers at home and in particular the young ones. It's something to dig into and it makes good reading with the title "Rafa and the lesson of life or death".

I would like to go back to a very important event that almost went by unnoticed because of the Football World Cup. Of course it's not as important as an attack in the harbour of Beirut or the birthday of the Dreyfus affair but I feel very inspired lately and able to reveal the core of what's hiding behind the little things. And from what Rafael Nadal did a week ago in the final against Roger Federer, I will make a nice medallion or a pendant, so that you can hang it around your neck as a lucky charm for the rest of your life. Don't accuse me of grandiloquence because your whole life can be traced back to one single point in tennis and from now on, nothing will be able to move me more, tennis men or not (but at the moment, it's tennis men) than a man who accepts this "No Limit" rule, those who think that the beauty of nature's laws is to be able to transcend them. Sport carries this flavour of transcendence. In this viewpoint, Rafael Nadal, barely 20 years old is a standard in the world in the sense that it's not his style to just sit and wait for 6 months just to see if anybody is able to do better. Would you refuse this world? Do you think it's violent, brutal, leaning dangerously towards the red card of hyper competitiveness? I, on the other hand, find it passionate, euphoric, electrifying up to the point of jumping up 4 meters high above your sofa which I have done for two hours while I was watching tennis reaching peak levels of technique, intelligence and speed of execution, of increased drama in the never-ending rituals (ah Rafael, if you could only take even more time to serve, one second more is one extra second to cherish). Of course, a tennis match is played by two people which means that you can't have a great final without this Roger Federer whom everybody now considers as being the greatest player of all time by his peers (McEnroe, Laver). The problem is that in the space of ten seconds, largely speaking at two sets to one, 2-1 and 30-15 for Nadal, this best player of all time suddenly was not that special anymore, he was just another guy staring into the abyss in the process of getting eaten by this kid who threw in every weapon to his disposal, who showed the mischievous intent to put doubts into the mind of his opponent. Sure, Federer is Swiss but he's far from an idiot. His declarations in the press conference were a clear indication to the turn in history we've been able to see that day with our own eyes: "I'm perfectly aware of the importance of this match. If I had lost, it would be the biggest shock for me. He would have won Roland Garros and Wimbledon back-to-back and I would have lost two finals in a row…" In other words, that could have meant the end of the road for Federer and an open road during the rest of the year for Nadal.

So, this is the sort of threat this kid posed in this match, a kid that is misunderstood by many of you when I said at the end of Roland Garros that he embodies tennis, he's crucial in understanding what's essentially wrong in tennis and everybody could see it in Wimbledon.



Are you able to understand it better now?


Apparently not because people talk about an easy draw without real specialists as opponents, about grass that's getting more and more favourable to clay court players. People talk and talk, they haven't seen one single match, not even the final but they still talk. I've seen nearly every match of Nadal in Wimbledon. I would even say that he was the only reason why I started to watch that tournament again before the semi-final, something I had not done in at last 15 years, all this just to see Nadal in difficulty, to see how he would get out of all sorts of tight situations on a surface that's said to be not favourable for his game. To see his face, to see his eyes, to feel his very real fear of having to let go and his absolute refusal to go quietly. And what I've seen in each match left me speechless at the sight of the resources of this kid, his incredible ability to adapt, his virtuosity with the racquet in his hand and his encyclopaedic understanding of the game in his head. Take the first test for example, the second round when the unknown American Kendrick was leading two sets to nothing in front of an excited crowd thinking of witnessing an upset. Nadal stays focussed within himself, he goes to his chair, sits down and thinks about his reply. He will get there point by point, game by game, set by set without making further mistakes, forcing Kendrick to increase his game level. The American did just that but he exploded in the 5th set. People tell me that Kendrick came within two points of winning that match. I replied: those two points are two light years against Nadal. After that, the Spaniard would no longer surrender one set before the final. But he did face about a dozen break points against him and we watch closely, we observe to see where things go wrong but they don't go wrong. The kid plays those twelve points just perfectly, without a tactical mistake. Above all, we see him play love games and we see him soundly beat Agassi and it's wrong to suggest that he performed on a lesser level in 2006. He did play very well but he was just beaten. It went too fast for him, it's as simple as that and we're talking about a guy who played twice as fast as everybody when he entered the scene in 1988.

Then, we arrive at this Nadal vs Federer final, an hallucinating match in which something happened that I've never seen before in my life. I will try to make you understand this as best I can because it's really very important. If you don't understand this, you simply don't understand the phenomenon Nadal. He takes 6-0 in the first set; so before even having had the chance to settle and to put a tactic in place, he's already facing 6-0 for Federer. The world number one plays his game like Swiss clockwork, made by Tip-Top Perfectly Fine, 1 Avenue Mont Blanc, Lake Geneva. Of course, the Spaniard plays badly, he makes mistakes and he's as tight as the seam of his pirate pants but even then, we say to ourselves that it wouldn't even make that much of a difference if he was able to play better: his tactic would most certainly not bother the good Federer who would laugh at his stop spin forehands that bothered the others. Nadal re-enters the match but he's soon broken two more times and he's constantly under pressure. If Nadal was Roddick, he would then lose in three sets, 6-0, 6-4, 7-6 and let's just assume that things would go a bit better towards the end. He would lose thinking that Federer was like Kendrick: it's enough to gently increase your game level to get by. But Nadal is Nadal. He's facing 6-0, he's non-existent and he's playing opposite the number one who's playing on a cloud. The Spaniard goes to his chair, he sits down, he thinks and in front of my little tv, I can hear him say: "My dear Rafa, my dear fellow, you have to give him the impression that you can still win this match, you need to show him that you can at least win one point while dominating him. It doesn't matter when or how. But you need to terrorize him right now and hit him hard in the face." Over to the action now; the execution of the plan. They play the first point in the second set. Roger to serve, 1st ball in the middle of the court. Nadal returns hard with his forehand by using all the power he can muster. Federer is caught by surprise but he returns with a balanced semi-volley. Nadal aims another missile with his forehand with even more power. New heroic defence of Federer. Without hesitating, Nadal steps two meters in the court and smashes a cross court backhand as hard as was ever seen in the history of tennis and by doing this, he puts Federer back 4 meters of the ball and he launches my first Marsupilami jump against the ceiling (*). Within one point, one single point, Nadal sends the following message to Federer: "My friend, not only have I entered the match, but as you can see, from now on, I will play the sort of tennis that could crush you if I want to and just in case, you're not aware of it: on clay I have the tendency to use my top spin more as a way to neutralise than as an offensive weapon but know this: I have the best backhand in the world, it's a thing I can unleash cross-court or along the line but above all, I'm able to flatten it and from now on, I'm going to hurt you." He said all that in one point, Nadal. But hold on, this kid did not just say that to Federer, but also to himself. In other words, Rafael Nadal suspected that he had a backhand for a long time. He's aware that for the fun of it, he used to launch one missile after the other at the end of training sessions just to amuse the locals. But that was in Mallorca, back home, in front of his own and not in front of the world number one in the Wimbledon final. By hitting that shot, he discovers a new limit within himself, Nadal discovers that in front of our own eyes. Think about it for a moment: the first serve of Federer he had to drop in the entire tournament. First breach in the Swiss fortress and the final is finally on its way. And me…well, forgive me for losing myself a bit in my writing thereby keeping you from the moral of the story. I'm telling you: in life, give it your all, consider the fact that you have no other choice but to look for your limits all the time and in everything you do. The stories you tell the next day in the pub, let it be transcending stuff you've experienced the day before. Not those that get you into trouble and won't teach you anything and besides, who remembers those moments.

Next up, Nadal increases in power and he starts to win in such a way that he finds himself in a position, ready to serve at 5-3 for the set. However, without a reason, Nadal starts to put himself under pressure. Bad serve game, four errors. It's right then and there that Nadal lost the match because Federer wins the tie-break just a bit later to win the second set. Two sets to nothing, things start to get complicated….if Nadal was named Roddick. But Nadal still goes by the name Nadal. He hasn't changed his name nor his credo. He's still looking for limits: those of Federer and his own. He hits even harder, he draws Federer to the net like we've never seen on this surface. In the middle of the third set, the tennis reaches incredible heights where the guys send cross-court lefthanded shots at the righthanded backhand and vice versa that defy the laws of gravity; it's flat and hard and lands within 15 centimeters of the baseline; all this with a low bounce, borderline, unbelievable on the flat grass. It's playing tennis without radar, without any reference and without any other tactic than the plan to destabilize the enemy more and more. And we have to acknowledge – because after all, he was the winner – that Federer was not in doubt. "I've had to play blindly but I was able to get out of a tight spot without the use of my blind dog". It's a real feast of semi blocked volleys from the back of the court, crossed defences played like Ivan used to do, endless rallies with more than 10 shots in return just to show that they're not the number one and two without a reason. But Nadal tires his opponent, he enters the court and he even goes to the net where he shows agility the great Bonobo apes would be proud of.
Logically, in the tie-break he ends up beating Federer easily with 7-2 in another tie-break reached without facing one single breakpoint. Rafa bounces all the way to his chair in a stadium on fire while I achieve a personal record of jumping 6 meters above my sofa.

We now reach that famous 2-1 in the 4th set and it's 30-15 for Nadal. And there, Philippe Bouine from L'Equipe observes: "Oddly enough, it's at the moment when the Spaniard seems to be ahead, dominating from the back of the court, daring to go more and more to the net, the moment when Federer seemed to go back more and more when everything changes." The "hiccup". Philippe Bouin is a tennis journalist and he's convinced that the game they're playing after 2 hours is still tennis but it's more a meeting organised to the direction of the multinational called the ATP. It's a dialogue between warriors: "And this, Roger, can you do this?" "And that, Rafa, have you ever seen that? POW, I'm going to blast this one at you. " and for the first time in two years, Nadal will finally touch his limits. Finally!

Via his uncle Toni, he seeks to repeatedly look for Federer's backhand, he never stops targetting it and the Swiss starts to understand. Since the beginning of the third set, from the moment Nadal serves his 2nd ball, we see Roger take a little step to the left to turn his backhand, so that he can use the forehand to return. This is normal, Nadal aims his serve at the same place for 2 hours now. I repeat, finally Mowgli touches his limits. And just because of this, it's even more amusing and fascinating to see that Rafael Nadal has perfectly understood the Swiss strategy on his 2nd serve and so he's very careful with his first serve. Except at 30-15, Nadal misses his first serve. His second serve is under pressure. Barely starting the serve and Roger takes his little step to the left for the final execution. The ball reaches the height of his hip and pow, the crossed forehand up high: 30 all. For the first time in over an hour, he loses his focus for a bit, he concentrates again but he makes a direct error on the following point. So, to summarize: 2 sets to 1, 2 games to 1, 30-40 and on grass this means as much as match point for Federer. We zoom in on the face of Nadal and I don't know about you but me, after all that Nadal has put me through in those 2 hours, I tell myself that he's going to do it, my God, the little shit, he's going to do it. What? That? Yes, that. Wait, I don't believe it. Yes, I swear, he's going to do it: Nadal comes up with the first serve and volley of the match. And just for that, I'm going to build him 3 statues on Mallorca: one at the port, one where he trains and a third one in the red-light district. Because that's simply one of the most beautiful things you simply never learn at school. And Federer is so much taken aback that he returns with a piece of shit floating semi-lob. I don't remember what happened next but if you've seen some sort of Ariane 5 landing in the box where the duchess of Kent, it resembles Nadal's smash as a last souvenir of the day. Match over. Roger can breath again. He just prolonged his tennis contract with 6 months. Let's say until the Australian Open.

After that, last Sunday evening, people are convinced that I'm getting drunk to get over the defeat of the North-Western Italians against the South-Eastern Italians. But I don't give a damn about that world cup event. It's Nadal who's important. It's Nadal, the little shit. It's the Nadals of this world we want to observe because because it's the Nadals who explode on court, who don't care about showing their disappointment during the matches as long as they stay focussed. In the end, it's the Nadals who make us bounce out of sheer joy and I repeat: let it go, live life to the fullest! Moderaton, keep that for later but now, we want masterpieces, artists, sports people who are unbearably arrogant and egoistic with crazy ambitions because in the end, it changes nothing in the respect these two feel for each other. These two guys won't have a problem having a drink together afterwards because they understand that its all part of the game.

To finish, a word to Roger: I adore you, you're the most beautiful player from the open era we've seen since Robespierre but tennis is boxing with a racquet and if you don't get back on your feet within six months, I can assure, you: I know a kid who's ready to give you a K.O.



(*) Marsupilami, are a creation of a Belgian comic book artist. They're funny little creatures with long tails who can jump very, very, very high.





Create Date : 12 กรกฎาคม 2550
Last Update : 12 กรกฎาคม 2550 18:17:18 น.
Counter : 166 Pageviews.
Questions for Rafa

ราฟาตอบคำถามแฟนๆระหว่างร่วมแข่งขันรายการ 2007 Wimbledon ให้กับ times online

อ่านต้นฉบับภาษาอังกฤษ คลิ๊กที่นี่





QUESTIONS QUESTIONS QUESTIONS QUESTIONS



Will your book be translated in English in the future? Hope you win the tournament! - Lien, 11, Belgium

RN: I don't know to tell you the truth. I will check with my manager and let you know. Thanks for your support.

Hi Rafa. My name is Tomas and I'm 8 yrs old and am also a left-handed player and my mom says we have the same "culo". Who is the person you respect the most? And did you always want to be a tennis champion?

RN: Hi Tomas. Then you have a famous "culo" too!?!? The person I respect the most is my father. You should listen to your parents at that age. And yes, I always wanted to be a tennis player.

Hi Rafa. When you go out with your friends, do you like to get a bit drunk sometimes, or is that just a British habit? What's your favourite alcoholic drink? - Emma

RN: Hahahhahhahahahaa. I have had some drinks sometimes but never really drunk. I sometimes when celebrating can have a tequila or two (or 3) but I normally don't drink and don't like alcohol very much.

I would love to know what is the most unusual question you have ever been asked at a post-match press conference.....and what answer you gave to it! - Niamh, Ireland.

RN: I don't know, I can't think about it now. I did get some different ones in China during the Masters.

I heard that when you play you wear shoes a size smaller than usual. Isn't that agony? My feet have certainly suffererd over the years from stilettos! - Eileen, London

RN: No, I actually wear my shoe, my normal size. NIKE made some specials ones for me inside. But they are definitely my size.

Is there a reason why a player is given 3 balls before serving? And how do you decide which ball to reject? Is there any specific reasons for declining a ball? - Adam Philpott

RN: It doesn't need to be 3. It can be 4, 5 , 2 or just one. I just look for the 2 that are less used so that they are well to play.

Do you leap straight out of bed when you wake up, or do you lie in bed for a while? - Madeline, Sussex

RN: I tend to leap out when it is time to wake up.

Are you still watching Godfather? Do you mimic Marlon Brando? I do. :) - Cedrine, Uk

RN: No, we finished the other day. Too good!

Did the massage table broke because of the strong massage rafael give to you, or maybe because you eat too much nutella? hihihi :-) vamos! Giuly from Italy

RN: No, because the table got broken in one of the trips. Checking those things in, in the end they break. I have to buy a new one. I think I burn enough Nutella on court.

Have you ever played a match against uncle toni??? - Feli

RN: Long time ago!

What do you like to eat as a special treat? - Alma x

RN: I like when I am at home and I love seafood.

What 3 things would you take to the desert island? Muchas gracias! and good luck!! - Marina, Zaporozhye, Ukraine

RN: I just wouldn't go to a dessert island. I prefer my island: Mallorca.

Have you ever said anything to anyone and thought 'I wish I hadn't said that?' - Alma x

RN: I did, but I prefer not to repeat it.

Hey Rafa, is it true that you are right handed but chose to play tennis left handed? if so, why is this?? - Adam

RN: Yes, I am right handed but I also play football with my left foot. Strange, isn't it? I don't know the answer.

Dear Rafael, What is your favourite red wine from Spain Rafael? At least I could buy a bottle and drink to you with my friends when I will cook for them. - email

RN: I don't know much about brands but I enjoy from time to time one glass of wine.


Hello Rafa, just wanted to thank you for blogging to all of your fans! : o) What are four of your favorite movies and why? Good Luck at Wimbledon - Terri, Yucca Valley, Ca.

RN: Thank you for supporting me and for reading it. My favourite movie is Gladiator.

Hola Rafa. Have you timed yourself running a certain distance (even on a machine)? If so how far was it and how long did it take? And don't be modest! ;-) - Geoff, 19, London

RN: No, I haven't I don't like to run. Might sound funny to you.

Amazing comeback Rafa, this is your year! Did you tell yourself something after the second set that motivated you, or were the first two sets a fluke? - Phil

RN: No, I just had to keep fighting. He played great and I felt I could do more.

Was your uncle a professional tennis coach before he started coaching you and how old were you when you started playing - stella, chichester

RN: Yes, he was teaching in Manacor and also had played at a decent level in Spain.

Hi Rafa! Wow! What a fabulous match today! When you took off your headband, my sister said, I love his hair! Can you find out who does it? Thanks - nootie, ny

RN: No one in particular. Thanks for your note and say hi to your sister.

What do you do with all of your old rackets and tour bags after you've finished with them? thanks and good luck! - Ben

RN: I give them away at home.

Hello Rafa!! I´m a big fan of football! What do you thing about Fabio Capello's exit of Real Madrid? - Nono

RN: Difficult question to answer. We won the league it's all I can say since I wasn't there in the locker room and I don't really know everything behind.

Hey Rafito! When are you gonna send us one of your recepies for your famous fish or cake you have made - Ellie

RN: Not today. It is late and I wrote a quite long blog. Maybe another time. Sorry.

Rafa, how would you rate your right-hand tennis skills? - James

RN: Not too good.

At one point in your match against Youzhny did you think that you were going to lose to him? - Dria

RN: Almost but always still believed in winning.

I was wandering what the symbol on your shoe means? It looks like a bull or something. Thank you - Jessica

RN: Yes, it is a bull. Nike has design it for me since I like the symbol of my country.

Rafa, I hear you're a Formula One fan, what do you think about the Alonso v Hamilton battle at the moment? Gracias - Phil from England

RN: IT is great, don't you think. It is bringing a lot of excitement to the F-1 this year.

Hi Rafa, You have a huge gay fan base, especially in Sydney Australia! Are you flattered? :-) - Thanks, Mitchell, Sydney, Australia

RN: Thanks a lot.

What are the first things you do when you come off the court into the locker room after winning a match? Thanks ! - Miranda, 17, Holland

RN: I normally try to sit down by the locker room and wait for my uncle and the rest of the team to come to the locker. There we briefly talk about the match, the things that went well and those who went wrong. Then I wait to go to press which I normally do, if everything is OK, 30 minutes after the match.

Everybody has weird dreams. Its maybe a strange question but, Would you tell me what your weirdest dream ever is? - Merle, The Netherlands

RN: No idea, believe me.


Would like to know, have you learnt any new English words or phrases recently? What are your favourites? - Best of luck, from Claire in Sussex

RN: Yes, I think I am improving specially when I talk about tennis. If I have to talk about other things and I am tired, it becomes like a nightmare. Really difficult.

Hola Rafa!!what do you think about the global warming? - Leonor,Portugal

RN: Doesn't look like we had it here this past week. Seriously though, I don't know much about it.

Hi Rafa, What is your best memory outside of tennis? - Rosselly Martinez

RN: There are many memories I have. Those are all with my family and friends and with football recently :-)

Is there anyone you particularly enjoy playing? - June

RN: Yes, there are always players that are easier to play against and those who always give me trouble. I am sure you can figure them out.

In terms of tactics, how do you prepare for a match? Do you use videos of your opponents? Does Tony advise you how to play next opponent? - German

RN: No, we don't use videos although I do watch a lot of them and sometimes I see other matches I played that I felt good and that I watch on DVD.

Have you ever tried banana with nutella? If you haven't, you must try it. What's your favourite way of eating it? - Pinar/Mara

RN: No, I have to try it but I think I'll wait till the end of the tournament. Thanks for the advice. I normally eat it with toasted bread or on cookies... I know..

What is the best birthday present anyone has given you and why was it so special? Many thanks!! - Haajira, 17, Seychelles Islands

RN: Every present is nice since someone gives it to you with love. My father gave me one this past time that I loved. By the way I have been invited to your islands by a friend of a friend of mine. Maybe I'll go there next year. We'll see.

Is Roger Federer as handsome as he looks on tv? Answer sincerely - Simona

RN: Hahahahhahahaa, I don't know. I really don't pay attention to that.

If you were the King of Spain for a day, what would be your first order of business? Thanks! - Tiffany, 14

RN: Well, I don't think I'll ever have that chance so I worry about things I can do and try to do them better.

I am a cricketer and totally understand your superstitions! We are very superstitious too. What would you do if an opponent knocked over your lined up bottles on purpose?? I think its a good tactic to beat you haha! Hope Roger Federer isn't reading this. - Vipul

RN: Absolutely nothing. Believe me. I have said it. I just like to do things in the same way but not for superstitions. If Soderling would have knocked down the bottles today I would have not cared.

I got up at 3.30am to queue to see you play at the Artois Championships this year and was fortunate to get a centre court ticket, but was surrounded by corporate guests who either kept disappearing, or talked during play. Do you agree more tickets should go to tennis fans? - Sunny

RN: Thank you very much for coming to see me. I am amazed by people like you. I leave up to the tournaments what they do. I am sure it is as difficult as to play. Sorry not to give you other type of answer, but let me tell you I enjoy people like you at tennis courts. Thanks again.

You are such a polite and respectful young man, so I have to ask you this question: What do you think of Roger's new handbag :))))) - Anna

RN: Roger has a handbag? I didn't know. I'll have a look at it tomorrow.

I know you are a huge fishing fan. Do you cook and eat them or throw them back in the river? - Ira-Rose

RN: We cook them and eat them. I hope this doesn't offend you. I really like fish.

Do you have any strange habits? - Cierra, USA

RN: I think some of them are quite evident. Right? I'll leave it there then. Too many otherwise. Trying to ge rid of them.

I want to know how you intend to beat Federer? – Julia

RN: First I have to win all the matches before. I hope I am in the position to answer that question on Saturday. Would love to.


Since all big points in a game are served into the advantage court, do you think left handers have an advantage in tennis? - Anthony

RN: No, I don't think so since there aren't that many players left handed on tour. There would be more if that was the case.


Dearest Rafa, as you are a very busy man,on a normal day what time do you wake up and go to sleep? - Jyoti Mann, 20, London

RN: It depends. Today I had an 11 am match so I woke up at 7.45. This is not normal. I usually go to bed at around midnight and wake up at 8 or 8.30.


Have lives of your mum, dad and sister changed much since you got famous? For example, can your sister live normally and have sincere friends as she would if she didn't have such like brother? – Rafaela

RN: No, it has not changed at all. We all live in the same place and conduct a normal living. Believe me this is completely true. She goes to school normally and I still have the same friends.

Does your sister Maribel do any sport? - Kiki

RN: I do it all for her I suppose. She does all the studying though... :-)

Why don't You shave lately ?:) - Asia, Poland

RN: I will soon.

I know you like to play golf, me too! What is your best score and are there any nice golf courses in Mallorca and where you live? Thanks - Nick

RN: There are many great golf courses. I play in Santa Ponsa many times and have a great time there.

What is your favorite joke? - Brooke, Los Angeles

RN: I don't have one. I do enjoy listening to them.

Hola, Rafa! Do you sing in the shower? What song would you sing at the top of your lungs if you think that no one's listening? - Des, Manila

RN: Hhahahahhaha. Yes I do sing and I sing a lot. It depends who I am listening to. I suppose it is a shower karaoke xhat I do with Mana, Alejandro Sanz, etc.



Hi Rafa, You mentioned in your Roland Garros Blog that there was a song you heard on the car radio that you thought was the best of the year, but you were not sure of the name. Have you heard it again, or figured out the name of it? - Cheryl, US

RN: Yes, I heard it once again but I still don't know the name. I need to find it out.

Hi Rafa, do you sometimes feel like the money you get from tournaments is just too much, compared to what millions of "normal" people will ever earn? Or do you think it is just normal considering all your work and your results? - Soraya, 19, France

RN: I think we get paid well as oher people get paid better or worse. If we produce this money why shouldn't we get well paid. Oher sports ge much better paid and I am not referring to myself, but to many other players on tour. This, anyway, is a very long argument.

How are you getting on with your boating qualification? When do you expect to be qualified? - Irene Marshall

RN: During this summer hopefuly.

Do you stay in touch with your school friends? - Tony

RN: Yes, my friends are still the same.

Rafa, I just wonder where do you find the motivation and the concentration to keep getting back on the court with all those rain interruptions? It must be very, very irritating. - Mircea

RN: Hi Mircea, nice name, by the way. Well it is difficult believe me but I guess we have to be more professionals than ever and so I juts think on what needs to get done. I think you found a good word: irritating.

Is this the most frustrating tournament you've ever played in? - Esther

RN: I would not say the most frustrating but probably the weirdest since it is not normal that a match that was supposed to be played on Saturday still has not been completed.

Do you think that the organisers should schedule you first in the morning to get this damn match finished? - Zach

RN: I guess it depends on the rain. If you think like this I should have played at 6am the last days. I heard it did not rain at those hours... :-)

Bonjour Rafa! Now please be honest and tell us how many jars of Nutella you have actually eaten since your arrival in London! ;-) p.s.: You've been busted; we can see a jar underneath the couch in the picture of your last post! - Anne-Marie Montréal, Canada

RN: Hahahahahahaa, this is funny. I did have one down there. My PR Manager took the picture and I guess he didn't see it :-) I think WE have eaten 2 bottles...

What are 3 words that your friends use to describe you? thanks a lot - Katie Rattern

RN: Believe me I don't know.

You have amazing mental strength and determination - do you think it would play to your advantage if Wimbledon went to a third week? - Rob

RN: No, I don't think so. Imagine 3 weeks raining :-)

Hey! How do you define a great tennis player - are they judged on how many tournaments they've won, how many weeks at number one, how many grand slams they've won, or are tennis players measured by something else??? - Angela

RN: Look at Roger Federer and you have the answer. Tournaments, ranking, #1, etc. In the end the results give you the rest so the best are those who win.

What was your opinion of your book? Did you feel that the book represented you well? - Yuju

RN: I have read it and I enjoyed it. It basically shows what I did in the past few years.

Hola Rafa, what went through your head when Soderling, was imitating you by picking his underwear (es un gilipolla)? - Nati, Miami

RN: I didn't realize :-)

Could you say Hello to my son Rickson Griffith? He is a 9 year old lefted handed tennis player and has a mild case of Cerebal Palsy which doesn't allow him to be able to serve well with his right arm and hand, but he is a good lefted handed returner and would really be excited if you said Hello to him through this e-mail or blog. - Thanks Theresa, ( Rickson's mom)

RN: Hi Rickson, how are you? I hope I can see you one day! Enjoy tennis, it is the best! Take care my friend !!!

hi rafa, are you awkward ? :-) - Fella

RN: I don't think so but your question definitely is :-)

Rafa, when Real Madrid won the Spanish League, you were singing to your cell phone "Campeones, campeones..." Who was at the phone? Were you mocking some friend who cheers for Barcelona? Hahaha - Thanks! Iara, Brazil

RN: I was singing it to someone very close.

Maybe a strange question but, if you were a superhero, what special power would you have and why? :)

RN: I think I rather stay the way I am and continue to enjoy what I do.

I heard some players are quite superstitious and have rituals they have to follow before they go on court, or they may have to wear the same piece of clothing whilst they play... do you have any superstitions like that and if so, what are they? - Carol, UK

RN: I don't have any but I have some habits that are close to superstition. I line up the bottles, sometimes don't step on lines, and sometimes I don't shave... Things like this that I am trying to get rid of.

Hi Rafa! Do you feel that you are already a man or a just a boy? What do you feel? - Mara, Portugal

RN: I think I am big boy or maybe a small man. No seriously, I think I am old enough to be considered a young man.

Hi, Rafa. Everyone knows younger sisters live to tease their big brothers; it's just part of life that big brothers need to accept. :-) Does your sister tease you, and if so, what are some things she teases you about? - Amy

RN: hahahahahah, yes sometimes we tease each other. We have a very good relationship!

We have watched you faithfully for two years at the Pacific Open. I wanted to shout :Viva la madre que te pareo" but was too shy. Maybe they don't say that in Mallorca - Mardiyah (age: 75)

RN: Yes we do say it like that. KInd of funny to hear and I am sure my mom loved it... Thanks !

Are you a technical guy as far as racquet and strings go? Do you change tensions alot or experiment with different combinations? Thanks! - Nicklas

RN: Hi Nicklas, very technical questions, I am sure that you play, huuhhhhh. I play with the same strings and same tension. 25 kgs is what I play with.

Have you ever pulled a prank on any other tennis player? - Clare

RN: No, sometimes we play jokes and things like this.

Do you want to have a family and children someday? If yes, how many children do you want? - Airina, Russia

RN: Yes, sure I want to have some family but I promise you I am not thinking much about it right now.

Do you know any good jokes? - Steph

RN: A few but I am not too good at telling them.

I know you like motor racing. who's your favourite rider in the moto gp? - cristel, the netherlands

RN: I like very much Rossi and Pedrosa. I also like in 250 Lorenzo.

Dear Rafa, Why are your muscles so big? - Sarah (age 5 and a half)

RN: Because I play a lot of tennis.

Hi Rafa! One thing I'd like to know is, how do you always transport your trophies back home? :-) - Romina-Maria, 20, Charlotte, Belgium

RN: I normally take them with me or if someone from my family came to the final then they take it back home. I have all of tbem at home except the one from Acapulco 2005 that got lost on the trip.

What do you put in your tennisbag? - anon

RN: Lot of things. Too many sometimes. Racquets, strings, t-shirts, wallet, mp3 w headphones, wristbands.

Dear Rafa, We are going to Mallorca this summer - what's your favourite restauraunt? We are staying near Buger. You are my hero, good luck tomorrow - Dominic

RN: My favorite restauran is called Sa Punta and it is near Porto Cristo.

Can you dance? - Lola T

RN: Yes, didn't you see me on the video at the French with La Bamba? :-)

Does writing blogs represent you a big responsibility.For example when you get tired from somewhere and you know you're obligated to write a new post...? - Rafa Estranged

RN: Yes, it depends on the day, but I made a commitment so I fulfill it.

Hi Rafa - If you could make ANY changes at all to the ATP - what would they be? How do you think professional tennis could be improved? - Eli, California

RN: I don't think it is my job to do this. The guy upthere gets paid very well and he should do them but definitely I would not take the road, in fact I don't and I have expressed my disagreement, of going against tradition for money. Downgrading Monte-Carlos, for example would be a huge mistake. They are cutting down on clay events and that's not healthy on our bodies. Many more things.

Can you tell me how much training and what type of exercises you do to be so fit on the court, as I would like to learn them? Thanks - Rahul, Aged 9

RN: Rahul, the best you can do at this time is to have fun. That's the most important thing.

hey rafa i was wonderin how come you support real madrid i mean your uncle toni is a barcelonista and your other uncle miguel was a barca player it seems a bit wired that you become a madridista - daniele

RN: Daniele, good question. You can't control your heart, right?

What was the latest thing that you bought for yourself and where was it? Thanks in advance - Takako

RN: I think the set of movies of Godfather.

What's the meal your mom/dad cooks that you miss when you are on tour? - Lucia

RN: Fish

What is your favorite ice cream flavor and why? - dria

RN: I love cookies and cream but don't ask me why :-)

How do you see yourself in 10-15 years? Amal, Tunisia

RN: Too far away from now. Sorry.

Do you remember any particular crazy fan of yours? - Brinda Chandramohan

RN: Very good question. I actually have a few funny ones but I like it since they are my fans. No complaints. The only thing is that I try to give as much as possible so when I see getting the same autograph over and over again from the same person it is kind of funny.

What kind of candy do you like? - Arely, US

RN: All kinds. All!

What kind of student were you in school? Did you get A's and B's or D's and F's? Also did you have a favorite subject in school? Michelle, Palm Springs

RN: I was not a very good student but the funny anecdote is that once I even failed physical education!

Apart from sport, what used to be your favorite subject in school? - Emz

RN: Maths

Is it a tough to be coached by your own uncle? Considering he has known you all his life, and is familiar with your personality, do you think its better off to have more than one coach, just to gain a different perspective? - Sai

RN: No, actually it is better since he knows me well and I know that he is there always for me. You always have ups and downs but that's normal.

You have funny nicknames for Carlos Moya and Feliciano Lopez and some of your other friends. Do they have a nickname for you? - Anne, Florida

RN: Rafa :-) They also call me Nadalek from time to time.

If you were shipwrecked alone on an island what three things would you like to have with you? - Nina

RN: I hope it is in Mallorca (it's an island) so I would know I have everything I need there :-)

How do you celebrate after winning a tournament? Lynne, Dublin

RN: I am not the kind of guy of big celebrations. Likewise I am not those kind of guys who gets very depressed after losing. Something very normal (or not normal, depends).

Maybe a strange question, but since you have already so many questions answered, I would wonder if you could told me something about you that no one has asked you yet? - Nicole S, Holland

RN: I am not sure I have something I did not tell before. I speak to the media every day so I really don't have many things to say. I always try to be honest so not much in the tank left...

I have heard that part of the proceeds from selling your book will go to a foundation. Have you established it yet? And what foundation will it be? Jantaraporn - Thailand

RN: No, actually we have not decided it yet but definitely they will go to a charity.

Have you ever been to any concert, and who was the artist? - Maureen, USA

RN: I have been recently invited to see MANA in concert. They are probably my favourite band at the moment. I will try depending on my schedule.

I note you are a keen fisherman, is that deep sea, fly, or other river fishing, and what is the biggest fish you have caught and where did you catch it? - Regards Adrian

RN: Yes, I love going fishing on a boat. I think you call it deep sea. The biggest fish I catch was a Mero but I don't know the English word.

When you were small, what was your favourite toy? - Alma Botes

RN: A tennis racquet and a football. Easy one.

What's the strangest question that you've ever been asked by the press or by a fan?

RN: I could not tell you one thing now. But I guess that many things. I had some funny questions in China I can remember.

At the Australian Open on a press conference you talked about your "famous ass". Did you got angry because the media wrote about your ass and the Capry pants? Reyes, Alicante

RN: No, not really I am used to it so I just laugh.

What would you prefer for going out in the evenings with your friends, a bar where you can talk with your friends or a disco to dance and party with them? - Anke

RN: I think you can do both. First the calm part and then the disco and party.

You used to be doing a lot of fist pumping, "vamosing" and celebrating after a good shot but now you seem to be much more calmer on the court, what happened? - Magda, Poland

RN: No, I still celebrate on court those important points. I don't think things have changed.

When you're in England, have you ever tried our own version of tapas – a delicious pork pie or Scotch egg? - Sebastian

RN: No, not really. I guess I will have to try it the next time I go out. Thanks for the tip.

Last year you took a month off after Wimbledon. Are you planning to do the same this year or will you return to action sooner? - Amanda

RN: No, I am scheduled to play in Bastad (depending on results here) and Stuttgart.

I heard in your victory speech at the French Open that you hope next year to be able to give it in French. Are you learning other languages (such as French) at the moment? Chris

RN: Not for the moment, English is tough enough. But next year I would love to give a speech in French meaning I am back in the final.

Do you have a girlfriend or is she perhaps a secret? - Ceilie
RN: No, no secret, I have a girlfriend.

Have you ever had any pets and, if you have, what are they? - Rachel S, aged 9
RN: Hi Rachel, no I don't have any pets.

How were you able to get over your shyness to do such an outgoing "La Bamba" karaoke? Did you have a glass of wine? :-) - Susan
RN: Hahahhahahaha, no wine, I don't need wine to do sometimes crazy things. I was asked to do it, I thought it was a cool idea and I did it! I enjoyed it.

Can we have the recipe for your famous pasta dish? -Alma
RN: :o) Too long to write and to do it. Maybe one day you will have my secret recipe. :-)

Who do you think is the best joker on the ATP and has someone ever played a prank on you? - Maria P, Bulgaria
RN: I think Djokovic does pretty good stuff on this regard. I saw his impressions of other players and his Monte-Carlo show and he is very good and funny!

Do you ever totally disconnect from tennis? I mean, when you are on holiday, do you keep training, do you just play some tennis because you want to or do you not touch a racket for a couple of weeks? - Bárbara
RN: I definitely do. I need it and I take 'very seriously' my time off. I do train and practise but have some few days off that I go fishing, golf and friends and family.

Hi Rafa, what type of food do you know to cook, besides pasta? - Natalie
RN: I can bake one type of cake. Not much. I only practise these two weeks at Wimbledon.

Do you like surfing in the internet and looking for pictures or information about you? - thanks a lot, Annika, 19 years old
RN: Yes I do. I also try to read comments from people.

Hey Rafa, I know you love football so your opinion would be helpful. My boyfriend supports Manchester United and I support Liverpool. Do you think I should dump him for his appalling choice of football team? - Siobhan, Liverpool
RN:Hahahahhahahahaha. Funny question. Dump him if you don't like him but not for supporting another team. I don't dump my coach although he supports FC Barcelona. :-)

Hi Rafa, if Real Madrid could just sign one new player this summer. Who would you want them to sign? - thanks, Phil C, London
RN: I like very much Cristiano Ronaldo and Kaka. Easy, huhhhh?

If you were invisible for a day what would you do? - Laura
RN: Go fishing and play golf? Same as now when I am free.

If you could play any player from the past at their peak, who would it be and why? - thank you, Seth Turquand-Cook, age 9
RN:I know I play now so I just don't think about it.

Hi Rafa, what's the best food dish you've ever prepared? - Joy, Manila
RN: Last night I made this pasta with mushrooms and gambas :i-) every day getting better on it.

What kind of cereal do you like? - Emma S
RN: I normally have mixed cereals. These that have nuts, chocolate also and things like this.

What kind of books do you like reading and what's your favorite book? - Tulip
RN: The last one I read was actually the one about me. I know it sounds egocentric but I just wanted to see the final product.

Do you think you are a good cook? - Brandy Porter
RN: I think so, but I guess I am not the right person to answer this.

Which surface is more tiring, on fast or on clay? - Elisette
RN: Probably clay. But it is more the rival than the surface ...

Would you rather eat two whole tomatoes, or not play tennis at all for two weeks? Why? - Laurenne
RN: Eat two BIG tomatoes. I love tennis and I love to play.

I'm playing tennis now two years but I have some problems with my service and smash. Can you give me some tips? - Elisa
RN: Difficult to say. Just try to do things slowly and then improve the speed.

Would you ever consider doing a Tommy Robredo and posing nude for the Everyman Charity? This would make a lot of women all over the world very happy! And of course raise money for charity! I'm sure your girlfriend wouldn't mind? - Margaret, South Shields
RN: No, it is not my style but I respect what others do. I think that if it is for good cause I can do other things. I am too shy to pose nude.

I have vacationed in Mallorca, and enjoyed the beaches. What should I plan to do on my next trip to explore the island a bit more? - Rudy, Houston, Texas
RN: I need more time and space to answer this one. I think the whole island is fantastic so you will find plenty of things to see and do.

If you didn't play tennis, what do you think you would be doing right now? - Kiran, 19
RN: I don't know but I guess that playing football would be a close call.

Have you ever played or attempted to play an instrument? - Rebecca Lin

RN: No, unfortunately I haven't

Is there any chance that you will participate at 2008 Olympics in Beijing to represent your country? - Atin Monroe

RN: Yes, for sure. I would love to play in the Olympics. It is one of the nicest things you can do.

What type of cakes do you make? - piscesperson

RN: I don't know how to say it in English but it is very simple. Just a normal baked cake with sugar on top.

My five year old son has just started his first tennis lessons and is enjoying it. Any advice for him to improve his game? - Ella

RN: Only one - to have fun all the time. Playing, practising, competing.

What kind of music do you like? - Evangelina, Argentina

RN: I always listen to Spanish (speaking) music. I am listening now to Mana which are a Mexican group.

Why do you call "Fidgiano" to Feli Lopez? - Evu, Argentina

RN: I don't really know. I just do so. I started one day, probably I was making fun of my English and that's how started.

Are there any things that you like to do whilst you are in London, with the little free time that you have? - Colin

RN: I would love to get to know better the city. Last year I did go around a bit but I am staying in Wimbledon and don't really have much time. On another hand it is cold here this year :-)

Have you ever thought of playing doubles with Roger Federer? You guys have been dominating the top two rankings for a while. Perhaps you guys should try to conquer the doubles events as well. - Dahna Bazile

RN: Yes, I did think about it and asked him to play together in Madrid last October. He had already plans to play with Allegro and so we could not play. It would have been fun. Maybe another time.

Do you ever have the chance to visit parts of England other than London when you come over? - Nikki

RN: No, not really. I would love to but we have no time for tourism outside the tournament weeks. Maybe when I retire? I guess it is too early to think about it.

I think everyone would like to see you do some acting. Have you any interest? - Dorothy Frew

RN: Hahhahahahaa, no, not for the moment. I have had some proposals to be at some small TV shows (I think this is the name), but I prefer to focus on my thing.

Does your hair bother you on court seeing as it's long and heavy and the fact that you're sweating a lot on court? - Ben, 18, London

RN: Hahahaha, no it doesn't bother me. I like it like this and keep it fairly comfortable. I don't think my hair is heavy though...

Do you pray? - Judy Fanslau

RN: No, I don't pray

Does the pulling on your shorts before every point help you to concentrate? - MT

RN: No, everyone keeps telling me about it. It is something I do without realizing. I know it is getting pretty famous but...

Is there any particular coloured T-shirt that you would refrain from wearing? - Brinda Chandramohan

RN: No, I normally wear what NIKE has for me. I do have a say on things and I like normally what they present.

What is your favourite playstation game? - Megan Taylor

RN: ProEvolution Soccer !!! Fantastic !!! I also like the tennis games and I normally play with... Rafa Nadal :-)

You have a great style - your pirates, long hair, bandana and all - was it all your idea? - S Femina

RN: No, it was NIKE's idea but I liked it the first minute.






Create Date : 12 กรกฎาคม 2550
Last Update : 12 กรกฎาคม 2550 14:13:59 น.
Counter : 195 Pageviews.
Rafa's Blog @ 2007 Wimbledon II

ราฟาเขียนบล๊อกเล่าชีวิตประจำวันระหว่างร่วมแข่งขันรายการ 2007 Wimbledon ให้กับ times online .... แป๋วแหววก๊อบไล่จากวันแรกไปหาวันสุดท้ายนะคะ enjoy !

อ่าน Rafa's Blog ต้นฉบับภาษาอังกฤษ คลิ๊กที่นี่
อ่าน Rafa's Blog ตอนแรก คลิ๊กที่นี่


Friday, July 06, 2007 :
What a day - I thought I was heading back to Mallorca!

Well the first question I got in my press conference was about my feelings when I was 2 sets down. I was asked if I thought I would be going to Mallorca tomorrow. My answer was not tomorrow, already this afternoon. I mean, Youhzny was playing great, maybe I was not playing my best tennis but he was definitely playing great.

So I am happy I am writing this blog today. Anyway I would have written it because I will always write a closing one since I didn't do it at the French Open and some people told me about it. But it would have been almost my last one. Also people ask me about how can I do it, how do I manage to come back from 2 sets to love against a player who is playing great. And the answer is pretty simple: I just fight until the last point because there is always a chance to win. Fight, fight and fight. And today it was another example. I said it yesterday that it was going to be a very difficult match.

I am also getting a lot of questions about Berdych and how is it going to be after we played in Madrid and we had some problems. For me this something from the past. I congratulate him today after his match and also the other day when he came from winning Halle. So the past is forgotten and I know that tomorrow he is the favourite. We are playing again early, at 11 am.

That means that I have to wake up pretty early too and be on-site at around 9.30 am. This is one of the reasons, only one, why I prefer to stay here close to the tournament. I go walking to the site and it takes me 2 minutes to get there. For the players staying at the hotels in London, they have to come much earlier since they have that 30-45 minutes ride and by now, at the end of the tournament it is really important. I think I can get much more rest like this.

I also had someone from my team telling me that someone had mentioned to him that the Wimbledon organizers weren't too happy with what I said yesterday on my press conference. I don't think I said anything against them. I have always said that this is a great event, THE event, and that this is very important for me and for every player. But I suppose that it doesn't mean they do everything well. This event is run by human beings and in the same way I make mistakes on and off the court, I also think there have been some mistakes here. I don't think I should go back and tell what these have been but I don't think they should be upset with me if I say something like what I said about not playing on Sunday, making us go on court 15 minutes, the rain, etc. It is clear and obvious it is not their fault and that they don't do it on purpose. I hope this thing is clear since this, again, IS the tournament and I love it.

Anyway on a different note, I went back home after I worked with Rafa Maymo, my Physio at the tournament as I am doing this weeks. Normally I always go back to the hotel and work there with him (massage, etc.) but here we had to change plans. My massage table, the one we normally travel with broke and I fell. That was sort of funny. I fell on the floor while Maymo was working and thank God nothing happened. So for this reason we have been doing this work on-site rather than here at home. So I went back at 6, and stayed there. Time for chatting in the Internet and get ready for the cooking. I had asked Benito and Carlos who were going to have a drink at Wimbledon to buy some gambas and onions for the pasta. Suddenly a guy rings the bell of the house and gives me a big plastic bag with Gambas (Shrimps). I was surprised and did not know what it was. I just say thanks and was a bit surprised as I say, Then I heard when they were back and only brought the onions that the guys who came is someone who owns a fish shop (I don't think it is the right word, oh well), you know where they sell fish to eat, and also works for this newspaper. His name is James so I have to thank him for being so nice and bringing us those shrimps. They were really good and we enjoyed them very much. Benito says he owes you one, and I will make sure he pays you back :-)

Let's see tomorrow how it goes.

Hasta maniana.
Rafa.



--------------------------------



Saturday, July 07, 2007 : Big Time Semi-Final

Hi everyone!!!

I am very excited to be writing this blog again and very excited to be doing it as the previous one to a big day. It is my second semi-final here in Wimbledon and I am very happy to be here. Things went very, very well today.

I woke up early. I think it was 5 am. Not that I was nervous, that I normally am, but because the light is so strong in the room I have and I forgot to put the mask (? Not sure it is the right word and we are too tired now to look for it). I am writing the blog at 11.30 pm and really want to go to bed.

But as I say I got up to get the mask and went back to sleep. I woke up, really woke up at 8.15 and went downstairs for breakfast. Since that other day that the milk was bad, I am very careful and double check it is good. I had a big bowl of cereals with milk mixed with chocolate. I normally read the press while having breakfast, well read the internet editions of the papers. I normally read the Spanish newspapers starting with the sports one, check what's up with tennis, see what's written, then go to the
football sections, etc. I like to see how the buys and sells of the teams are going now. Then I also look at the general interest newspapers to see how things are going around the world.

I left to the site a bit earlier than what I thought. I guess I was a bit nervous as usual or impatient and I preferred to get there early. I was there around 8.55 and ready to get my warm up. Carlos Costa stayed at the players reception to get sorted all the tickets and I got my warm up around 9.30am. Now towards the end of the tournament we get many more requests and today we had around 14 people that came from Spain. I had like 6 people of 2 of my sponsors here today. Some have been here the whole week like the guys from NIKE, Nico and Roy. Tuts, also from NIKE Spain, came today and also the big shots from NIKE USA are here. Also two from TIME FORCE, my watch sponsor, came from Spain. That together with some friends of my uncle Toni that came from Mallorca and the owner of the Spanish restaurant El Cambio de Tercio, Abel, and his girlfriend who also have been coming the whole week. Anyway lots of people around that I am very thankful to them.

Tomorrow I will also be supported by my father and my uncle Miguel Angel, the former football player that are coming tonight. They are getting in pretty late. I think they are scheduled to arrive at the house around 3am.

By the way, I hear that my uncle Miguel Angel is called here in the UK "The Beast of Barcelona". That's shocking since he was not the kind of player that used to be dirty. He was a defender but I think very elegant and technical. For some reason I don't know they call him like that here. Definitely not in Spain. But no worries, everything OK :-)

As I say this is my second semis here at Wimbledon and that makes me very happy. I think that semis is a good result already on grass but I will try as much and as hard I can to be in the final on Sunday. Don't take me wrong, I am not happy just with the fact of reaching semis. If you know me you know
I want more but if you take an objective look at this, it is a heck of a result. It is just amazing, it would be amazing for me if I can make it again. I know that tomorrow's match is very difficult.

See you tomorrow !!!
Rafa



------------------------------------



Sunday, July 08, 2007 : DID IT AGAIN. NOW A DREAM IS WAITING!!!

Hello everybody,

I know some people makes fun of this sentence I am going to say: "I am very, very happy". But the truth is that I am, very, very happy. Not sure that if someone would have told me some weeks ago, Rafa you will be playing on Sunday, July 8th in the Wimbledon final against Roger Federer, I would have believed it.

I knew I could have a chance, I knew that I was going to give it my all, but I also knew it was going to be very difficult if not almost impossible. On the other hand I also thought I would not be playing tomorrow in the final after all the rain... :-) Me nor any other player. Unbelievable how the weather has been and how it changed today.

It was the nicer day in London I have seen since I got here after Paris. And on this beautiful day I think I play not well. Novak played really good. He is very good, he is up there and I think he will be at the top one day.

I was happy on one hand to win, to do it fast, but at the same time sorry for Novak and also the crowd to see how the match went. It is not always nice to see someone has to retire. But I suppose that's also the competition. It is tough.

Today almost all my direct family was there to support me. My father and my uncle as I said yesterday came from Spain and so did my aunt, who is the twin sister of my uncle Miguel Angel (once again wrongly called the Beast of Barcelona, since he is not a beast and he is not from Barcelona... :-) Also Toni's wife and a couple of friends came. Obviously not all are at my home since we don't fit in all. But I guess you don't care much about this so I guess I would talk again about the gambas (shrimps) I had today... :-)

I am actually attaching a picture of the dinner tonight. It is me, Carlos, my uncle Miguel Angel, Tuts from Nike, Benito my PR manager and Rafa Maymo my physio. We all decided to stay at home and have dinner. The gambas was again a gift from James at the Times Online and now that I know it is him, I want to thank you again. They were really good and thanks to you I have changed my mind and I do say that you have great shrimps here to. Close to the ones we have is Spain... :-) Who knows they might have been fished there :-). Seriously thanks and we had a great dinner. I cooked the pasta and Benito the gambas al ajillo which is something very typical Spanish. Shrimps deep fried in oil with garlic.

Coming back to what this final is, and what it means I suppose I have to finish the tournament to really think about it well. To win Wimbledon would be a real dream that comes true.

But let's not get too excited. In front of me tomorrow I will have the best player ever and therefore the one you would not want to meet in a final of Wimbledon.

Regarding this blog, if I win tomorrow I won't have time to write it because with the media things to do and then the official dinner so I would not have time. And if I lose I will try it although I can't promise it. Not because I lost, but because I am sure we will do like last year and go out for dinner with all the family, friends and sponsors. I hear that we are 28 tomorrow, apart from me playing of course :-) I will write thought the final one tomorrow or Monday.

Anyway I have to than you all for the support you've given me these weeks here in the UK and let's see how it goes.

Thanks
Rafa



----------------------------------



Tuesday, July 10, 2007 : THE LAST ONE AT THE 2007 WIMBLEDON !!!

Hi everyone,

Where do I start? Or should I say finish? I suppose this is an end. An end to this diary that I have been doing since Wimbledon 2007 started. I could have done it yesterday night but I am sure you all understand that it was probably not the best thing to do.

A lot of people asked me why didn't I do the last one from Paris? The reason is obvious, we went out to celebrate and did not have time. After the end of the match I did not stop until we finished with the party. Here, today or yesterday it has been different.

I am not going to go into details, into what I felt, into my thoughts, into the whole thing. I am just going to say I have great memories of these 2 weeks. I think I improved, I learned things, I played good matches, difficult ones, and I got to the final again. What happened in the final has been already written a lot, analyzed and said. The only thing I am going to say is that I was sad, very sad to lose the final since I thought I could have won it. Roger is the best, we know that, but I had my chances yesterday. It's over now and it's better for me not to think about it anymore (but it is difficult!).

This is not a post to write about my feelings or about the match. I suppose this is what you all want to know. As I say I was sad, very sad, right after the match, but I have always said that I am also a good loser and forgets quickly. There are things in life, in the World we live in that are really bad and serious. To lose a match, even if it is the final of THE tennis tournament is something that only really affects me. And that's OK. I can cope with it. I will try again next year and I will work hard to keep improving.

I am writing or actually dictating this blog from home tonight. My real home in Manacor. Last night we just had a quite dinner my uncle Toni, his wife Joana Maria, my uncle Miguel Angel, Rafa Maymo, Benito and Tuts. That's it.

Simple, quite, easy. We talked a lot during dinner and watched some funny things and sports things in youtube. We remembered times of my uncle playing football, saw goals of great footballers, etc. Nothing special see? Probably a not happy night but that's OK. My father, mother, sister, Carlos Costa, ant Maria Magdalena and others went to the IMG house for dinner and to get little hours of sleep, We left London very early. It was planned like that.

Win or lose. I had a flight with my family booked at 6 am arriving at 9.15 am, so we left the house at 3.30 to the airport. Not much sleep but at least I was home early and have one more day of holidays. I will stay here and not play tennis until probably Friday.

So as a closing thing (sorry for this poor expression), I want to thank the people who helped me with this blog. Benito, my PR manager for helping me every day with it. Carlos Costa, my manager and friend, for giving me ideas and feedback from fans. The Times for hosting it and give me this space to write. I hope I was at the level required to write in it. Maybe I have a second career there in the future :-). Neil and James from the newspaper for moving it forward and specially, James, for the Gambas he sent us :-). And a very big special thanks you to all the readers of this blog and the people supporting me. I hear it's had a lot of people reading it so I am happy for that. Believe me that there were times I really didn't feel to write but I had the compromise and you have to honour them.

Thank you everybody.
Rafa Nadal



อ่าน Rafa's Blog ตอนแรก คลิ๊กที่นี่







Create Date : 12 กรกฎาคม 2550
Last Update : 12 กรกฎาคม 2550 14:09:10 น.
Counter : 113 Pageviews.
Rafa's Blog @ 2007 Wimbledon I

ราฟาเขียนบล๊อกเล่าชีวิตประจำวันระหว่างร่วมแข่งขันรายการ 2007 Wimbledon ให้กับ times online .... แป๋วแหววก๊อบไล่จากวันแรกไปหาวันสุดท้ายนะคะ enjoy !

อ่าน Rafa's Blog ต้นฉบับภาษาอังกฤษ คลิ๊กที่นี่
อ่าน Rafa's Blog ตอนที่สอง คลิ๊กที่นี่

Monday, June 25, 2007

Hi everybody!!!

This is Rafa Nadal writing this blog for all the British fans and readers.
I was asked to do this and I am very happy to do it. I know I have now many fans in the UK and believe me I am really excited to do this sort of job while I am in Wimbledon.

The first thing you might say or ask is how well my English is...? :-) Especially when most of you know that my English is not that good normally. It is not that I suddenly learned English perfectly. I am writing this blog in Spanish and then it is getting translated into English. Maybe one day I will be good enough to write it in English all by myself, but for the moment it is not the case. :-)

Anyway, as I say, I am happy to be here in London, actually in Wimbledon and I am really looking forward to get the tournament started. This is "THE" tournament and eveybody is fired up to play well. I have always said that this tournament IS the tournament I would love to win. I also know it is the tournament that is the most difficult for me to win. But I tried and will continue to do so as much as I can. This tournament is like a dream. I love to play on grass, I know it is difficult for me to play on grass and I know I have to change many things but still I love it. I love the sensation to step on the grass and to hit balls differently. I love it, believe me, although I know it is very difficult.

As you might know, I came straight from Paris to London after Roland Garros. No rest, not much time to celebrate but I think it is the best for my preparation of this tournament. Last year I came straight here as well and I think it paid off well. This year I did the same thing but without missing my train. I played well at Queen's and I am happy how I adapted to the "new" surface.

After I lost the quarter-final match I went back home on Friday but inmediately jumped on an airplane on Sunday to Madrid. I went to see the last league match of Real Madrid and had a great time there. I know I am now in England and I get asked everytime about Beckham leaving Real. I am not in the position to judge anything and especially to give an opinion about him leaving or staying in Madrid. I do know that he played great and that he always tried 110% and that's something very important.

As I say I had a great time there on Sunday with my father and my uncle Rafael. The day after I was at the Royal Palace to receive the Sportsman Award of the Year given by the King. The whole Royal family was there and it was just beautiful.

But I guess you are more curious about other things rather than what I did there that has already been reported in the media.

I came to London already on Wednesday and I am staying at Wimbledon. I rent an apartment with Feliciano Lopez for the time we will be here during the tournament. It is much more convenient and it is the second year we do so. Feliciano is here with his coach, his physio and another guest and I am with my uncle Toni, my physio Rafel Mayme and another guest.

I am not going to go today into details but we have a good time and also we are walking distance from the courts. This is the second year in a row we do this and I frankly know it is much better for me (and for Feli) than being in the city. Yesterday was a good example since it rained almost all day and I just went to the courts for 30 minutes practice and then waited there, doing other things, waiting to see if it would get better to practise on-site some more. In the end, as I say, I could only hit for 30 minutes and in the meantime spent some time playing cards with the other people in the house.

I also had some promotional work to do. It was a photoshoot for PlayStation (here we go again) with a photographer I know well. My manager told me 15 minutes and 9live, the photographer, did his job well on time. :-) Anyway I will give you more info on things tomorrow since I have to leave quickly. I have a dinner at El Cambio de Tercio which is a Spanish restaurant we normally go to. It is their 12th anniversary and I have told Abel, the owner, I am coming there for dinner. Tomorrow I will be posting some pics I will take today. On another hand I am answering some questions that you have sent me.

Thanks and speak to you tomorrow.
Rafa



------------------------------



Tuesday, June 26, 2007 : The Italian dinner at my house

Hello everybody again.

Yesterday I finished the blog leaving for dinner to El Cambio de Tercio. A friend took some pictures there with his camera but still hasn't sent them to me so I am waiting to receive them so that I can post one or two here and keep the others to me. Hope this wakes him up :-)

Day two of my blog here at Wimbledon and the one just before my first match on this year. Well, it should be the day of my first match but I heard, I think it was my uncle Toni who told me it might rain tomorrow again. This is probably one thing I don't like here, the weather. It is just boring to be here waiting to see if we can practice. I love to practice and I love to play so to sit and wait it is just boring. Today I could get some practice, my first practice at 3 pm on an indoor court. Then it stopped from raining and I could get another hour on the normal outside court on grass. I hit today with Davydenko for that, over 1 hour 30 minutes and I can say that I felt good hitting the ball.

But today it was also a special funny day since at the Wimbledon house we are staying, we had a so called "Italian Night". The story is that back in Roland Garros, Vitto from the ATP organised a dinner in my house and invited some people for dinner. Vitto is Italian and works for the ATP. I think this is his 29th Wimbledon and has seen and organized a few of these dinners. He always tells these stories about the dinners with Panatta and other players and agents.

The fact is that he organized this dinner and Giorgio, another guy who works for the ATP was the one in charged of the cooking. We were 9 for dinner tonight. Me, my uncle Toni, Giorgio, Vitto and Thomas from the ATP, Rafa Maymo and Benito from my team, and Albert Costa and Toni from Feliciano's team. Feli did not stay for dinner since he went out with his girlfriend and some friends in Wimbledon. He did come though for the end of the dinner.

The fact is that Giorgio cooked a fantastic pasta for dinner. Linguini with mushrooms and gambas for me and for the rest the same but with tomatoes and "zucchini". They also had another one done with Mushrooms and zucchini only.

I don't like the tomatoes so he had to do a special one for me. The food was really, really good. I had a HUGE dish of pasta.

In the picture you can see the "mess" of the cooking by Giorgio and in the other one it is me doing a cake. That's what you can see on the picture. We also prepared a surprise for Albert Costa since today it was his 32 birthday. The other day I cooked a cake for all of us staying at the house, so I decided to cook another one today and give Albert a surprise. Benito had gone to buy the eggs, sugar and the candles and I prepared two cakes.

They came out pretty well and at the end of the dinner we turned down the lights and sung the Spanish version of the Happy Birthday (Cumpleaños Feliz). It was a surprise, as I say, for Albert and he told us he liked it very much. During the dinner we talked about many things: football, of course, as you can imagine Spaniards and Italians having dinner, one of the main conversations must be football, right? :-) We also talked about tennis history and facts and some other things.

I left around 11.30 to write this block and I am going to finish watching a movie so that I go to sleep. I am watching "El Padrino (The Godfather)". I always watch a movie when I go to sleep. Not that I watch it all, but I start or finish watching them and that makes me go to sleep always.

As I say I start playing tomorrow so I will go in the morning to do the warming up (weather permitting as they say here) and get ready for my match.

Since I am writing this blog for as long I stay in competition here, I hope I will write the blog tomorrow and Wednesday.

Muchas gracias!
Rafa



---------------------------------



Wednesday, June 27, 2007 : Debut in this year's event

Hi there (learned this one today) :-)

Well I finally played today and I am very happy. I was excited about starting but to tell you the truth a bit nervous. It is normal to feel or to be nervous before starting a big tournament like this. The first round is always difficult and I had been saying it to the press here in Wimbledon. It is normal that the first round is difficult, but I think I played well.

But I won't talk much more about the match since the media is reporting on it and you can read all about it in the papers, radio or TV.

So, I woke up at 9.30am today and had my normal breakfast. Cereals with milk. You know what, the other day I opened a bottle of milk (tetra pack) and it was not good, I don't know how to say it, it was passed, it was bad, the milk. I almost throw up. As a matter of fact if I think about it I really get sick. :-( I think that Albert Costa or Toni, had coffee with it and they realised. Every time I think about it I get ........

I also had some bread with Nutella. I love it. The other day I almost ate one whole bottle!!! Today, and I'll tell you more, I bought three more!

I went to practice at 10.30 since I had scheduled to hit at 11 am. The house is very, very close so that's easy for me. If I was staying in London I would have had to wake up by 7 or 7.30 since the traffic to get here is quite heavy in the morning. That's another reason why I think it was good to take this decision again to stay here. OK, it is not good if you want to go out, etc, but I also enjoying cooking this week, hopefully two :-)

So I had my practice and then I always have the same routine to just stay in the locker room getting ready and only going up to eat something. Sometimes I don't even go up and I have Rafa Maymo, my physio, to bring me something and I eat it in the locker room.

I watched the Henman-Moya match in the locker room. I had to be ready since I was next on court. It was pretty long and exciting that match and I saw that there was a big atmosphere.

After the match I normally do little work with my physio since we normally do that either at home or at the hotel. I did that today but before I had some press work to do. After each match we have to go to press and do press conference and a few other TV, radios and sometimes one-to-one interviews. Today Benito, my press manager, had arranged with Nicola from the ATP that it would be short and easy and I only did 3 TV after my press conference. Sometimes I can be over an hour so it was good to keep it short. If I continue in the tournament I know it will take much longer but I understand this is the way. No problem. I actually thank them for the interest.

As I say, after that I went home and got some physio work done. Before that I played some cards with Costa, Feli, some friends of them and Maymo. We have been playing a very easy game called "el uno" (the number one in English). It is quite simple to play but it is a lot of fun.

Feli, Albert and their friends and team went out for dinner and I had decided I would stay and cook. Carlos Costa, my manager (in the picture), Albert Molina who is another manager from IMG, Benito and Rafa Maymo were all eating at home so I went out to Wimbledon to do some grocery (?). Is that the word for shopping food? I guess so. I cooked with the help of Maymo and we did the dish that I have been preparing all these days. Pasta with mushrooms, gambas, some onion at the beginning and these crab sticks. Not bad, believe me.

Anyway I am going to bed now and finish the Godfather. Tomorrow I have some more work to do.

Thanks all.
Rafa



------------------------------



Thursday, June 28, 2007 : Dinner at the Nike house in Wimbledon

Hi everyone (I knew this one) !!!

Two highlights today out of my tennis work and routine. One is a media thing I did today that I think will be cool. A cinema production company came today to London to film me for something. They are making a movie or documentary (I am not that sure) on Zidane and they asked me if I could be part of the movie and talk. When Benito and Carlos told me about it I thought it was nice. I think Zidane is big, very big. One of the sportsmen I have admired more in my career. I don't have idols but Zidane was probably one of those persons that I have looked at more. To feel part of this film is great and I told them what I thought of this great sportsman on and off court. So they came to my house to get the interview done. They told me it would be 15 minutes but in the end it was 45 since the language thing always makes interviews longer. This time it was no English, it was French so even more difficult ... :-)

The other night we had the Italian dinner at my house, and tonight we had the Spanish dinner at the Nike house. This was the second highlight. I think it was on Sunday, we came to the Nike house in Wimbledon to pick up our clothes. You know, we are lucky since we get everything for free (and I also get paid) so we go to every grand-slam to pick up our clothes at their place. At the French Open they also had a very cool and modern house and at the US Open we go to their Nike Store I think next to the 5th Avenue. Here at Wimbledon they have this fantastic house where they take care of all their players. I went there with Fidgiano (Feliciano Lopez) to get everything and there they were, Nico and Roy from Nike taking care of us. We had a nice conversation while Roy was bringing down everything and Nico had this idea to do a Spanish dinner at the house. We thought it was great.

Charly Moya and his team were also invited but unfortunately he lost and so he is back in Spain now -sorry if I say this, I know he lost to Tim Henman, the local hero here. Anyway, they had this "Catalan style chicken" (they say it was like this but I think it was more Indian than Spanish :-) ... some salmon, some salads, cous cous, potatoes, etc. For dessert we had some chocolate pudding. Nice stuff, really good, but not too Spanish, huhhh? :-) I hope Nico and the other Nike guys don't get upset with me now that I made these comments :-). The whole Nadal/Lopez house came. That's my uncle Toni, Rafa Maymo, Feliciano Lopez, Albert Costa, Toni his physio, plus Carlos Costa, Albert Molina from IMG and Benito from my team and a couple of friends from Feli that are visiting for a couple of days. I am sending this picture of the dinner.

We had it early (for Spanish standards) and we had dinner at 9 pm. The reason for this was that 1) we were guests and 2) Feli plays tomorrow early. I am scheduled late so for me it was OK.

I am always talking about dinners or breakfast but I guess these are the different things we do. I hope you guys don't mind. About the other "stuff" today, I got back home pretty soon after I practised and did my work on site. I practised at 11am and I managed to get back by 2.15pm. I had the appointment with the French crew at 2pm so I was a bit late. I just never manage to get on time. I think it is not always my fault, almost never, but the fact is that I am almost always late ... I have to work on that!



--------------------------------



Friday, June 29, 2007 : No dinner story tonight

Yes, or no actually, no dinner story tonight since I finished so late at the tournament tonight that I am too tired to tell stories about tonight's dinner.

Today as it was a match day, I was very much focused on the day and on the match. These days are special, different. Some people ask me about the physical strength and its importance, but I think sometimes it is more mentally tough than physically. Today I was playing last match and therefore it is a kind of tricky, funny day. As I said on my press conference this is kind of risky, kind of difficult because you can start a match and find that due to weather or darkness you might not finish it. This is tough mentally since we have a day off on grand-slams but if you don't finish you have this tension of having to play again the next day.

My day started "early" since I had my warm up at 11. Considering I was playing last, this is quite early. I had as hitting partner or warm up "kid" :-) my uncle Toni. I joked in the press room afterwards saying that that is the reason why I had a slow start. Obviously I was joking and I hope the media didn't take it wrongly. I did hit with Toni and I was done pretty early.

I then went back home to have lunch there and relax until the beginning of the match before mine. On a normal tournament I would have stayed on-site till my match starts but here, since I have the house so close, I just went home, had lunch, relaxed a bit and watched the Henman v Lopez match on TV. It is then when I go to the tournament to get ready for the match. The reason for this is that if the match before mine is fast, or someone gets injured or whatever, we are called to go on court and we have to be ready. If we are not there and ready we can get defaulted so you better be there and ready.

Yesterday I mentioned that I was sad because Moya lost and he was one of the guys that should have come to the Nike dinner. I apologized for supporting Tim's rival. Today Feli Lopez beat Henman and I have to say I am happy. I like Tim a lot, he is a very nice guy and I was sorry for him but we are talking about Feli who is one of my best friends on tour, and the guy sharing the house with me, so I would be lying to you if I don't say I am happy for him. He did something big for him, to defeat Henman at home on the centre court of Wimbledon. I am sure no one will get upset with me with what I am saying. I am sure you understand.

Today I was asked during the post-match press conference about the centre court and the feelings walking to it. I have to say this one is different and very special. I still get impressed when you walk there and you are about to go on-court. Everything is so special. So well taken care off.

There they are all these trophies before going to this white big door with those military marines that let you go on court. I don't know, it is really special and impressive. Something really great. I am not sure I will be able to take a picture :-)

Tomorrow I have a day off, with only some practice, some press work and lot of resting. I am sure I will have more things to say.

Until then, see you tomorrow.

Thanks for all your support.
Rafa



---------------------------------



Saturday, June 30, 2007 : The PlayStation is Back

Hi there,

The day today started normal with breakfast downstairs. By the way, I have not explained how the house is so I will take some time now. The house has 3 stages (plantas in Spanish, I hope we are getting the right word). The basement is where the kitchen is and that's where we normally eat. It also has a little backyard where we also spend some time (more last year than this year) depending on the weather.

The second stage has the living room where the TV and all music stuff is and my bedroom with my own bathroom. On the 3rd stage there are 3 more bedrooms and that's where Feli in one room, my uncle Toni and Rafa Maymo on another and Albert Costa and Toni from Feli's team are. It is actually a pretty nice house and we are very comfortable there. Maybe a bit expensive but that's how things go...

So today I tried to practice at 11 as scheduled. Unfortunately the morning was not too nice and there was a big shower. I rushed back home and stayed tuned till my uncle and coach Toni called me for practice. Benito, my PR Manager, had arranged for me to meet with the Spanish media covering Wimbledon to come to my house at 1pm. Since it rained and I could not practice we had to postponed it. In the end the day came beautiful with a fantastic sunshine and we could practice at around 3 pm. I met with all the Spanish media at a room that the tournament let us and we were there for over 45 minutes. Lot of talking, believe me. I think these things are important since they also make a big effort coming here for 15 days (hopefully...). We spoke about many things and it was not in the format of a press conference. Just a get together with them to get to know them (most of them I already know them for many years) a bit more and just talk about all different things. It was nice.

So as I say on the title, the PlayStation is back. I had not played during the whole tournament but a couple of days ago I took it out and we played some matches. Today at the club Juan Martin del Potro told me that he'd spoke to Benito and that we could play some matches. He told me jokingly he would kick my famous you know what and I just laughed. So after practice and all the media work, they came over and... I defeated him. 2-1 final score of the 3 matches we played. I have to admit I was lucky on the first one winning on the last minute (Cristiano Ronaldo never lets me down). The second one was easy (4-1) and Juan was too good on the third one. I played with Man U and he played with FC Barcelona... I don't think it is stupid to play playstation. I think that it is no good if you play for hours and hours, but we only play a few matches.

Anyway, I am writing here this blog a bit earlier than usual and now we are going to have dinner. Carlos Costa, my manager, and Albert Molina from IMG are here too. Feli is a bit down since he lost today so I am sure the atmosphere will not be as on the other days. Too bad. And I also think the fridge is quite empty so I am not sure what are we going to do, really. :-)

Anyway tomorrow it will be a very difficult match against a player who hits it very hard and serves very fast. We'll see.

Thanks
Rafa



-----------------------------------



Sunday, July 1, 2007 : Depressing day!!!

Sorry to all the people that might take this wrongly. Please don't do so.

But today it has been a completely depressing day. I mean the whole day waiting for nothing. No play, no match, no practice, no nothing!

I woke up as I said yesterday fairly early. We had practice scheduled for 11am. When I woke up and saw the rain coming down I said to myself, not again! It is unbelievable. Rain, rain, rain, and more rain. Last year we had good weather. I can't believe this is like this this year.

Anyway. I saw we were not playing and so just stayed at home during the morning, Toni did go to the club and check out things. I stayed with Rafa Maymo watching some movies. We saw the end of El Padrino 2. Good movie.

After that we decided to go to the club just to get ready. We were told we could be starting. So we went there and today we had lunch there. I had some pasta with fish as usual and then went to the locker room to get ready. We saw that the match before mine got done and at some point we thought we would play. When we were called to go to the match it was great. The only bad thing was that I had not warmed up anything this morning but I guess it was the same for Soderling. We only had those ten minutes of warm-up on Centre Court before the match started. That's it. Kind of funny since it had not happened before to me. You all know that we almost started the match but, geee, it started raining just when we were starting.

We went back to the locker room and Toni told me we were going to hit indoors to keep warm in case we would start playing. It is important to start the match well warmed up. That way, the nerves are almost gone and also the arms and muscles are more relaxed.

After that I went home to wait in case I would be called to the match again. On these moments I try to stay focused and don't do things like Playstation or things like that. I just went home and watched a couple of matches on TV.

I have just come back from doing some grocery (food shopping). Feli is now back in Madrid and you can feel his absence. Believe me. We are only three now in the house and although it does not have any influence on the cooking since Feli wasn't doing much :-), actually his girlfriend was always cooking hahahahahahah. But seriously we miss him here.

We played some Playstation before dinner and before I went to buy. MOLINA has been the winner. Not against me but against Benito and Rafa Maymo. Unbelievable!!!! The other day I beat him 10-1 and now he is playing well!
We bought more of the same, so I guess soon I will be tired of "what" (Neil this one is for you) I eat. WHAT?! TIRED?!

Anyway, I wrote this blog pretty early today. Tomorrow there is no play at Wimbledon, something I don't really understand considering that we did not play today. That means that we will play on Monday and whoever wins of the two also on Tuesday and if win also on Wednesday. Not understandable!!!

Hasta manana.
Rafa



--------------------------------



Monday, July 02, 2007 : No tennis but at least I got to see the grand prix

Hi everyone,

Funny day today to write a blog, or a post, whatever. I just call it a blog but I read comments that it is just a post...

I say it is a funny day since it is kind of weird to be here not being able o play yesterday and not playing today. Still it is good since the tension is different and not the one you have on a competition day. I had scheduled initially to practice at 1 pm. But this morning when I realized that the F-1 GP was at 1 I tried to changed, and I managed to, so that I could watch it on TV. I like the F-1 and follow it every week end. I mean always since I even woke up at 5 am last year in NY to go to watch one race in a place we found. I remember it was at a place that ESPN has in the center of the city.

So I thought it was at 2pm like always until I remembered that here in England is one hour less.
Toni called Ferrero and we were able to change it. We started at noon but the rain started and we had to stop after 30 minutes. We then went to see the race at the IMG house and also had lunch there. After the race we went back to the club since I practiced one hour with Tsonga from 4 to 5 at the Arancini, I mean Aorangi. The Arancini is something you eat in Italy and I like o mix it up wit the Aorangi and Giorgio told me there is a good restaurant called like this in London that I will have to go one day.

It is good to finally get some real practice and tennis since for a couple of days it was difficult.

After that we just went back home, watched more of the Godfather (I have all the movies here) with Maymo, Carlos Costa and Molina and then play some playstation.

It is funny but a Sunday without football is not the same. When the league finishes it is different. As a lot of people know I love football too.

So, tomorrow we are back at the club trying to play. I hope this is the case or things will start geting complicated. I heard there will be bad weather so, no good news. We'll see. In the end today was a very beutiful day.

Hasta mañana
Rafa



--------------------------------------



Tuesday, July 03, 2007 : More rain, but still with a smile on my face

Well, it rained again today. I suppose this is not news anymore. Am I even getting used to it? :-) Don't think so. But not to blame anyone. I hear that this is the wettest June (now July) since 1914 so I guess there must be something going on that we don't understand... In Spain we say "to bad weather, good face (al mal tiempo buena cara)". I am sure this is not the right translation but I don't know (nor my translator) the English saying for it. So "from lost to the river" (another one...).

But I wanted to first of all say that I have not criticized Wimbledon. I heard some people mentioned I had criticized the tournament but this is not what I meant to say. I said it was unbelievable the fact that we did not play yesterday, Sunday. Believe me it was not written with the intention to criticize the fact we did not play. It is like an expression of disappointment but not the other way around. I know this is THE tournament as I said on my first day on this blog. I know that, everyone knows that, but at the same time I believe I can say something like what I said about not playing Sunday and not take it the wrong way.

I mean we knew by the forecast, and here they are pretty good on that - among other things, ok? - that it was going to rain today and also tomorrow and Wednesday. So this is the reason why it is strange that they did not put us to play Sunday. Yesterday, again, we had to stop the matches a couple of time and I did not even finished my match. Maybe if we would have played Sunday we could have advanced a bit. But I know there must be reasons why we did not play. It must not be easy to get everyone over to work when it was not predicted. I don't know the reason as I say but I am sure they have a good reason for it.

In any case I would have had to play today, I mean me or Soderling, obviously, and now whoever moves forward in the tournament will play almost everyday. But again this is not a criticism but only a comment. There are many things on this tournament that are unique too. I'll leave it there.

On my end, I am taking it easy, taking it with calm and today I know I have a very difficult end of the match. This sport is very complicated and yesterday you saw it, I experienced it once again. I had this match point that could not convert and I find my self waiting again to finish a very difficult match today. But again, I am happy with a lot of will and we'll see if things go well today.

In the mean time more Godfather. Remember I have the 10 hours on DVD so that's why it is taking so long... Maybe if I finish it I will start watching them in English. They keep telling me it is good for my English but I just find it too hard to follow, if not impossible. So I prefer to watch them in Spanish and then, one day, who knows when, I will start in English.

Believe me I don't have much more to tell you so I have answered all the questions I got yesterday. Hope you enjoy them and I will be back tomorrow.

Ciao everyone.
Rafa.



--------------------------------



Wednesday, July 04, 2007 : More rain and the smile on my face is disappearing

6 games in one day. That's just too much, isn't it? Well, there is nothing we can do other than to show how frustrated we are. I guess it is a common feeling but I speak only for my self. Still, as I say there is nothing we can do about it. I guess, I know, it is just bad luck.

I have answered many questions about the rain to all of you. The paper sends me everyday a set of questions and I try to answer all of them. I think that the blog today is exactly that. Questions and answers about the rain, our feelings, etc.

Believe me I really don't know what to write about today. I went to the site early in the morning and just waited and waited in the locker room. There is nothing you can do because you have to be ready in case they call you to play. If you are not ready imagine you risk to get defaulted. I don't think that our level, being professionals that would happen since we know we have to be ready. If tomorrow keeps raining I will take some pics of us in the locker room (I suppose we are allowed, huuhh?). Waiting, waiting and more waiting.

But imagine we are not he only ones like that. Imagine all the fans that came to the tournament. At least they had the chance to see some matches. And what about all those people queuing outside to get a ticket to come and see us play? It is also for all these people that we play and that we give 100% if not more. I mean, I always try my best and try hard but if I wouldn't that would be one more reason to try my best. But also waiting you have many others such as the media, the staff, the security, ball boys, umpires, ... Rough, very rough. At least at the VIP they can have some good time. Sometimes they don't even come to the matches so I guess that's OK for them :-) (I am just kidding, OK?)

Anyway, after some many hours, we went back home and... Among other things, the most relevant is: PlayStation again today. We are only 4 these days at home since Benito had to go home today and will be back tomorrow so... we were playing: Carlos Costa, Albert Molina, Rafa Maymo and myself. Among
these names there was the biggest defeat on the play Station I remember. 14-0 defeat. And as I say it is not Benito since he wasn't here today... I am not allowed by this person to reveal the name... Maybe one day... But the fact is that he lost 14-0... No further comments. Maybe one day I will
reveal which of these 3 names is the big L... In play station, obviously. As a team member he is great but as a PS player...

Hasta manana.
Rafa



--------------------------------



Thursday, July 05, 2007 : Finally, played the toughest one

Believe me I am very happy today. I thought this would never end and I also thought many times I would lose this match. After the third set tie break and everything that happened after that I really thought I would not pull it off. I have to say I am really, really happy. I had a lot of doubts, a lot of them but I managed to stay focused and with a lot of determination.

It was actually good I played first since I just wanted to get the job done and either rest or go home. I would have been very disappointed, but that's the reality. We spent so many hours in the locker room!!! I think I never spent so much time there before! Not a whole week of a tournament. Time really goes very slow.

Today I have also answered a lot of questions from the media at the press conference and then to the readers of this blog. I got a lot of questions about Soderling and I have been told he also got some during press. I don't know what to say, I may have gone too far with my comments to the media ... too many of my feelings today.... I am not a fake a guy. I am going to just leave it there. I went back home at around 5 and thought about the whole thing. Very unfortunate.

I went back home as I say at around 5 and spent some time at my computer. I chatted a bit with some friends, spoke over the phone with my father with whom I normally speak, got some Playstation done and went back to the kitchen to get some dinner.

So tomorrow I also have an early wake up call. Let's see how it goes. Youhzny is a very difficult player that has beaten me in very important moments.

Sorry for the very short blog, I'll try to improve for tomorrow's... :-)

See you
Rafa



อ่าน Rafa's Blog ต่อ ตอนที่สอง คลิ๊กที่นี่







Create Date : 12 กรกฎาคม 2550
Last Update : 12 กรกฎาคม 2550 13:59:49 น.
Counter : 138 Pageviews.
Rafa Blog @ 2007 French Open : part II
ราฟาเขียนบล๊อกเล่าชีวิตประจำวันระหว่างร่วมแข่งขันรายการ 2007 French Open
อ่าน Rafa's Blog ต้นฉบับภาษาอังกฤษ คลิ๊กที่นี่
ขอบคุณ Dory สำหรับบทแปลค่ะ ..... แวะเยี่ยมบล๊อกของ Dory คลิ๊กที่นี่





สนใจอ่าน Rafa Blog @ 2007 French Open : part I คลิ๊กที่นี่



บล็อกวันเสาร์ที่ 9 มิถุนายน 2007 โดย แป๋วแหวว

Hola!

คืนนี้ผมจะเขียนถึงพวกคุณอย่างเร็วจากห้องผมก่อนที่จะเข้านอน ผมจะต้องพักผ่อนเพื่อแมทช์สำคัญในวันพรุ่งนี้ วันนี้เป็นวันที่วุ่นวายพอดูครับ ผู้คนรายล้อมรอบตัวผมทั้งวัน ตอนซ้อม ตอนให้สัมภาษณ์ และก็ที่โรงแรม ที่ห้องผม แม้แต่ที่บาร์ตอนที่ผมไปเชียร์ฟุตบอล

ผมจะไปแบบเร็วๆนะครับ วันนี้ผมซ้อมตอนบ่ายโมงที่คอร์ทสาม มันเป็นคอร์ทที่อยู่ใกล้ และก็มีสแตนด์ไว้ให้ชมด้วย คอร์ทนี้ปกติเค้าเอาไว้ทำการแข่งขันแต่ตอนนี้เหลือการแข่งขันอยู่ไม่กี่คู่เราก็เลยมาซ้อมคอร์ทนี้ได้ มีคนมาดูบนสแตนด์เยอะครับซึ่งมันดีมาก มีแฟนๆมาให้กำลังใจผมและพวกเค้าก็น่ารักจริงๆ



ในตอนต้นผมไม่ต้องให้สัมภาษณ์ในวันนี้ เพราะผมได้ให้สัมภาษณ์ไปเยอะแล้วเมื่อคืน และผมก็ไม่คิดว่ามันจำเป็นด้วย เมื่อวานผมไปทานอาหารเย็นหลังให้สัมภาษณ์ จากนั้นก็ตรงไปนอนพักผ่อน เช้านี้ก็มาซ้อม จริงๆแล้วที่สนามตอนผมฝึกซ้อมก็ต็มไปด้วยนักข่าวและกล้อง ผมยินดีที่จะพูดคุยกับพวกเค้าตอนที่ซ้อมเสร็จ ผมจะโชว์รูปให้คุณดู เป็นรูปที่ผมให้สัมภาษณ์นักข่าวสเปน...งานนี้ Benito เป็นคนจัดการโดยที่ผมไม่ทราบมาก่อน จากนั้น...ผมก็ไปให้สัมภาษณ์นักข่าวต่างประเทศอีกที่ข้างบนในห้องทำข่าว มันเป็นอะไรที่ไม่ได้มีการเตรียมแผนมาก่อน วันนี้ผมทานอาหารค่อนข้างช้า (ประมาณบ่ายสามโมงครึ่ง) ผมเดินทางกลับโรงแรมตอนบ่ายสี่โมงสิบห้าเพื่อพักผ่อน

ในช่วงบ่ายที่โรงแรมผมคุยกับเพื่อนๆทางอินเตอร์เนต จากนั้นผมก็ลงมาข้างล่างเพื่อให้สัมภาษณ์กับ Alex Corretja และ Rosana Romero จาก TVE ผมคุยกับใครหรือครับ ผมคุยกับเพื่อนที่มายอร์ก้า และก้อคนรู้จักคนอื่นๆ ไม่มากหรอกครับ มีไม่กี่คนที่ผมคุยด้วยมาตลอด แต่ผมชอบที่จะ keep in touch กับพวกเค้าซึ่งการติดต่อทางอินเตอร์เนตนี่มันสะดวกกว่ากันมาก ผมมีเวปแคมที่คอมพ์ของผมทำให้พวกเค้าสามารถเห็นผมและผมก็เห็นพวกเค้าด้วยเช่นกัน



อย่างที่บอกไว้ว่าผมมีนัดกับ TVE เวลาทุ่มครึ่ง ผมลงไปเจอพวกเค้าสายเล็กน้อย ก็แค่เพื่อสัมภาษณ์และออกไปทานข้าวเย็นที่บาร์ ที่นั่น Carlos Costa ได้จองที่ไว้สำหรับดูแมทช์ฟุตบอลสเปน ใช่ครับใช่ ไม่ใช่แค่แมทช์เดียว ผมดูฟุตบอลสองแมทช์ที่บาร์ใจกลางกรุงปารีสและพวกเค้าก็เล่นได้ดีมาก ผมเชียร์ด้วยความตื่นเต้นเพราะไม่ได้เชียร์ฟุตบอลมาพักนึงแล้ว ผมสนุกมากครับ พวกเราทานข้าวเย็นและก็กลับมาที่โรงแรมเพื่อนอนแต่หัวค่ำ

หลายคนถามผมว่าผมตื่นเต้นมั๊ย ตอบตามตรง ตื่นเต้นสิครับ ผมตื่นเต้นเล็กน้อย มันทำให้ผมหลับยากกว่าปกติ ผมคิดว่า(และผมก็รู้ว่า)มันเป็นเรื่องปกติ ใช่ครับมันเป็นเรื่องปกติที่จะรู้สึกตื่นเต้นก่อนที่จะถึงแมทช์สำคัญ ผมแน่ใจว่านักกีฬาคนอื่นก็เป็นเหมือนผมนี่แหละเวลาที่จะต้องลงแข่งรอบชิงชนะเลิศ พรุ่งนี้ตอนที่ผมเดินลงสนามผมคงจะตื่นเต้นแน่นอน สิ่งที่สำคัญก็คือผมจะต้องรู้วิธีที่จะผ่านมันไปให้ได้ (คมอีกแล้ววว) นั่นคือการเล่นให้ดี แน่นอนครับ แต่ใช่เลย ผมตื่นเต้นเล็กน้อยและมันเป็นเรื่องปกติ

พรุ่งนี้ผมจะซ้อมเวลาสิบเอ็ดโมงครึ่ง วันนี้หลังจากที่ซ้อมเสร็จผมขอ Vittorio Selmi คนจาก ATP ให้ช่วยหาคนที่ผมจะอุ่นเครื่องด้วยให้หน่อย ผมจะทำการอุ่นเครื่องเป็นเวลาสามสิบนาที จากนั้นผมจะกลับเข้าล๊อคเกอร์รูม อาบน้ำ กินอะไรนิดหน่อย และก็จะทำสมาธิตั้งใจกับแมทช์ที่จะลงแข่งในล๊อคเกอร์รูม ...

เหว๋ลล พรุ่งนี้คงได้ทราบผลกัน ขอให้ผมโชคดีครับ

Greetings to everybody.
Rafa






--------------------------------



บล็อกวันศุกร์ที่ 8 มิถุนายน 2007 ....

By Dory

สวัสดีทุกคนครับ,

ไม่รู้สิครับ ผมว่าวันก่อนผมไม่มีอะไรจะเขียนแล้ว วันนี้มันก็เป็นไปไม่ได้เลย... ผมไม่รู้จริง ๆ ว่าจะเขียนอะไรหรือควรจะเขียนเรื่องอะไร ผมขอโทษนะครับ ผมรู้ว่าบางคนวิจารณ์ผมสำหรับเรื่องนั้น (น่าจะเรื่องที่มาบอกพวกเราว่าไม่มีอะไรจะเขียนอ่ะค่ะ) แต่ผมก็พูดความจริงนี่ครับ วันนี้ผมได้แข่งขันในแมทช์ที่ถือว่าสำคัญที่สุดแมทช์หนึ่งของปี และก็ยังคงไม่มีอะไรจะเขียนอยู่ดี ผมไม่รู้ว่าเป็นเพราะผมมีเรื่องเยอะแยะที่น่าจะเล่าให้พวกคุณได้ฟัง หรือไม่ก็เป็นเพราะผมไม่รู้ว่าควรจะเล่าหรือไม่

เรื่องของเรื่องก็คือเรามาถึงจุดนี้แล้ว มีความสุขกับการที่ได้เข้าชิงแชมป์ในรายการโรแลนด์ การ์รอสอีกครั้ง ผมพูดเรื่องนี้ไปแล้วตอนที่ให้สัมภาษณ์กับสื่อฯ และผมก็เดาว่าคุณน่าจะได้รู้เรื่องพวกนั้นไปแล้วเพราะคราวนี้รู้สึกว่าสื่อฯจะมากันมากกว่าทุกครั้ง สิ่งเหล่านี้เกิดขึ้นในเกือบ ๆ ทุกทัวร์นาเม้นท์ใหญ่ ๆ อย่างรายการนี้ เมื่อรายการนี้ใหญ่ก็เป็นธรรมดาที่นักข่าวจะมากันเยอะ ผมคิดว่าน่าจะเป็นเรื่องง่ายสำหรับพวกคุณที่จะหาข่าวเกี่ยวกับแมทช์นั้น ผมก็แค่จะบอกคุณว่าผมเล่นได้ในระดับที่ดีและผมรู้สึกดีมาก

ก่อนเริ่มแข่งเรามีอุ่นเครื่องกัน มันต่างจากการฝึกซ้อมในวันปกติที่ไม่มีการแข่งขันนิดหน่อย เพราะเราจะขยับไปมาในท่าที่เราไม่ได้ทำบนคอร์ท ตัวอย่างเช่นเราไม่ได้เล่นเอาแต้ม คนที่มาซ้อมด้วยกับเรา คนที่ช่วยให้เราได้อุ่นเครื่อง รู้ดีว่ามันไม่ได้เป็นการซ้อมที่มีประโยชน์กับเค้าเลย วันนี้ผมฝึกซ้อมกับหนุ่มชาวโคลัมเบีย เป็นเด็กที่ชื่อว่า อาเลฮานโดร กอนซาเลซ เป็นเด็กที่ดีคนหนึ่งและผมหวังว่าเขาจะทำได้ดีในการฝึกซ้อมนี้แล้วก็ในการแข่งอาชีพของเขา เขาบอกผมว่าเขาแพ้ในรอบแรกของการแข่งขันจูเนียร์ทัวร์นาเม้นท์ที่นี่ แต่ผมแน่ใจว่าเขาน่าจะโชคดีกว่านี้ในทัวร์นาเม้นท์อื่น ๆ เพราะเขาเล่นได้ค่อนข้างดีทีเดียว ผมได้เห็นการเล่นของเขา และผมก็ยังได้เห็นอีกว่าเขาแพ้ให้กับคนที่ได้เข้าชิงชนะเลิศ เหว๋ลลล เขาจะมีโอกาสมากกว่านี้แน่นอน

แม่ของผม, คุณยาย, ลุงราฟาเอลและภรรยาของลุง ได้มาร่วมกับพ่อของผมและคนอื่น ๆ ในทีมที่ปารีสนี้แล้ว พวกเขาไปที่คลับตอนบ่ายวันนี้และก็กลับไปโรงแรมก่อนผม ผมกลับไปถึงโรงแรมตอนสามทุ่มครึ่งและเราก็ออกไปทานอาหารค่ำกันตอนสามทุ่มสี่สิบห้า เราไปทานกันที่ร้านอาหารอิตาเลี่ยนที่วันก่อนเราไปแล้วโมยินี่ทำ trunk flexion (ไม่รู้ว่าอะไรเหมือนกันอ่ะค่ะ อาจจะต้องกลับไปอ่านบล็อกก่อน ๆ) วิตโต้จองโต๊ะสำหรับพวกเราทุกคน จิออร์จิโอ้ก็ไปกับเราด้วยและก็เป็นอีกครั้งที่เราได้ทานกันอย่างเต็มที่

พูดจริง ๆ เลยนะครับ เราต้องตอบคำถามสื่อมวลชนมากมายหลังจากแมทช์การแข่งขัน วันนี้(วันศุกร์)มันสั้นกว่าปกตินิดหน่อยแต่ผมก็เข้าใจว่ามันต้องเป็นแบบนี้แหละ แต่พอพวกเขาบอกผมว่าผมมีงานพบสื่อฯอีกงานหนึ่งพรุ่งนี้ (วันเสาร์) นั่นเป็นสิ่งที่ผมไม่เข้าใจ ผมไม่รู้อะไรใหม่ ๆ ที่จะไปบอกกับสื่อฯอีกแล้ว ผมบอกพวกเขาไปหมดแล้ววันนี้!!! อีกอย่างก็คือวันนี้มีช่วงที่ตลกมากตอนที่นักข่าวถามผมถึงนักเทนนิสหญิงที่ผมชอบที่สุดและผมตอบว่า เอแนง (Henin) ผมตอบอย่างนั้นก็เพราะวิธีการเล่นเทนนิสของเธอและก็เป็นแค่เรื่องนั้นจริง ๆ นักข่าวทุกคนกลับหัวเราะแล้วก็คิดถึงเรื่องดับเบิ้ลเซนส์ (น่าจะแบบว่าเอแนงค์ได้แชมป์สามสมัยติดกันแล้วน้องราฟาก็พูดเพราะน้องคิดว่าจะได้เหมือนกันมั้งคะ นี่คิดเองอ่ะคะ) ผมต้องทำให้พวกเขาเข้าใจว่าผมมองถึงคนที่เล่นเทนนิสได้อย่างสมบูรณ์ที่สุดเท่านั้น ไม่มีอะไรมากกว่านั้น!!!

เหว๋ลล พรุ่งนี้ผมจะเล่าให้พวกคุณฟังต่อ แล้วผมก็อยากจะส่งความสุขไปยัง "ชาวมายอร์ก้า" (ทราบกันใช่ไหมคะว่าน้องราฟาเป็นชาวมายอร์ก้า) คนหนึ่งที่วันนี้ส่งข้อความมากับ คาร์ลอส คอสต้า เขาชื่อ โฆเซ่ ราโมน ขอบคุณมากสำหรับอีเมล์ที่ส่งมาให้ผมวันนี้ ผมบอกคุณได้แค่ว่าขอให้มีความกระตือรือร้นต่อไปนะครับ และขอบคุณอีกครั้งสำหรับการสนับสนุน ผมหวังว่าคุณจะยังมีแรงกระตุ้นต่อไปสำหรับการเล่นเทนนิส

Hugs to everybody,
Rafa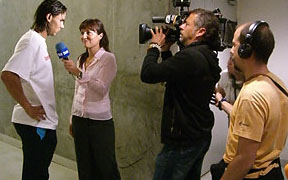 -----------------------------------



บล็อกวันพฤหัสที่ 7 มิถุนายน 2007 โดย แป๋วแหวว

วันพฤหัสเป็นวันแห่งการรอคอย พักผ่อนและก็รอที่จะลงแข่งในแมทช์วันศุกร์ จะเป็นแมทช์ที่โหดครับเพราะเราเข้ามาอยู่ในรอบเซมิไฟนัลและทุกๆอย่างก็เริ่มยากขึ้น ทุกคนมากันที่นี่เพื่อหวังเอาแช้มป์ไปครองและสี่คนสุดท้ายก็เป็นนักเทนนิสที่ต้องการจะชนะมากที่สุด โจโควิคเป็นนักเทนนิสน้องใหม่ที่อายุน้อยกว่าผมหนึ่งปีและตอนนี้อยู่ในอันดับสาม(นับเฉพาะปีนี้) ซึ่งหมายความว่าเค้ากำลังเล่นได้ดีมากๆและเค้าก็มาถึงรอบนี้แล้ว แล้วคงจะทราบกันครับ จริงๆแล้วเนี่ยเค้าแค่เด็กกว่าผมปีเดียวแต่ดูเหมือนว่าผมจะแก่กว่าเยอะ อาจเป็นเพราะผมอยู่ในวงการเทนนิสอาชีพมาเกือบจะห้าปีแล้ว ผมคิดว่าเค้าเพิ่งเข้ามาเมื่อประมาณสองปีก่อนและตอนนี้มีผลงานที่ดีมาก ผมคิดว่าบางทีเค้าอาจจะเป็นอนาคตมือหนึ่งของโลก

วันนี้ผมพยายามจะใช้ชีวิตตามปกติ ก็เป็นอีกวันว่างระหว่างการแข่งขัน ตื่นเช้า พักผ่อน ทานอาหารเช้า มาที่คลับและก็ซ้อม ผมทราบว่าผมซ้อมในเวลาเดียวกันกับโจโควิชแต่คนละคอร์ทกัน ผมอยากจะซ้อมตอน 11 โมงอย่างที่พูดไว้เมื่อคืน แต่กลายเป็นว่าผมได้ซ้อมตอน 11:15 โมง (โถ่ แค่สิบห้านาที) จากนั้นผมก็ไม่ได้ทำอะไรมากมายเพราะผมอยากจะทานอาหารกลางวันเร็วๆและกลับไปที่โรงแรม วันนี้ผมใช้เวลาในคลับน้อยกว่าเคยเพราะผมอยากจะกลับไปพักผ่อนที่โรงแรม

ในช่วงบ่าย Carlos Costa โทรหาผมที่ห้องบอกว่าเค้าจะออกไปเดินเล่นกับลุงโทนี่ ผมมักไม่ค่อยออกไปเดินเล่นในตอนบ่ายเพราะปกติช่วงเวลานี้เป็นเวลาที่ผมซ้อมเทนนิสอยู่ที่คลับ แต่วันนี้ผมรู้สึกว่าอยากไป ผมทราบว่าพวกเค้าได้เคยออกไปช๊อปปิ้งมาบ้างแล้วและผมก็เคยร่วมไปกับพวกเค้า เราสามคนและก็พ่อผมออกไปเดินแถว Champs Elysées เราซื้อของบางอย่างที่ร้าน Hugo Boss พวกเค้าบอกผมว่าที่นี่เป็นร้านใหญ่ที่สุดในยุโรปและสินค้าทุกแบบทุกรุ่นมีขายที่นี่ พวกเราแวะที่ร้านนี้เป็นเวลาพอสมควรผมได้ของมาสองสามอย่างที่ผมต้องการ ผมไม่ค่อยออกไปช๊อปปิ้งบ่อยแต่ผมว่ามันก็ดีนะที่ได้ใช้เวลาอยู่กับครอบครัว ได้รับอากาศบริสุทธิ์ และก็ทำอะไรที่แตกต่างบ้าง

ผมกลับมาที่โรงแรม เดวิด นัลบานเดียนโทรหาผมถามผมว่าอยากจะ .... เล่น PlayStation มั๊ย เดวิดยังซ้อมอยู่ในปารีส เค้าจะไป Halle พรุ่งนี้ แน่นอนครับผมอยากเล่น โมยินี่กลับไป Palma หลังจากการแข่งขันเมื่อวานนี้ และอย่างที่คุณทราบ Ferru กลับไปแล้วเมื่อสองสามวันก่อน ระดับการเล่นจึงลดต่ำลง เอาละ ใครเป็นคู่ต่อสู้ในการแข่งขันนี้ ... ก็มี Benito ผู้ที่เล่นได้ห่วยที่สุดในทุกวัน กับอีกคนนึงซึ่งเป็นไปในทางตรงกันข้าม เค้าเป็นแขกพิเศษผู้เก่งเรื่องฟุตบอล เค้าคือ Esteban Cambiasso ผมเรียกเค้าว่า Cuchu เค้าชอบเทนนิสมาก และเค้ามาที่นี่หลังจากจบแมทช์ที่เค้าเล่นที่ Barcelona กับทีมอาร์เจนติน่า เค้ามาเพื่อชมการแข่งขันรอบควอเตอร์ไฟนัลและเซมิไฟนัล และเพราะว่าเค้าพักอยู่ที่โรงแรมเรา เค้าก็เลยมาร่วมเล่นกับพวกเรา เดวิดและผมเอาชนะเค้าไป 2-0 พวกเค้าโชคดีไปที่ครั้งนี้ไม่มีการวางเดิมพันกัน ผมคิดว่า Cuchu ควรจะต้องจับคู่กับคนอื่นเพื่อที่จะมีลุ้นมาเอาชนะพวกผม เค้าเล่นได้ดีมากๆ ใครจะไปรู้ เค้าอาจจะกำลังเล็ง Crespo เพื่อที่จะทำประตูได้บ้าง ... เมื่อคืนก่อนผมก็เล่น PlayStation ประมาณสองสามเกม แต่เป็น Benito ที่จับคู่กับผม และเล่นกับพวกเค้าสองคน คุณคงทราบว่าใครชนะใครแพ้ .... ก็แค่ว่าไม่จำเป็นอย่าได้ไปจับทีมคู่กับ Benito ... พวกเราเดินลงเขาไปยัง Third Division และกลายเป็นเรากำลังเล่นอยู่ใน Champions League…

แน่นอนครับ ผมเห็นมีคอมเมนต์ถามเกี่ยวกับเรื่องที่พวกเราคุยกับ Antonio Banderas ผมไม่ทราบว่าผมจะสามารถบอกคุณได้รึเปล่าเพราะมันค่อนข้างเป็นเรื่องส่วนตัว แม้ว่าเราจะไม่ได้คุยกันเรื่องการปกป้องโลกจากสงครามหรืออะไรแบบนี้ ผมก็ยังคิดว่ามันควรจะถูกเก็บไว้เป็นเรื่องส่วนตัว ใช่มั๊ยครับ จริงๆแล้วเค้าดูจะเป็นคนที่ดีมากๆ เป็นคนที่ยอดเยี่ยมมาก เราคุยกันในหลายเรื่องและเค้าคุยให้เราฟังเรื่องการถ่ายทำภาพยนต์ว่าเค้าทำกันยังไง เค้าถ่ายฉายอันตรายยังไงและบางคนก็ได้รับบาดเจ็บจากการถ่ายทำ และก็เวลาที่ใช้ในการถ่ายทำภาพยนต์ และอื่นๆอีกหลายเรื่องครับ มันไม่น่าเชื่อเลยว่าเค้าใช้เวลากันขนาดนี้ในการถ่ายทำ เราคุยกันในหลายเรื่องและการสนทนาก็สนุกสนานมาก ลุงโทนี่ของผมฉวยโอกาสถาม Banderas หลายคำถาม เค้าก็ถามพวกเราหลายคำถามเกี่ยวกับเทนนิส คุณคงเห็นได้ว่าเค้าชอบเทนนิสมากพอดู อย่างที่ผมบอกไว้แล้ว เค้าเป็นคนดีมาก

Hasta mañana and thanks for the support.
Greetings to everybody,
Rafa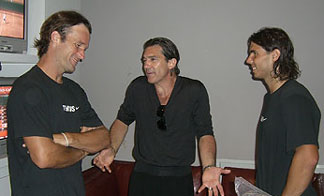 สนใจอ่าน Rafa Blog @ 2007 French Open : part I (ช่วงแรก) คลิ๊กที่นี่
Create Date : 10 มิถุนายน 2550
Last Update : 16 มิถุนายน 2550 15:57:29 น.
Counter : 138 Pageviews.
Location :
กรุงเทพ Thailand

[Profile ทั้งหมด]

ฝากข้อความหลังไมค์
Rss Feed

ผู้ติดตามบล็อก : 1 คน [?]







ชอบเล่นเทนนิส ชอบดูเทนนิส แต่เล่นไม่เก่ง วิจารณ์ก็ไม่เก่งค่ะ ตอนนี้ชอบดูราฟาลงแข่ง สนุกดี ... ดีใจที่มีคนสนใจเข้ามาอ่าน และขอบคุณสำหรับทุกคำแนะนำ แวะมาบ่อยๆนะคะ :)




หลังไมค์หาแป๋วแหววคลิ๊กโทรศัพท์ข้างบน
หรือ e-mail มาที่
paawwaaw@gmail.com







Romeo&Juliet

ฉันและเธอ
ที่จริงเรารักกัน
แม้ว่าใจเราต่างรู้ดี
ว่าความจริงนั้น
ไม่ได้เป็นอย่างฝัน

--------------

ฟังเพลง .. คลิ๊กที่นี่






ภาพข้างล่าง
คุณ naya ใจดีทำให้แป๋วแหววค่ะ :)






แป๋วแหววคุยเรื่อยเปื่อย


- อาทิตย์ : ว่าจะเริ่มนอนตอน 4 ทุ่มตั้งกะวันนี้ แต่มีเรื่องตื่นเต้นทำให้นอนไม่หลับค่ะ ... ขอเล่าท้าวความไปยังวันที่แป๋วแหววร่วมเดินขบวนต่อต้านการใช้ความรุนแรงจากจุฬาฯไปยังพารากอน วันนั้นมีคนยื่นป้ายมาให้ชู ข้อความอ่านได้ว่า "สมชาย ไอ้ฆาตกร" แป๋วแหววดูแล้วก็รู้สึกฝ่อ แหม่ มือใหม่ค่ะมือใหม่ แถมสมชายใหนก็ไม่รู้ไม่ได้ระบุนามสกุลให้ชัดเจน ... พอขบวนเริ่มเดินไปถึงมาบุญครอง ใกล้จะถึงสะพานลอยที่มีนักข่าวมาทำข่าวบนนั้นเต็มไปหมด มีคนตะโกนเตือนแป๋วแหววว่า "ชูสูงๆสิคะ ชู ชู๊" แป๋วแหววก็ชูป้ายขึ้นตามสั่ง สักพัก มันเมื่อยอ่ะคะ เขินด้วย เอามือลงได้ซักพัก ก็มีสาวท่านนึงมาขอป้ายไปชูเอง ประมาณว่ายัยคนนี้ทำเสียของ ฮือฮือ แรงกันจังเรย ... กลับมาถึงเรื่องคืนนี้ ยัยมาช่าแมวคู่บุญที่แป๋วแหววป้อนนมมาตั้งกะเป็นแมวทารก เกิดเฮี๊ยนอะไรไม่รู้ ไปเล่นจับจิ้งจกมาได้ ตัวหายไปไหนหาไม่เจอ แต่หางน่ะกระดุ๊กๆอยู่ในปากมาช่า แป๋วแหววตกใจวิ่งไล่ให้คายออกมา มาช่าคายออกมาเป็นหางดิ้นกระแด่วๆอยู่กับพื้น ตอนแรกสติแตกยืนตกใจทำอะไรไม่ถูก พอได้สติก็เอากล่องมาครอบไว้ แมวที่เหลือจะได้ไม่มายุ่ง เดี๋ยวรอให้หางหมดแรงก่อนค่อยเอาทิชชู่จับไปโยนใส่ถังขยะ ... เหตุการณ์ครั้งนี้ทำให้มาช่าโดนประณามจากทั้งน้องสาวและแม่ โดยเฉพาะแม่พูดซ้ำๆอยู่นั่นแล้วว่า "มาช่า ไอ้ฆาตกรๆๆ" ฮือฮือ กรรมที่แม่มัน(แป๋วแหวว)ทำไว้ตกมาถึงแมวในสังกัดได้รวดเร็วนัก ... เมื่อคืนนี้แป๋วแหววกะแม่นั่งดูเทนนิสด้วยกันค่ะ แม่เชียร์ซีมองด้วยเหตุผลว่า "มันขาวสะอาดดี"

- เสาร์ : ฟังคุณสมชายบอกเหตุผลที่จะไม่ออกไม่ยุบสภา แล้วรู้สึกขำมาก แต่ตอนนั้นคิดว่าเราคิดไปเองคนเดียว ที่ไหนได้ เปิดอ่านการ์ตูนของคุณชัย ราชวัตร ว๊าย ใจตรงกัน แป๋วแหววหัวเราะอยู่คนเดียว ... ซักพัก ไม่อยากเชื่อ แม่หยิบหนังสือพิมพ์มาเปิดอ่าน แม่หัวเราะเหมือนกันเรื่องเดียวกันเลยค่ะ นี่แสดงว่าคิดตรงกันหลายคน ... คลิ๊กที่นี่

- ศุกร์ : นักเรียนเอาของขวัญวันเกิดมาให้ค่ะ ที่ทำแป๋วแหววยิ้มไม่หุบคือชิ้นที่นักเรียนปั้น เคลือบและเผาเอง น่ารักมากๆ ... วันนี้ขณะนั่งรถผ่านอนุเสาวรีย์รัชการที่ 5 เห็นพันธมิตรกำลังแจกซีดี ก็เลยเปิดกระจกขอได้มา 2 ชุด ... ได้มาแล้วก็ไม่กล้าเปิดดู แหม่ ก็มันมีแต่ภาพคนเจ็บคนตายน่ะนะ ... จะว่าไปวันเกิดเหตุแป๋วแหววได้ดูเยอะกว่าคนอื่นนา เพราะดันเจ็บหลังอยู่บ้านทั้งวัน ทีวีไทยเจ๋งมาก ฉายกันสดๆในเหตุการณ์ตลอดทั้งวัน เห็นกันจะจะว่าตำรวจยกปืนยิงคนยังไง ใกล้ชิดแค่ไหน ยังกะหนังแอ๊คชั่นของฝรั่งเลย ... พี่น้องที่กลับจากทำงานมาดูตอนเย็นนี่จะได้เห็นเฉพาะที่เค้าตัดต่อแล้ว พิจารณาแล้วว่าไม่เข้าข้างใคร ก็คือได้ดูเฉพาะภาพประนีประนอมว่างั้นเหอะ ดังนั้นตอนตำรวจมีหนวด(ซึ่งแป๋วแหววเกลียดมาก)ออกมาบอกว่า "ที่ขาขาดนี่คงจะเพราะวิ่งเหยียบกันเองมากกว่าครับ" แป๋วแหววได้แต่เอามือปิดหน้าเหมือนเด็ก home alone อายแทนค่ะ คุณนึกว่าอิชั้นโง่ขนาดนั้นเชียวหรือคะ คุณนึกว่าคนกรุงเทพฯไม่มีทีวีดูกันรึไงคะ จะมาใช้วิธีกลบข่าวเอาศพไปซ่อนเหมือนช่วงพฤษภาทมิฬไม่ได้แล้วนา (คิดแล้วนึกถึงหน้าคนชื่อสุจินดาบ้าอำนาจขึ้นมาทันใด มีสาวแก่หลายคนยังแอบชอบอยู่นะ ด้วยว่าหน้าตาดีเป็นที่ถูกใจป้าๆแม่ยกจอมซาดิสต์) ... ไม่นานมานี้ คุณตำรวจคนเดิมยังแถลงข่าวออกมาอีกว่า "รู้สึกเสียใจที่คนมองตำรวจในแง่ลบ ทั้งๆที่สิ่งที่ทำไปก็เพื่อให้เกิดความถูกต้อง" ... อยากย้อนถามท่านว่า ข้อแรก สิ่งที่ท่านเรียกว่าทำเพื่อความถูกต้อง คือการยิงแก๊สน้ำตาใส่คนเนี่ย เคยมีการฝึกซ้อมการใช้แก๊สน้ำตากันมั่งรึเปล่าคะ หรือว่าแจกๆ เอ้า เอาไปใช้กันนะ ... ชุ่ยกันขนาดนี้เลยรึเปล่าคะ คนตายเพราะคุณใช้อาวุธที่ไม่เคยซ้อมการใช้ที่ถูกต้องมาก่อนเนี่ยนะ แถมเอาของห่วยๆหมดอายุมาใช้กับคนไทยด้วยกันอีก (เอาไปใช้กับทหารเขมรจะไม่ว่าเลย) ... ข้อที่สอง เห็นแล้วว่าตอนเช้ามีคนเจ็บตายมากมาย ทำไมไม่หยุด ช่วงเย็นเห็นทางทีวีชัดๆว่าอยู่ห่างกันคุณก็ยังยิงใส่คนอีก ยิงด้วยวิธีเดิมที่คุณทำคนเจ็บตายเมื่อเช้า ... นี่จะชี้แจงยังไงว่าไม่เจตนา ... แป๋วแหววไม่เหมารวมว่าตำรวจแย่ไปหมด ที่ดีคงมีอยู่เยอะ แต่ตอนนี้ตำรวจที่มีอำนาจน่ะแย่ค่ะ

- พฤหัส : แห่บผี่เบิร์ดเด่ย์ทู๊มีๆ วันนี้แม่เลี้ยงอาหารญี่ปุ่นที่ ฮากิ โรงแรมเซ็นทรัลลาดพร้าวค่ะ ตื่นเต้นรึ ไม่หรอกค่ะ หวาดหวั่นกับตัวเลขที่เพิ่มขึ้นซะมากกว่า เฮ๊ออออ ... วันนี้ไม่ค่อยได้ทำอะไรมาก เพราะอาการแพ้ค่อนข้างแรง ตาแดงเถือกและก็น้ำมูกไหลตลอดเวลา กินยาเข้าไป หลับป๊อก ตื่นมาอีกที อ้าว ชั้นก้าวข้ามเวลา ใกล้เลข 4 เข้ามาอีกหนึ่งขั้นแร๊ววว กรี๊ดดดด ไม่ ไม่นะ ... (อาการแบบนี้จำได้ว่าเคยเกิดเมื่อประมาณ 10 ปีก่อนตอนใกล้จะขึ้นเลข 3 ค่ะ เริ่มต้นก็เป็นงี้แหละ ปฏิเสธ ไม่ยอมรับความจริง อีกซักพักก็จะซึม เริ่มรู้ตัว จากนั้นก็จะปลง และอาการขั้นท้ายสุดคือลั๊ลลา สี่สิบก็สี่สิบสิฟะ ทำไงได้ โฮ่) อนิจจังวัฏสังขารา....

- พุธ : วันนี้เคลียร์งานหยุมหยิมบนโต๊ะ รู้สึกร้อนจังทั้งที่อยู่ในห้องแอร์ เอ๊ะ ชักเอะใจ หรือว่าเราจะถึงวัยนั้นแล้ว ถามเพื่อนๆบอกว่าต้อง 45 up ก่อน ตอนค่ำเดินกลับบ้านเหงื่อตกซิกๆ โอ่ย ใครว๊ะพยากรณ์ว่าประเทศไทยเข้าหน้าหนาวแล้ว ระหว่างเดิน สวนทางกับช้างตัวโต คนเลี้ยงช้างพยายามตื้อให้แป๋วแหววซื้อกล้วยมาป้อนช้าง คงคิดว่าหญิงสูงวัยน่าจะรักสัตว์ ไม่ดูซะมั่งเลยว่าชั้นน่ะกำลังตกมันอยู่ ตัวเปียกโชกมันย่องไปทั้งตัว เดินเชิดกลับบ้านแบบหมดสภาพ อาบน้ำดูทีวี ว๊าย ยิงกันแล้วเรอะ อะไรกัน ไม่อยากจะเชื่อ เรื่องมันแปลกประหลาด ไม่มีเหตุผลรองรับ ไร้สาระสิ้นดี ... งงกันมั๊ยคะ เรื่องไม่เห็นเป็นเรื่องเลย แปลก แปล๊กกกกกก

พี่น้องค๊ะ ตอน 1 ทุ่ม ขณะที่ไทย-เขมรเพิ่งจะตะลุมบอนกันอย่างดุเดือด คณะรัฐบาลรับประทานอาหารร่วมกันอย่างหรู นายกฯยิ้มเบิกบานทักทายนักข่าว เค้าคุยกันเรื่องเสถียรภาพรัฐบาลค่ะ ช่างมิได้นำพากับเหตุการณ์รุนแรงที่เพิ่งเกิดแต่อย่างใด โอย ประเทศชาติ พระเจ้าช่วย แป๋วแหววกับคุณสมชายเราอยู่ประเทศเดียวกันรึเปล่าคะ คนละอารมณ์เลยนะ ... หลังดินเนอร์กันชื่นมื่นจนอิ่มหนำ นายกฯของพวกเราออกมาให้สัมภาษณ์ยืนยันหนักแน่นว่า "รัฐบาลจะเดินหน้าทำงานต่อไปครับ" อ๋อใช่ซี๊ หยุดหรือถอยพี่เมียก็เสร็จซิ ต้องหน้าทนเอ๊ยอดทนต่อไป วัดใจกันว่าใครเป็นฝ่ายจะทนไม่ไหวก่อน

- อังคาร : ตอนแป๋วแหววอยู่อเมริกา เวลาสั่งสารเคมีทำวิจัย ที่ภาคฯจะมีสโตร์ของตัวเองเลย จะเอาอะไรล่ะ บี๊กเกอร์ หลอดตวง เอทธานอล กรดไนตริก มีสารพัด แค่เดินไปบอกว่าจะเอาอะไรกับบอกชื่ออ.ที่ปรึกษา ก็ได้ของที่ต้องการแล้ว ... ถ้าต้องการสารเคมีแปลกๆ ก็แค่บอกเลขาฯของอาจารย์ที่ปรึกษา อีก 2 วันเป็นอย่างช้าก็ได้ของ ... มือใหม่หัดสั่งสารเคมีอย่างแป๋วแหวววันนี้ใช้เวลาเกือบทั้งวันในการโทรหาสารเคมีกับบริษัทต่างๆ ต่อรองราคา ถามนู่นถามนี่ ท้ายสุดพบว่า สารนั้นไม่มีในสโตร์ของบริษัทใดๆ ต้องเสียเวลานำเข้ามาในประเทศ อื่ม ใช้เวลา 30 วันเป็นอย่างต่ำ ... ไม่มีทางเลือก ก็ต้องเป็นไปตามนั้น กำลังหน้าตูบๆ มีรุ่นน้องมาซ้ำ "พี่เอต้องถามด้วยว่า VAT เท่าไหร่ บางทีมันชาร์ทเรา 200% เลยนะ" ฮ๊ะ อะไรนะ ลำพังราคาสารมันก็สี่พันกว่าบาทเข้าไปแล้ว บ้าแร๊วว รอเป็นเดือนแถมยังต้องจ่ายแพงสามเท่าอีกเรอะ ... กำลังจะโวยวายต่อ (ตามประสาคนเคยอยู่สบายมาก่อน) น้องรีบบอก "หยุดบ่นเลยพี่ แต่ก่อนน่ะต้องรอกัน 3 เดือนนะ" ... ฮือ ฮือ หัวอกนักวิจัยไทย ฮือ ฮือ เข้าใจบรรยากาศมั๊ยคะ ว่าทำไมทำวิจัยเมืองนอกมันถึงสนุกสนานน่าทำ แป๋วแหวววิ่งไปมาในแลปทั้งวันไม่เบื่อเลย เพราะอยากเล่นอยากลองอะไร ทำได้แบบคล่องตัว นักเรียนนักวิจัยเต็มตึก คึกคักทั้งกลางวันกลางคืน มันคนละบรรยากาศกับที่นี่เลย ... ฮื่อ บ่นไปก็เท่านั้น มันเป็นอดีตไปแล้ว บ่นมากๆคนก็หมั่นใส้อีก แต่เข้าใจมั๊ยคะ ว่าทำไมงานวิจัยที่อื่นเค้าถึงเดินหน้าไปเร็วกว่าเรา โปรดเข้าใจความลำบากของเราที่นี่เถิดนะคะ ... จะว่าไป ความขลุกขลักมันทำให้เราต้องปรับตัว ต้องวางแผนการทดลองกันแบบสุดๆ พลาดไม่ได้ (ไม่งั้นต้องรอเป็นเดือนๆ) และในบางมุม มันทำให้บางคนใช้วิธีพลิกแพลง บางทีเลยเถิดไปถึงคำว่า โกงข้อมูล ก็มี

- จันทร์ : งานเข้าซิคะ ก็เมื่อวานทำเป็นอ่อนไหวหดหู่ไม่ยอมทำงาน วันนี้ละไฟลนก้นร้อนฉ่า แต่ในที่สุดวันเดอร์วู๊แม่นก็ทำเสร็จจนได้ เป็นแบบนี้มาตลอดตั้งกะเรียนประถมจนเด็กเรียกป้าก็ไม่มีทีท่าว่าจะเปลี่ยน บ่นไปก็เท่านั้น เนอะ ... วันนี้ถกกับเพื่อนที่เป็นพันธมิตร ว่าคุณสนธิแกยึกยัก ตอนแรกคุยฟุ๊งว่าจะบุกกรมตำรวจฯแน่นอนอยู่ก็งดซะอย่างงั้น ... เพื่อนพันธมิตรแย้งทันควัน "ไม่ได้ยึกยัก เราอยากให้พวกที่จ้าง นปช เสียตังค์อีก ดูซิ เสียเงินจ้างมายันกับพันธมิตร แต่เราดันไม่บุก ให้มันเสียตังค์เปล่าไง ... ไว้เดี๋ยวค่อยประกาศบุกอีก ให้พวกมันเสียตังค์จ้างมาอีก" ... ประเด็นไม่ใช่ให้เข้าข้างฝ่ายใด แต่แหม่ คนเราเนอะ ถ้ารักใครศรัทธาใคร มันจะมีเหตุผลมา support คนๆนั้นโดยอัตโนมัติ ประมาณว่า รักนะ ยังไงก็รัก อ้าวจบแบบโรแมนติกซะงั้น






แป๋วแหววคุยเรื่องเทนนิส


ช่วงนี้ยังไม่มีรายการเทนนิสให้ดู ขอพักส่วนนี้ไว้ก่อนนะคะ ไว้มาคุยกันใหม่ เมื่อราฟาลงสนามค่ะ










แป๋วแหววคุยเรื่องแมว


ไม่ได้อัพเดทเรื่องแมวซะนาน เอาละค่ะ เริ่มด้วยหนูฝันดีที่อุ้มมาจากข้างถนน ตอนนี้หนูโตเป็นสาวและสุขสำราญสบายดี มีพี่สาว"เฟอร์บี้"คอยดูแล สองคนเอ๊ยสองตัวนี้เค้าสนิทกันค่ะ




อีกสามสาว .. มาช่า คริสตินา และแคนดี้ ก็สบายดีค่ะ (ดูรูปข้างล่าง) ... ยัยอ้วนมาช่านี่ชอบมานอนเบ่งตรงที่แป๋วแหววนอน ประมาณว่าชั้นน่ะลูกรักนะจ๊ะ ... แป๋วแหววมีตุ๊กตาแมวน้ำตัวโปรดวางไว้ข้างหมอน ยัยแคนดี้(ตัวขาว)ก็เปรียบเสมือนลูกของแมวน้ำตัวนี้ละค่ะ








ส่วนผู้ชายคนเดียวของบ้าน "บราวนี่" หรือไอ้ลูกหมีดำ ความที่เค้าเป็นผู้ชายมั๊งเค้าเลยชอบดูกีฬา ก็อย่างที่เห็นละค่ะ ชอบนอนแหมะตรงปลายเตียงดูเทนนิสเป็นเพื่อนแป๋วแหวว

ตอนนี้นะตรงสวนหลังบ้านป้ามีแม่แมวมาออกลูก 4 ตัวและขออาศัยต่อที่นี่ซะเลย ป้ากำลังกลุ้มใจว่าจะเอาไปไว้ไหนดี ในขณะที่แม่แป๋วแหววแอบเอาอาหารให้แมวทั้งห้านี่ประจำจนอ้วนปุ๊กทุกตัว คุณแม่แมวนี่ดุ๊ดุ ดูหน้ามันสิคะ(ภาพล่าง)




เมื่อเย็นนี้ฝนตกหนักมาก แป๋วแหววนั่งทำงานอยู่ในบ้านคิดขึ้นมาได้ว่าแมวคลอกนี้อยู่นอกบ้านจะทำยังไง (ส่วนไอ้แมวเรา 6 ตัวนี่จะฝนตกแดดออกยังไงก็แสนสบายอยู่ในบ้านตลอดทั้งวัน) โผล่ออกไปดูพบว่าแม่กับลูกอีก 3 ตัวหลบฝนได้แล้ว แต่เจ้าลูกตัวส้มน่ะนั่งหมอบตากฝนตัวเปียกม่อกแม่กไปทั้งตัว ก็เลยอุ้มเอาเข้าบ้านมาเช็ดตัว (น่ารักจังเลยค่ะเกาะแป๋วแหววแน่นเลย) เดี๋ยวรอฝนหายก่อนจะเอาไปคืนแม่ ป่านนี้แม่มันคงเป็นห่วงแย่แล้ว








พอฝนซาก็เอาเจ้าสีส้มไปคืนแม่แมวค่ะ แม่แมวเป็นห่วงมาก มายืนรอ มองหน้าแป๋วแหววเหมือนเป็นศัตรู แหม่ เรารักลูกเธอนะ เข้าใจกันมั่ง ... จากนั้น เผื่อว่าฝนจะตกอีก ก็เลยเอาร่มมากางกันฝนไว้ให้ซะเลย ไม่ต้องห่วงแล้วนะคะ แม่ลูก 5 ชีวิตปลอดภัยแน่นอน







เรื่องดีๆ
จากพี่น้องในบล๊อก

ทำนายดวงชะตา
Rafael Nadal

โดย ป้ามีมี่



เกิดวันอังคารที่ 3 เดือน มิถุนายน พ.ศ. 2529 (ไม่ทราบเวลาเกิด) .... ตรงกับ วันอังคาร แรม ๑๒ ค่ำ เดือน ๖ ปีขาล




ผม เป็นคนขยัน อึด อดทน ไม่ย่อท้อ ชอบการต่อสู้แข่งขัน ไม่โมโทโกรธาง่ายๆ ชอบรับอาสาไปทำศึกสงคราม เป็นเทพจากดาวอังคารจุติลงมาเกิด ดาวอังคารได้ตำแหน่งเป็นมหาอุจจ์ในเรือนเสาร์แถมสองเด้งจากดาวเกตุเล็งอังคาร เทวดาคุ้มครองครับ

ทำงานหนัก ไม่หวั่นอุปสรรค ไม่ขี้บ่นนั้นไซร้ มาจากดาวเสาร์ ราชาโชค ใครๆที่ว่าผมชอบกินหญ้า กินดินก็ไม่แปลกเพราะผมเป็นเจ้าที่ลงมาเกิดระดับราชา งานหมูๆผมไม่ชอบ ชอบทำงานหนัก เพราะฉะนั้นผมถึงชอบแข่งแบบหินๆระดับ 5 เซ็ท ใครๆก็เอาผมไม่ลง อนาคตผมจะเป็นเศรษฐีที่ดินนะครับ

เรื่องจิตใจนั้นผมทำไรทำจริง เข้มแข็ง ว่องไวแต่กิริยามารยาทผมอาจดูไม่เรียบร้อย อ้อ!ผมเจ้าชู้ด้วยนะเผื่อคุณไม่รู้:) จันทร์ผมเป็นมหาจักรน่ะครับ

พวกนักการตลาดเค้าชอบผมเพราะผมเจรจาดี พุธเด่นเป็นเกษตร (อนาคตไม่แน่ผมอาจเป็นนักวิจารณ์) ผมจะรับทรัพย์มากก็เพราะงี้ ผมมีดวงการค้านะครับ ขอบอก เวลานัดกับผมต้องทำใจเพราะผมชอบผิดนัด โอ้เอ้ มาสาย อันนี้ผมโทษว่าเป็นเพราะดาวพุธผมอยู่ราศีเมถุน

เรื่องการเรียน การศึกษาผมพอผ่านครับ ไม่ชำนาญเท่าไร






คุณนิดากับราฟา ที่ Santander
อ่านประสพการณ์ของนิดาเมื่อเจอกะราฟา คลิ๊กที่นี่






แป๋วแหววคุยเรื่อง blog


- ได้ยินคนบ่นอุบอิบเหมือนกัน (คงเกรงใจเลยไม่กล้าบ่นดัง) ว่าสีพื้นทำไมมันแด๊งแดง แป๋วแหววทำหูทวนลม รู้สึกว่ามันแรงงงดี นานๆทีไงคะ จนมามีเรื่องแปลราฟาบล๊อกแล้วพี่น้องบอกไม่ไหวแล้ว(โว๊ย) ก็เลยเปลี่ยนมาเป็นโทนอ่อนโยนนุ่มนวล ตอนแรกมองแล้วไม่ค่อยชิน รู้สึกว่ามันจืดจังเลย แต่ดูๆไปก็สบายตาดี

- เปลี่ยนบรรยากาศมาใช้สีแดง สเป๊นสเปน เพื่อต้อนรับฤดูกาลเคลย์คอร์ทที่กำลังจะมาถึง ไม่ค่อยตรงสเป๊กแต่เอาน่ะ แก้เบื่อ

- ปีใหม่ เอ้าเปลี่ยนสีซะหน่อย ก็ยังโทนฟ้าแต่ให้มันเข้มขึ้นมาอีก ตอนแรกกะจะมีสโนว์ มีตุ๊กตาหิมะ มีต้นคริสมาสต์ ทำออกมาแล้ว วุ๊ย ร้อนจะตาย เสแสร้งแกล้งหนาวต่อไปไม่ไหวก็เลยเอาออกค่ะ

- ห้ามใจตัวเองไม่ไหว เปลี่ยนกลับมาเป็นสีฟ้าอีกหน ชอบสีนี้ที่สุดค่ะ คงไม่เปลี่ยนไปอีกนาน

- ถ้าเข้ามาพอดีตอนนั้นนะ จะมีช่วงนึงที่แป๋วแหววเอาโค๊ดดอกไม้กระจายมาใส่ในบล๊อกเล่นๆ มันสวยดีแต่ทำให้โหลดช้า ก็เลยเอาออกซะ เสียดาย :(

- เบื่อสีชมพู พยายามเปลี่ยนเป็นสีแดงแต่ออกมาแล้วดูเหมือนตรุษจีน จนตรอกเข้าก็เลยกลับมาเป็นสีเขียวอีกหน ก็สบายตาดีนะแป๋วแหววว่า

- ตกใจมั๊ยล่ะค่ะ จากดำทะมึนกลายมาเป็นชมพู๊ชมพู เห็นใจแฟนราฟาผู้ชายเหมือนกันค่ะ เข้ามาแล้วคงทำตัวไม่ถูก เอาน่า นะ เปลี่ยนบรรยากาศกันหน่อย ให้เหมือนเดิมตลอดเบื่อกันแย่เลย




แป๋วแหววขอบขอบคุณ เวปแฟนพันธ์แท้ของราฟา vamosrafael.com แฟนๆทั่วโลกที่เป็นสมาชิกของเวปนี้ได้ช่วยเผยแพร่ทั้งรูปและข้อมูล ทำให้แป๋วแหววตามหาบทความเอามาแปลลงในนี้ได้สะดวกขึ้นมากจริงๆ

ตอนนี้ VR.com ปิดไปแล้ว แต่แฟนๆราฟา มีบ้านใหม่แล้วค่ะ บ้านหลังนี้ก่อสร้างและตกแต่งโดย staff เก่าของ VR.com ... เช่นกัน แป๋วแหววขอขอบคุณ บ้านหลังใหม่ vamosbrigade.com (หรือ VB.com) แหล่งข้อมูลทุกด้านของราฟา ขอพึ่งใบบุญต่อนะคะ




สงวนลิขสิทธิ์ ตามพระราชบัญญัติลิขสิทธิ์ พ.ศ. 2539 ห้ามผู้ใดละเมิด ทำการลอกเลียน หรือนำส่วนหนึ่งส่วนใดของข้อความที่ได้แปลไว้ใน blog แห่งนี้ไปใช้ โดยมิได้มีการอ้างอิงถึงที่มาอย่างชัดเจนเป็นลายลักษณ์อักษร หากฝ่าฝืน ผู้กระทำผิดจะถูกดำเนินคดีตามที่กฏหมายบัญญัติไว้สูงสุด




ดอกไม้จะบาน

ดอกไม้ ดอกไม้จะบาน
บริสุทธิ์กล้าหาญ
จะบานในใจ

สีขาวหนุ่มสาวจะใฝ่
แน่วแน่แก้ไข
จุดไฟศรัทธา

เรียนรู้ ต่อสู้มายา
ก้าวไปข้างหน้า
เข้าหามวลชน
ชีวิตอุทิศยอมตน
ฝ่าความสับสน
เพื่อผลประชา

ดอกไม้ บานให้คุณค่า
จงบานช้าๆ แต่ว่ายั่งยืน
ที่นี่ และที่อื่นๆ
ดอกไม้สดชื่น
ยื่นให้มวลชน...

จิระนันทน์ พิตรปรีชา

ฟังเพลง ... คลิ๊กที่นี่