Sweet




Corn Muffins

1 1/2 cups sifted flour
2 1/4 teaspoons baking powder
3/4 teaspoon salt
2 tablespoons sugar
3/4 cup cornmeal
2 eggs well beaten
1 cup milk
1/4 cup melted butter


Sift flour then measure;
add baking powder, salt and sugar,
then sift again.
Add cornmeal and mix well.
Combine eggs, milk, and melted butter;
add to the flour mixture,
blending just until ingredients are moist.
Bake in greased muffin cups at 200° for about 25 minutes.
Makes about 12 corn muffins.







(Thanks Kruaklaibaan)






Create Date : 01 สิงหาคม 2550
Last Update : 11 ธันวาคม 2550 10:40:25 น.
Counter : 103 Pageviews.
Spicy
ยำน้ำบูดู (Nam Bu Du Salad)

สิ่งที่ต้องเตรียม

1.น้ำบูดู (เกรดดี)

2.ใบมะกรูด (ซอยละเอียดเป็นเกล็ดแบบกากเพชร)

3.พริกขี้หนูสด (ซอยสับละเอียดแบบใบมะกรูด)

4.หัวหอมแดง (ซอย)

5.น้ำมะนาว

6.กุ้งสดต้มสุก (สับละเอียด)


วิธีปรุง

1.นำพริกขี้หนูที่สับละเอียดใส่ถ้วยเติมน้ำมะนาวคนให้เข้ากัน

2.ใส่น้ำบูดูลงไปและใส่ทุกอย่างที่เหลือคนให้เข้ากันชิมรสตามใจชอบ

3.Eat with ผักเคียง.

Enjoy!


Create Date : 01 สิงหาคม 2550
Last Update : 2 สิงหาคม 2550 14:58:23 น.
Counter : 83 Pageviews.
Thai sweet
Leum Kleun (Stir Fried Mung Bean Flour)

Khanom Leum Kleun is made from mung bean flour, coconut cream, and sugar. There are 2 parts of the dessert: body and topping. After putting the dessert into the cups, sprinkle with fried and crispy green peas. The dessert is soft, smooth, and very easy to swallow.

Ingredients of the topping
3/4 cup rice flour
2 1/2 tsp. salt
2 cups thick coconut cream
1 cup thin coconut cream
some fried green peas

Methods
1. Mix well flour, water, food coloring.
2. Heat the pan. Pour the mixture in Step. 1 into the pan. Stir over high heat till the mixture is thick and clear. Add sugar. Stir till the mixture is thick and clear. Remove from heat.
3. Drop the mixture into plastic cups at the level 3/4 of the cup.
4. Mix rice flour, salt and coconut cream together. Pour the mixture into the pan.
5. Heat the pan. Stir the mixture till thick. Drop the mixture onto the body in Step 3.
6. Sprinkle with fried green peas.

Hints:
1. The body of the dessert is dried easily. So drop it into the cups as quickly as possible otherwise the dessert is not smooth.
2. The topping should be added onto the body while it is still warm, or the two parts are apart from each other. Desired characteristics of the dessert: The body should be clear with light colour. The topping should be smooth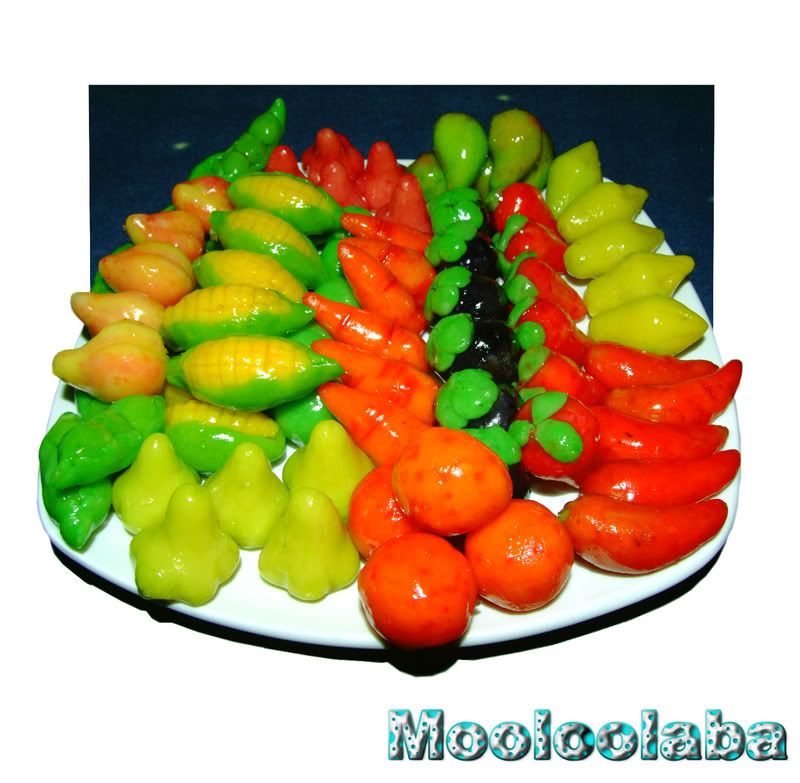 ลูกชุบ Luuk Chuup (Fruity Dessert)

Prepare:
1 cup mung bean (500g)
2 and 1/2 cup sugar
1 and 1/2 cup thick coconut milk
Gelatin:
2 tbsp. gelatin powder
2 cups water
1/4 cup sugar
Food coloring
Cooking Instructions:
1. Leave mung bean in the water for 3 hours.
Then, steam for 20 minutes.
2. Ground the mung bean very well.
Mix it well with sugar and coconut milk in the pot.
3. Put the pot on the stove and heat it will medium heat.
Stir until the mix gets dry. Make sure you can mold it.
4. Leave it cool.
5. Now, it's a fun part and you need your artistic heart. :)
Mold it into a fruit shape, cherry, mango, red chili pepper,
banana, orange, watermelon for example.
6. Use food coloring to color them. Make it as real as possible.
Put a stick to the fruit shape and put it on a piece of Styrofoam.
Then, leave it dry.
7. Next, dissolve gelatin in boiling water. Add 1/4 cup sugar.
Wait until it is boiling, dip the fruit shape into it and leave it
dry on the Styrofoam again.
8. Dip the fruits again for 3 times.
Then decorate it with leaves to make it look real.




(Thanks Kruaklaibaan)











Create Date : 29 มีนาคม 2550
Last Update : 11 ธันวาคม 2550 10:41:20 น.
Counter : 454 Pageviews.