Furnished Condo in the Heart of Bangkok - Prasanmitr Condo
Furnished Condo in the Heart of Bangkok
Currently Occupied
My Brother's Condo <---Click Here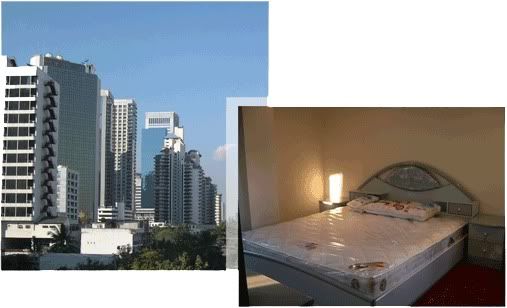 Welcome to Thailand!
If you are looking for a clean, safe and very very convenient (near BTS sky train and subway) accommodation in the city of angles.
You are looking at the right place.
I'd like to present you a condo room with 2 bedrooms, 1 bathroom, kitchen, dinning and living room
(click at rooms to see photos), located in the middle of Bangkok with great transportation access.
Click below to see
Room plan Condo facilities and surroundings Map
The monthly rent is 30,000 baht
If you'd need further information, don't hesitate to call Aya 66-86-644-6359
Or E-mail me at ayakochun@hotmail.com
My Brother's Condo <---Click Here 
Free TextEditor
Create Date : 13 กรกฎาคม 2553
Last Update : 13 กรกฎาคม 2553 13:55:50 น.
0 comments
Counter : 183 Pageviews.