chiangmai
Chiang Mai
From Wikipedia, the free encyclopedia
(Redirected from Chiengmai).

Chiang Mai (in Thai เชียงใหม่ (help•info)), also sometimes written as "Chiengmai", is the largest and most culturally significant city in Northern Thailand, and the capital of Chiang Mai Province. It is located at 18°47′20″N, 98°59′00″ECoordinates: 18°47′20″N, 98°59′00″E, some 700 km north of Bangkok, among some of the highest mountains in the country. The city stands on the Ping river, a major tributary of the Chao Phraya river.
In recent years Chiang Mai has become an increasingly modern city, although it lacks the cosmopolitan gloss of Bangkok. It has many attractions for the thousands of foreign visitors who come to the city each year. Chiang Mai's historic strength derived from its important strategic location on an ancient trade route, and long before the modern influx of foreign visitors the city served as an important centre for handcrafted goods, umbrellas, jewellery (particularly silver) and woodcarving.
While officially the city (thesaban nakhon) of Chiang Mai only covers most part of the Mueang Chiang Mai district with a population of 150,000, the urban sprawl of the city extends into several neighboring districts. This Chiang Mai Metropolitan Area has a population of nearly 700,000 people, nearly half of the whole Chiang Mai Province.

History
King Mengrai founded the city of Chiang Mai (meaning "new city") in 1296, and it succeeded Chiang Rai as capital of the Lannathai kingdom. Mengrai constructed a moat and a wall around the city to protect it against raids from Burma. With the decline of the Lannathai kingdom, the city lost importance and often was occupied by either the Burmese or by the Thais from Ayutthaya. As a result of the Burmese wars that culminated in the fall of Ayutthaya in April 1767, Chiang Mai itself was so depopulated that the remaining inhabitants abandoned the city for fifteen years (1776 - 1791). Lampang functioned as the capital of what remained of Lannathai during that time.
Chiang Mai formally became part of Siam in 1774, when the Thai King Taksin captured the city from the Burmese. Chiang Mai rose in both cultural, trading and economic terms to gradually adopt its current status as the unofficial capital of the north of Thailand, second only in national importance to Bangkok.
The people generally speak Kham Muang (also known as Northern Thai or Lanna) amongst themselves, but the Central Thai of Bangkok is used in education and is understood by most. The old Kham Muang alphabet is now only studied by scholars and Northern Thai is commonly written using the standard Thai alphabet.
[edit] Religious sites
Wat Phrathat Doi Suthep: the most famous temple in the area, standing on a hill to the north-west of the city. This temple dates from 1383. Its builders allegedly chose its site by placing a relic of the Lord Buddha on an elephant's back and letting the elephant roam until it came across a place where it trumpeted and circled before lying down. The onlookers took this as marking an auspicious place in which to build the temple. The temple's location also affords superb views over the city on a clear day.
Wat Chiang Man: the oldest temple in Chiang Mai. King Mengrai lived here while overseeing the construction of the city. This temple houses two very important and venerated Buddha images - Phra Sila (a marble Buddha) and Phra Satang Man (a crystal Buddha).
Wat Phra Singh: located within the city walls, dates from 1345 and offers an example of classic northern Thai style architecture. It houses the Phra Singh Buddha, a highly venerated image, transferred here many years ago from Chiang Rai.
Wat Chedi Luang: founded in 1401 and dominated by the large Lanna style chedi which dates from the same time, but took many years to finish building. An earthquake damaged the chedi in the 16th century, so now only two-thirds of it remains.
Wat Ched Yot: located on the outskirts of the city, this temple, built in 1455, hosted the Eighth World Buddhist Council in 1977.
Wiang Kum Kam: the site of an old city situated on the southern outskirts of Chiang Mai. King Mengrai used this city for ten years before the founding of Chiang Mai. The site has a large number of ruined temples.
Wat U-Mong: a forest and cave wat in the foothills in the west of the city, near Chiang Mai University. Wat U-Mong is known for its grotesque concrete fasting Buddha image and hundreds of pithy Buddhist proverbs in English and Thai posted on trees throughout its grounds.
Wat Suan Dok: a 14th century temple located just west of the old city-wall. The temple was built by the King of Lanna for a revered priest visiting from Sukhothai as a place for the monk to spend the rains retreat. The name of the temple roughly translates to "field of flowers." There are several unique aspects to this temple. One is the temple's large ubosot, or ordination hall. The ubosot is unusual not only for its size, but also the fact that it is open on the sides rather than being totally enclosed. Secondly, the large number of chedis housing the cremated remains of the rulers of Chiang Mai. This temple is also the site of one of the most important monastic universities in Thailand, Mahachulalongkorn Rajavidyalaya Buddhist University.
• Loi Kratong (known locally as Yi Peng): Held on a full-moon night in November. Every year thousands of people assemble floating banana-leaf containers (krathong) decorated with flowers and candles onto the waterways of the city to worship the Goddess of Water. Lanna-style hot-air lanterns (khom fai) are also launched into the air. These are believed to help rid the locals of troubles and are also taken to decorate houses and streets.
• Songkran: Held in mid-April to celebrate the traditional Thai new year. Chiang Mai has become one of the most popular locations to visit for this festival. A variety of religious and fun-related activities (notably the good-natured city-wide water-fight) take place each year, along with parades and a Miss Songkran beauty competition.
• Flower Festival: A three-day festival held during the first weekend in February each year, this event occurs during the period when Chiang Mai's temperate and tropical flowers are in full bloom. The festivities include floral floats, parades, traditional dancing shows and a beauty contest.
Chiang Mai has several universities, including Chiang Mai University, Rachapat Chiang Mai University, Rajamangala University of Technology, Payap University and Maejo University -- as well as numerous technical and teacher colleges. Chiang Mai University was the first government university established outside of Bangkok.
Chiang Mai is a regional centre for a number of activities, including:
• Hill-tribe tourism and trekking: A large number of different tour companies offer organised treks among the local hills and forests on foot and on elephant back. Most also involve visits to the various local hill tribes. These include representatives from the Akha, Hmong, Karen, and Lisu tribes.
• Elephant Nature Park: Approximately 60km north of the city or about one hour drive, the Elephant Nature Park is home to approximately 30 rescued elephants. You can visit the park with options ranging from a day trip to volunteering.
• Other outdoor activities: The varied local terrain also offers opportunities for mountain biking, elephant riding, bamboo rafting and kayaking. The area also has several golf courses. The nearby national park that includes Doi Inthanon, the highest mountain in Thailand, features many hiking trails.
• Shopping: Chiang Mai has a large and famous nightly bazaar for arts, handicrafts and counterfeit products of all descriptions, and a number of large, well-appointed modern shopping centres.
• Thai massage: The back streets and main thoroughfares of Chiang Mai have a variety of massage parlours which offer anything from quick, simple, face and foot massages, to month-long courses in the art of Thai massage.
• Local museums: These include the Chiang Mai City Arts and Cultural Centre, the Hill Tribe Museum and the Chiang Mai National Museum.
• Thai Cookery: A number of Thai cookery schools have their home in Chiang Mai (see also Thai food)
[edit] Transportation
Bus, train and air connections serve Chiang Mai well. A number of bus stations link the city to Central and Northern Thailand, the Central Chang Pheuak terminal (north of Chiang Puak Gate) provides local services to other locations within Chiang Mai province and the Chiang Mai Arcade bus terminal northeast of the city (requires Songthaew or tuk tuk ride - see below) provides services to over 20 other destinations in Thailand including Bangkok, Ayutthaya and Phitsanulok. There are several services a day from Chiang Mai Arcade terminal to Bangkok (a 10 to 12 hour journey).
The state railway operates 14 trains a day to Chiang Mai Station from Bangkok. Most journeys run overnight and take approximately 12 to 15 hours. Most trains offer a first-class (private cabins), and a second-class (seats fold out to make sleeping berths) service.
To get to cities such as Mae Hong Son or Chiang Rai a plane or bus must be used. No trains are available to cities north of Chiang Mai.
Chiang Mai International Airport receives up to 28 flights a day from Bangkok (flight time about 1hr 10 minutes), and also serves as a local hub for services to other Northern cities such as Chiang Rai, Phrae and Mae Hong Son. International services also connect Chiang Mai with other regional centres, including Xian (China), Kunming (China), Luang Phrabang (Laos), Taipei (Taiwan), Singapore, Hong Kong, Yangon (Myanmar) and Kuala Lumpur (Malaysia) Tokyo (Japan).
The local preferred form of transport is personal motorbike, and, increasingly, private car. In recent years, the number of private vehicles on the road has begun to result in traffic congestion in major arteries during peak travel times. Motorbikes are available for hire from many places in the city, and tourists take advantage of this service.
Local public transport is provided in two forms - tuk tuks and songthaews (the latter known locally as rot daeng - literally "red car"). Minimum songthaew fare is 15 Thai baht and tuktuk fare is usually at least 40 baht; fare increases with distance. The fare is negotiable with the driver before boarding. Songthaews and tuktuks normally operate until about 11pm or midnight, and then become scarce and more expensive to ride. Chiang Mai Bus was recently relaunched, serving set routes in and around the city. Unlike Bangkok, which has the Bangkok Metro and Bangkok Skytrain, Chiang Mai does not yet have rapid transit public transport infrastructure.




A street scene in Chiang Mai, showing (centre right), a gate of the old city wall.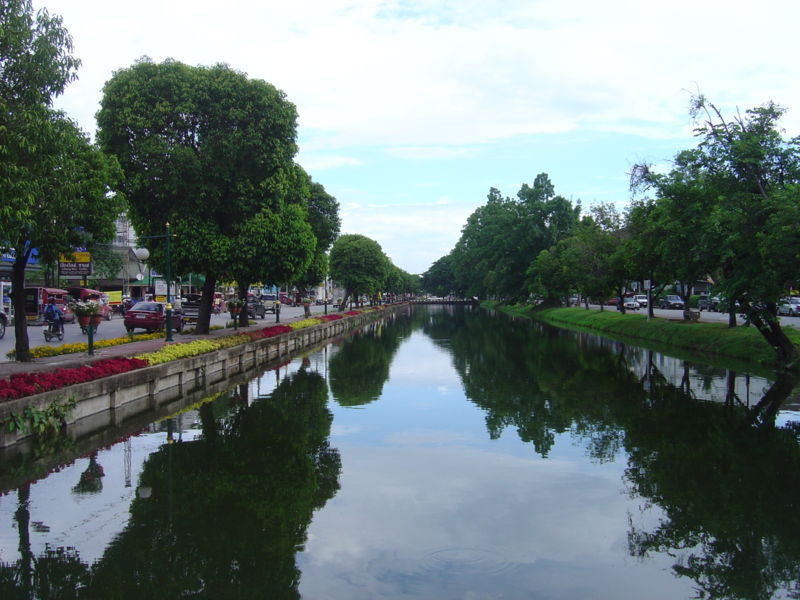 Looking south along a moat in Chaing Mai. The section pictured here forms the eastern border of Amphoe Muang. The road visible on the right is Moon Muang, on the left, Chaiya Poon.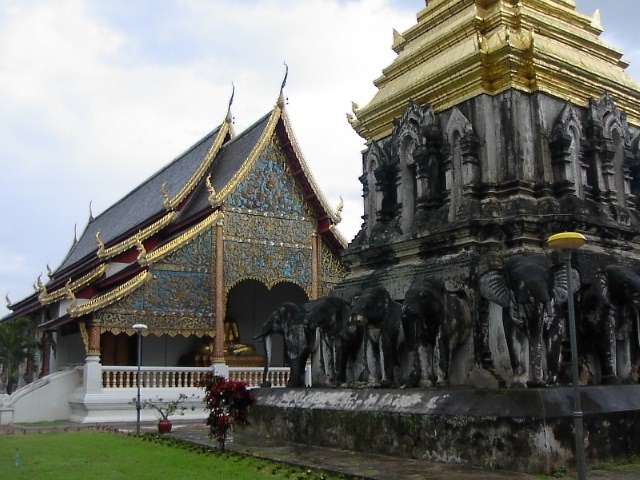 Wat Chiang Man, the oldest Buddhist temple in the city, dating from the 13th
century
The chedi at Doi Suthep, outside Chiang
Mai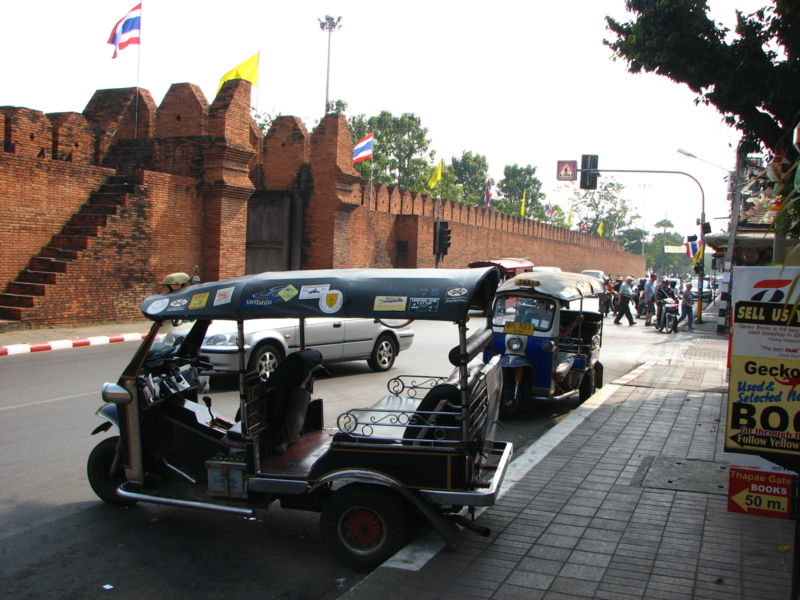 Tuk-tuk waiting for passengers near Tapae Gate in Chiang Mai
Launched Khom Loi's
Roads are lined with yellow flags to honour King Bhumibol Adulyadej's Diamond Jubilee (60th years on the throne---the longest in the world) in 2006.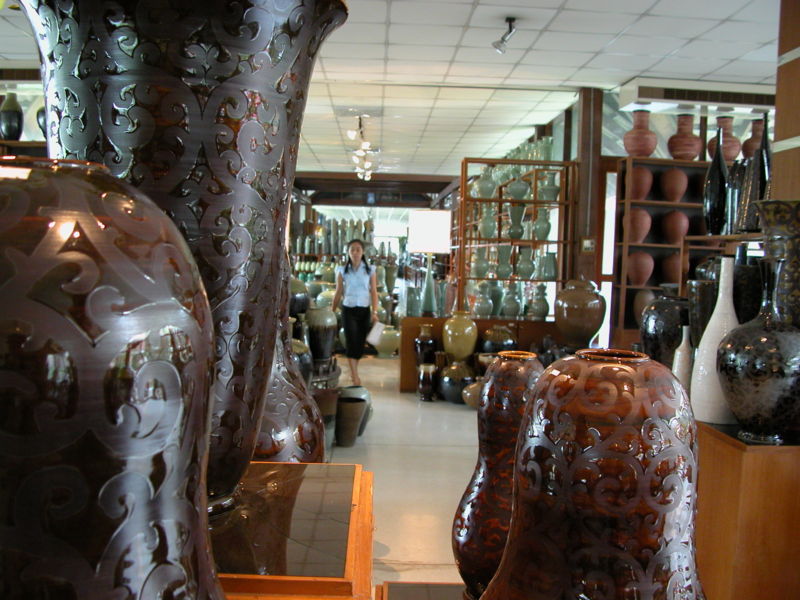 A ceramics shop in Chiang Mai



from : //en.wikipedia.org





Create Date : 18 เมษายน 2550

2 comments

Last Update : 18 เมษายน 2550 20:07:59 น.
Counter : 4109 Pageviews.