1
2
3
4
5
6
7
8
9
10
11
12
13
14
15
16
17
18
19
20
21
22
23
24
25
26
27
28
29
30
31

| | |
| --- | --- |
| | 18 มีนาคม 2551 |
Kolaches


Kolache (also spelled kolace, kolach, or kolacky, from the Czech and Slovak plural koláče) are a type of pastry consisting of fillings ranging from fruits to cheeses inside a bread roll. Originally only a sweet dessert from Central Europe, they have become popular in parts of the United States.


Anywa, it's not a perfect day (for me) to make this excellent bread.. I got lots of things to do at the same time while I was making it and honestly with you..I missed doing things that I would normally do for bread baking ! Luckily it came out good ,I though, think I could do it better... the taste is beyond I expected !!


Ingredients:

1 package of active dry yeast
1 cup of warm milk
1/4 cup sugar
3 cups of all-purpose flour ( I used bread flour)
2 eggs ( I went for 1 egg)
3/4 cup of melted butter
1 teaspoon of salt


The fillings:


Apricot filling

3 ½ oz coarsely chopped dried apricots (about 1/2 cup)
Enough water to cover
4 tablespoons sugar — more to taste

Cook dried apricots slowly in enough water to cover until fruit is soft and water is cooked out (about 12 minutes). Do not cover or fruit turns dark. Add sugar and mash with a potato masher until well blended. Fills 8

Cream Cheese Filling

6 ounces cream cheese, softened
1 egg yolk
1/3 cup granulated sugar
1/4 teaspoon lemon zest
1/4 teaspoon vanilla

Stir the ingredients together.



Cinnamon Crumb Topping "Posypk"

1/3 cup sugar
1/4 cup flour
1/4 teaspoon cinnamon
1 tablespoon melted butter
Mix all ingredients together until mixture resembles coarse meal. This makes enough to cover MORE than 8, so you can scale it down more it if

Method:

1. In a large bowl, combine yeast, warm milk, sugar and one cup of flour. Cover and let it rise until doubled in size.

2. Beat together eggs, 1/2 cup of melted butter (reserve 1/4 cup for brushing on the pastry) and salt. Add egg mixture to yeast mixture and blend.

3. Stir in about two more cups of flour, 1/2 cup at a time. The dough should be soft and moist. Knead dough for about 10 minutes on floured surface. Don't worry, it's a joy to knead as the dough is smooth and highly malleable.

4. Put dough in a greased bowl and let rise covered until doubled in size—about an hour. After dough has risen, punch it down and pull off egg-sized pieces. In your hands, roll pieces into balls and then flatten to about three inches in diameter. Brush with melted butter.
Place flattened pieces on a greased cookie sheet, cover and let rise again for another half-hour. After second rising, with your finger gently make an indention in the center of the dough (be careful not to flatten it too much) and fill with one tablespoon of fruit filling and sprinkle with posypka.

5. Bake in oven at 375 degrees for 12 to 15 minutes. Brush with melted butter when you take them out of the oven and serve warm.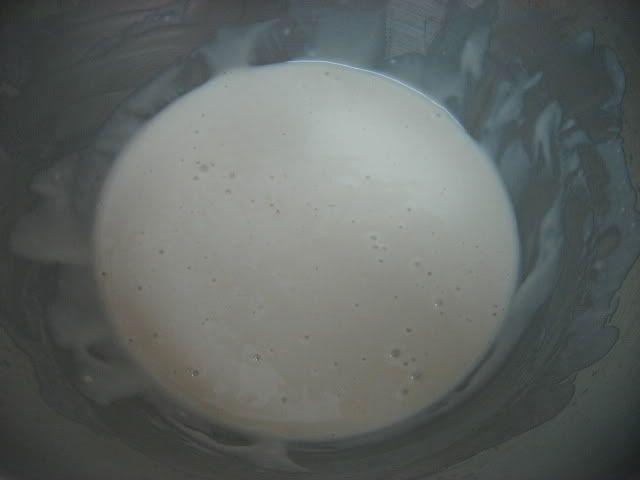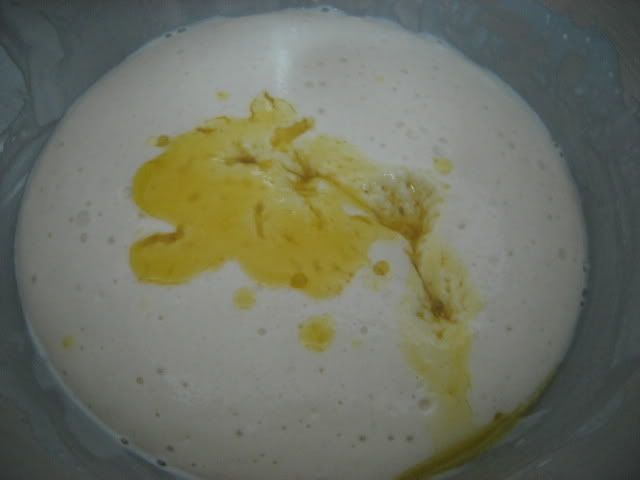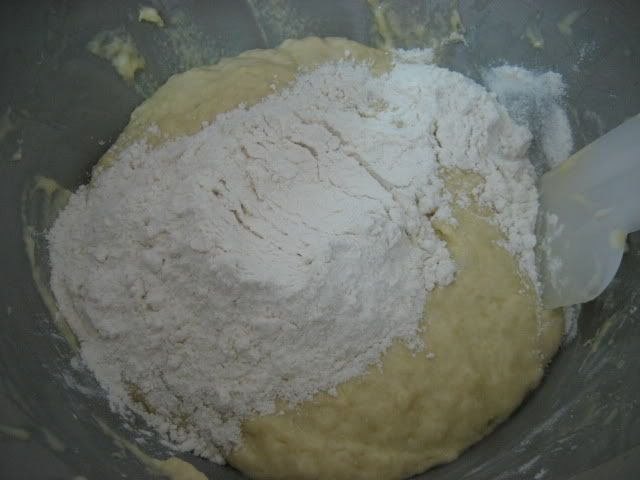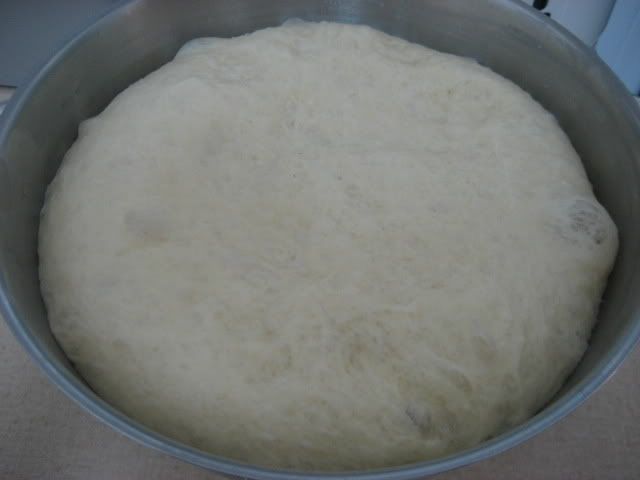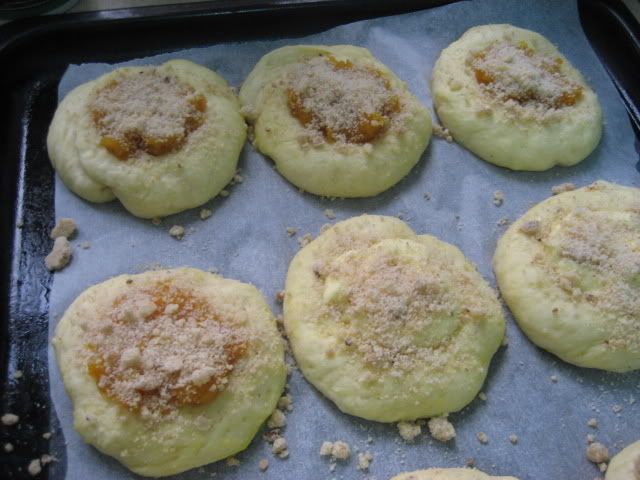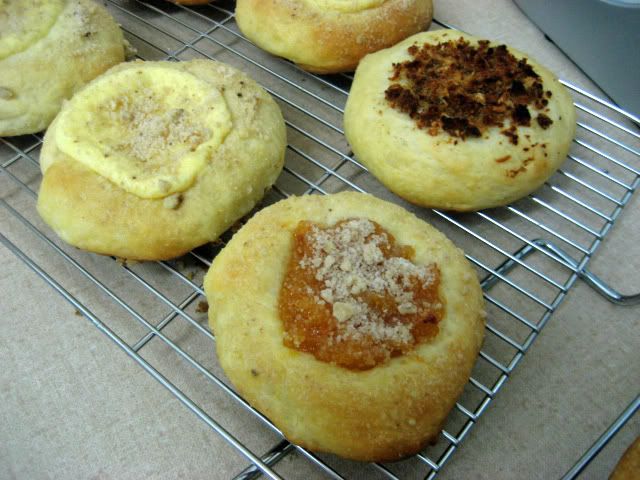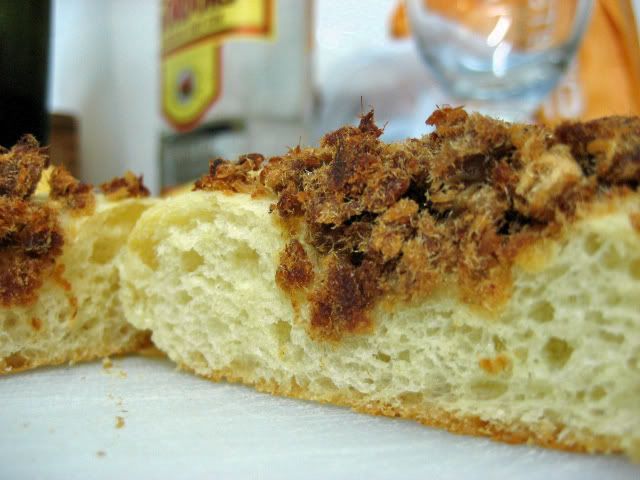 Create Date : 18 มีนาคม 2551
Last Update : 18 มีนาคม 2551 18:36:03 น.
10 comments
Counter : 551 Pageviews.
| | |
| --- | --- |
| โดย: Febie วันที่: 18 มีนาคม 2551 เวลา:20:40:57 น. | |
| | |
| --- | --- |
| โดย: ลูกสน วันที่: 18 มีนาคม 2551 เวลา:21:12:42 น. | |
| | |
| --- | --- |
| โดย: งาขาว วันที่: 18 มีนาคม 2551 เวลา:21:47:39 น. | |
| | |
| --- | --- |
| โดย: pepsakoy IP: 203.218.235.71 วันที่: 19 มีนาคม 2551 เวลา:7:30:32 น. | |
| | |
| --- | --- |
| โดย: Koy (bake-aholic ) วันที่: 19 มีนาคม 2551 เวลา:19:26:19 น. | |
| | |
| --- | --- |
| | pepsakoy |

This blog is made for fun...do not expect to see anything serious.And if you can't accept the concept,please feel free to go away from my place!