Visited Mae Sai in our style
๏~*G'Day Mates*~
๏~*Thai Version...Click here*~
Sunday noon I still lazy to preparing PowerPoint
for teaching on Tuesday yet


but I really want to update my blog then work

I did chat with Paul bear last night
mom had strees test a couple days ago
Paul Bear said she is ok now
and he always visit them as long as he can
He told me mom&dad are strong
but when something happen with them
he is the only one who really concern about them
this is one thing I really love about my guy



Since I've been back to Thailand
I don't contact with mom and dad much
Always busy and busy..too bad


I always thinking about them although I'm busy
it's good time to review the trip with both of them
This was a trip in Mae Sai with mom and dad
after we went to Ruammit Village and checked in at hotel
next day we went to Mae Sai




"Mae Sai" is the one district of Chaing Rai
which is close to "Tha Khee Lek" village of Burma
for us we didn't go there for shopping
but we took trip to several places in that area
although I'm Thai I never ever been there
We paid about 600 bath for the tour
2 Burmese guys took us with his took took
we visited 3-4 places it was good see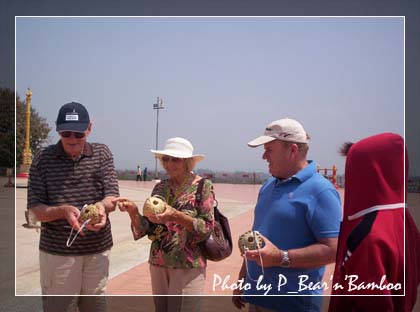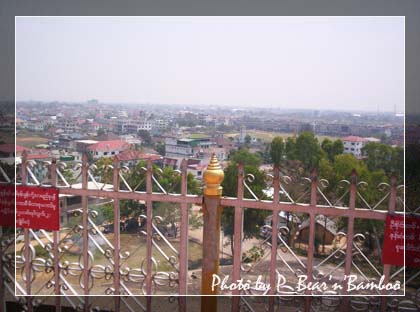 the only one thing that mom and dad want to see
was the long neck tribe.They live in the village
which Thais who own hotel and casino
bulit it and put 2-3 tribes live together
Paul bear didn't like it cause it's for commercial
not natral as he thought.I did tell him
someday we will visit "Mae Hong Son"
to see them in their village
but for mom and dad..it's good to see
I hope someday I can take them to Mae Hong Son either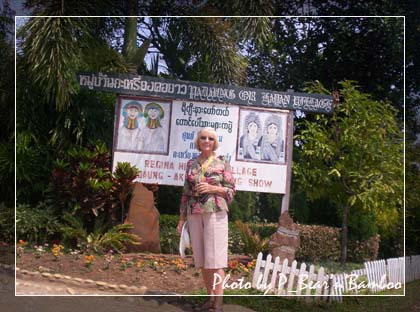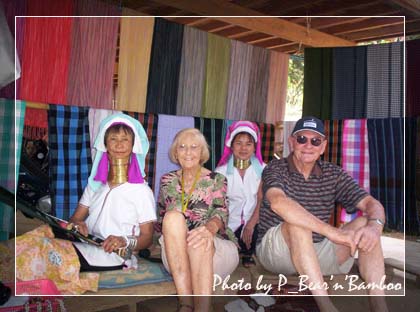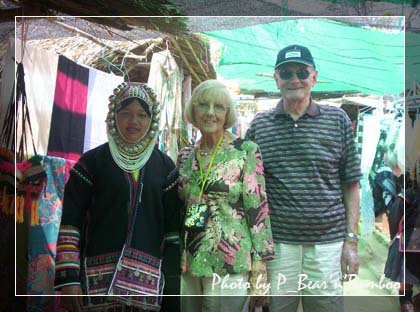 after the trip we had time to shopping
and back to our lovely hotel
There was our trip in "Mae sai"


Next time I will review about "Golden Tri Angle"
Don't get boring and see ya ok!!

~~ To Be Continue ~~


Create Date : 31 สิงหาคม 2551
Last Update : 7 กันยายน 2551 16:34:23 น.
15 comments
Counter : 281 Pageviews.
| | |
| --- | --- |
| โดย: ไหม (maistyle ) วันที่: 3 กันยายน 2551 เวลา:7:19:22 น. | |
| | |
| --- | --- |
| โดย: BeachBum (ลืมล็อกอินค่ะ) IP: 122.105.69.103 วันที่: 8 กันยายน 2551 เวลา:17:59:06 น. | |
| | |
| --- | --- |
| โดย: Gopz วันที่: 8 กันยายน 2554 เวลา:22:48:26 น. | |
| | |
| --- | --- |
| โดย: chankoos วันที่: 13 กันยายน 2554 เวลา:23:29:45 น. | |
| | |
| --- | --- |
| โดย: Hum_nai วันที่: 14 กันยายน 2554 เวลา:22:06:57 น. | |
| | |
| --- | --- |
| โดย: boss55 วันที่: 15 กันยายน 2554 เวลา:21:19:46 น. | |
| | |
| --- | --- |
| โดย: Qa วันที่: 18 กันยายน 2554 เวลา:15:54:04 น. | |
| | |
| --- | --- |
| โดย: aomzon (aomzon ) วันที่: 21 กันยายน 2554 เวลา:20:28:27 น. | |
| | |
| --- | --- |
| โดย: takakung วันที่: 21 กันยายน 2554 เวลา:22:00:24 น. | |
| | |
| --- | --- |
| โดย: diblo2011 วันที่: 24 กันยายน 2554 เวลา:12:38:36 น. | |
| | |
| --- | --- |
| โดย: ratko วันที่: 26 กันยายน 2554 เวลา:22:00:26 น. | |
| | |
| --- | --- |
| โดย: birdfriday วันที่: 16 ตุลาคม 2554 เวลา:14:01:18 น. | |
| | |
| --- | --- |
| โดย: SoulSiSz* วันที่: 18 ตุลาคม 2554 เวลา:15:50:17 น. | |
| | |
| --- | --- |
| โดย: dannyloa วันที่: 10 พฤศจิกายน 2554 เวลา:22:38:37 น. | |
| | |
| --- | --- |
| โดย: steven1064 วันที่: 2 มกราคม 2555 เวลา:13:16:19 น. | |
Location :
Surfers Paradise Australia

[Profile ทั้งหมด]

ฝากข้อความหลังไมค์
Rss Feed
Smember
ผู้ติดตามบล็อก : 1 คน [?]













"Love"




An inspired from of




Giving, Love breathes




Life into the heart and




Brings "Grace" to the soul

















Gold CoAst AustRalia












ChiagMai ThailAnd












Be togetheR agiaN