Bann Tawai and Sunday Night Market in Chiang Mai
๏~*G' day mates*~๏
๏~*Thai Version...Click here*~
A couple days ago I just reviewed my trip in March
with Paul bear and his parent...just a first night in Chiang Mai
I have to review others day as fast as I can cause I'm not sure
When I have to go to Chiang Mai...maybe tomorrow or next day
I will be busy with Visa stuffs and publishing my thesis soon.

Next day we got up at 9.00 PM had breakfast
and prepare ourselves to Bann Tawai(The Village of Handicraft)
it is not to far from Chiang Mai city only 10 Kms
we rent a Honda car (Jazz) for 1,000 THB per day
my Pual bear always asked me
"Are you sure where we gotta go?"
...made me nervous a little bit...



Baan Tawai village was awarded OTOP Tourism Village of Thailand
because of its unique character as the wood carving village.
For a long time it became the center for various kinds of handicrafts
and the largest handicraft village of Thailand.
Baan-Tawai has also earned world-wide reputation
from its skills and craftsmanship for decades.
Nowadays it continues to deliver only
good-quality handmade merchandises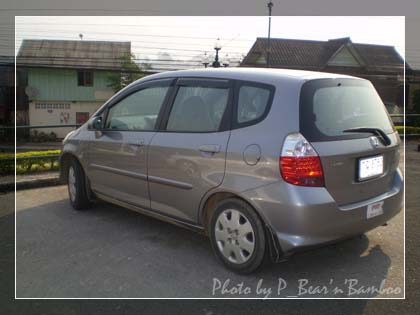 Our Jazz car



some shop at Bann Tawai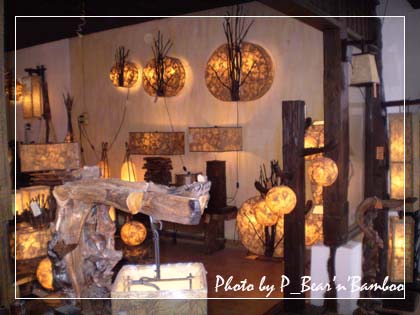 Nice shop but I have no money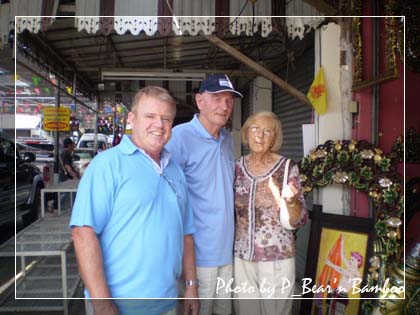 Parent and Son



after we walked more than 5 kms,all of us got tired and hungry
before we back to hotel we went to my favorite place
"Love a First Bite" now it 's famous and has lot of customers



"Love at First Bite"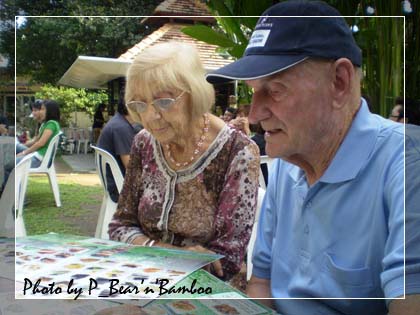 Hmm...which one we like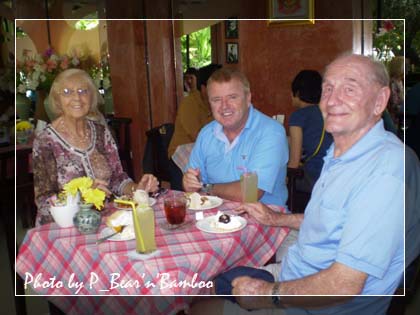 ...Our favorite time...



after big picecs of cake and cup of tea
we went back to or hotel for relax
before start next programm


we went to Sunday night market at 6 PM
we took Song Teaw(red Taxi) to Thapae Gate
It is unbelievable market.We had to walk for nearly
3-4 kms from one end to the other...woo!!
Its full of people ( Thais and Farangs)
and lots of things to see,buy and bargains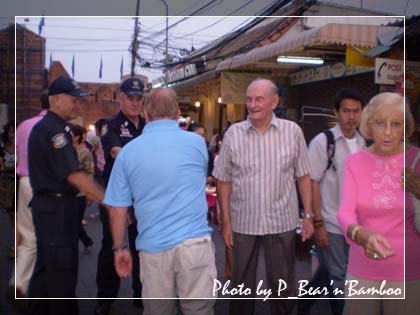 English language teaching in Thailand
Aussies guys volunteer work for Tourists Police in Chiangmai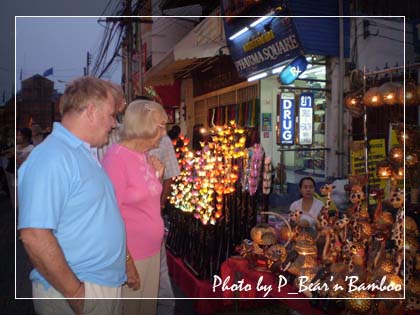 Lots of things to see and buy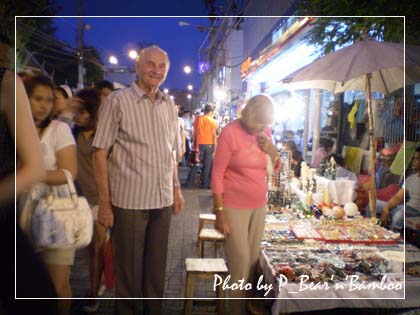 nice positon dad...cool


cute little Thai girl and her show


we had walk and walk when we get tired
we made plan to have something to eat at Temple
but it was raining too bad


we changed our plan to "The Duke" Restaurant

~~ To be continue ~~
Create Date : 31 มีนาคม 2551
Last Update : 16 สิงหาคม 2551 15:13:02 น.
14 comments
Counter : 855 Pageviews.
| | |
| --- | --- |
| โดย: เบบูญ่า วันที่: 31 มีนาคม 2551 เวลา:17:39:25 น. | |
| | |
| --- | --- |
| โดย: BeachBum วันที่: 7 เมษายน 2551 เวลา:10:05:47 น. | |
| | |
| --- | --- |
| โดย: mai (maistyle ) วันที่: 16 เมษายน 2551 เวลา:21:42:24 น. | |
| | |
| --- | --- |
| โดย: birdfriday วันที่: 29 กันยายน 2554 เวลา:23:04:24 น. | |
| | |
| --- | --- |
| โดย: ratko วันที่: 30 กันยายน 2554 เวลา:22:56:57 น. | |
| | |
| --- | --- |
| โดย: tanabat777 วันที่: 12 ตุลาคม 2554 เวลา:15:04:49 น. | |
| | |
| --- | --- |
| โดย: aomzon วันที่: 13 ตุลาคม 2554 เวลา:12:14:28 น. | |
| | |
| --- | --- |
| โดย: akeros วันที่: 15 ตุลาคม 2554 เวลา:17:21:54 น. | |
| | |
| --- | --- |
| โดย: thip056 วันที่: 18 ตุลาคม 2554 เวลา:15:45:19 น. | |
| | |
| --- | --- |
| โดย: SoulSiSz* วันที่: 19 ตุลาคม 2554 เวลา:14:17:28 น. | |
| | |
| --- | --- |
| โดย: bigindyza วันที่: 19 ตุลาคม 2554 เวลา:15:23:03 น. | |
| | |
| --- | --- |
| โดย: bigindyza วันที่: 19 ตุลาคม 2554 เวลา:22:07:19 น. | |
| | |
| --- | --- |
| โดย: SenGoKu วันที่: 20 ตุลาคม 2554 เวลา:13:48:19 น. | |
Location :
Surfers Paradise Australia

[Profile ทั้งหมด]

ฝากข้อความหลังไมค์
Rss Feed
Smember
ผู้ติดตามบล็อก : 1 คน [?]













"Love"




An inspired from of




Giving, Love breathes




Life into the heart and




Brings "Grace" to the soul

















Gold CoAst AustRalia












ChiagMai ThailAnd












Be togetheR agiaN